Bosch: Amazon Studios, Connelly Eye J. Edgar, Renee Ballard Series
Amazon Studios & Author Michael Connelly are expanding the "Bosch" universe to include spinoffs for Det. Jerry Edgar & Det. Renee Ballard.
---
If you thought Amazon Studios and bestselling author Michael Connelly were going to pass up the opportunity at a "Bosch" shared universe, you got a pretty definitive answer earlier today. First, there was Bosch, and then there was Bosch: Legacy (with Season 2 expected this fall). And now, fans can look forward to spinoff series focused on Detective Jerry Edgar (with Jamie Hector reportedly in talks to reprise his role opposite Titus Welliver) and Detective Renee Ballard. The news comes only a day after Showtime announced that it would give Dexter and Billions the "shared universe" approach. Now, here's a look at the overview and producing details that were released earlier today: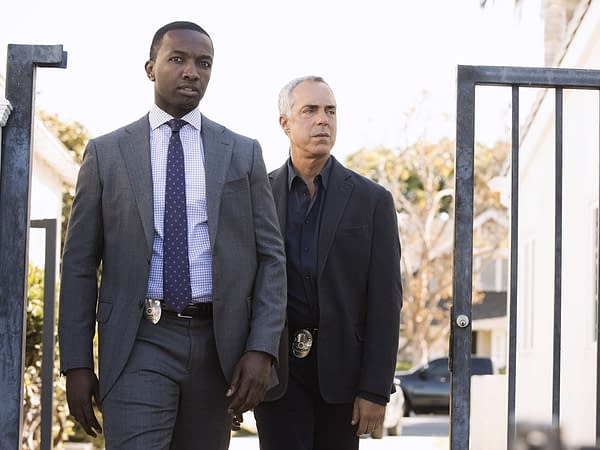 "Untitled J. Edgar" Series: A police drama following Harry Bosch's former partner, Detective Jerry Edgar, who is tapped for an undercover FBI mission in Little Haiti, Miami. In this glamourous city, he is forced to balance his new life with the gritty underbelly of the city while being chased by his mysterious past. Executive produced by Connelly, Larry Andries, and Fabel Entertainment's Henrik Bastin & Melissa Aouate, with Jasmine Russ co-producing.
"Untitled Renee Ballard" Series: Detective Renee Ballard is tasked with running the LAPD's new cold case division. Beyond simply investigating unsolved crimes, Renee is dedicated to bringing credibility to the department and justice to the community. Having learned from retired ally and mentor Harry Bosch, Renee does things her way – solving cases in unconventional ways while navigating the politics of being a woman on the rise in the LAPD. Executive produced by Connelly, Michael Alaimo & Kendall Sherwood, and Fabel Entertainment's Bastin & Aouate, with Russ co-producing.
Renewed before the first episode of Bosch: Legacy premiered and expected to debut sometime in Fall 2023, the Fabel Entertainment series is executive produced by Connelly, Eric Overmyer, Tom Bernardo, Henrik Bastin, Pieter Jan Brugge, and Welliver.