Brand New Cherry Flavor: Nick Antosca, Lenore Zion Talk Series Secrets
Netflix's latest supernatural thriller Brand New Cherry Flavor, executive produced and written by Nick Antosca (The Act, Channel Zero) and Lenore Zion (Billions, Channel Zero), will blow your mind. Based on the cult horror novel by Todd Grimson (Stainless, Stabs at Happiness), the hour-long, eight-episode series is the story of Lisa Nova (Rosa Salazar), an aspiring film director in the sun-drenched but seamy world of 1990 Los Angeles who embarks on a mind-altering journey of supernatural revenge when a dream project turns into a nightmare. Only this particular nightmare has zombies, hitmen, supernatural kittens, and a mysterious tattoo artist (Catherine Keener) who likes to put curses on people. Oh, and kittens. The creatively twisted minds behind this unpredictable journey, Nick and Lenore, recently sat down with Bleeding Cool to share the secrets behind the production of Brand New Cherry Flavor and why no one is bothered by all the cats.
Did previously working together on "Channel Zero" influence or bring you to do this project?
Lenore Zion: We were actually friends before working on Channel Zero and Nick sent me the book Brand New Cherry Flavor before I worked on Channel Zero even. This has been a long time coming.
Nick Antosca: What Cherry Flavor and Channel Zero have in common, other than the fact that we both worked on them, is that they're really fucking weird. They all deal, almost all the seasons of Channel Zero and Brand New Cherry Flavor with people whose psychology is influencing the world around them in supernatural ways… it's such a strange story. The protagonist is so interesting and unique. In the book at least, you read her as a little sociopathic, but she is still sympathetic and you relate to her.
What was it about Todd Grimson's novel that made you turn it into a series as opposed to a movie or did you have to flesh out the story to make eight episodes?
LZ: There is more story there than we could have ever possibly gotten through. The book is wild. Todd has a completely unrestrained imagination, just one of the most fun, crazy books you could have ever read… We had to take just a small piece of that in order to make a show that worked. Mostly we tried to pull out the things that we were most inspired by. And then stick to the sort of spiritual tone of the book. The unpredictable nature of the story that tumbles out as the novel goes on, we wanted to honor that.
NA: We love stories that feel like nightmares. It's hard to quantify but stuff that captures the rhythm, the feeling, the immersion. The book did that, and we couldn't really adapt it literally because it's so chaotic and there's so much that happens we wanted to adopt that feeling. We wanted to bring the protagonist and her journey of trying to get this stuff. This creative energy that she's got pent up inside of her and wants to try and get it out into the world. While navigating this kind of surreal obstacle course of a nightmare version of L.A.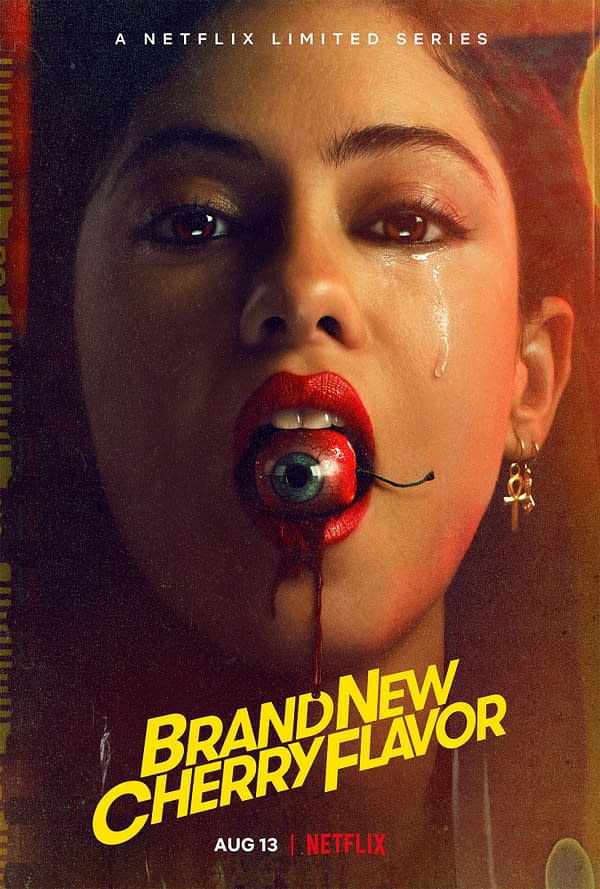 "Brand New Cherry Flavor" is very fragmented like a dream or a nightmare and is creeping up on Lovecraftian or Clive Barker territory. How different is the book and what will fans of the book notice missing from your show?
NA: Well the book goes to Brazil, It goes to Europe. There are huge, different sections. We took the first section of the book and adapted that and took a lot of the ideas and kind of the feelings that are in later sections of the book, and imported them into the first section. So superficially, it's a loose adaptation, spiritually we think of it as a faithful adaptation. We would send the scripts to Todd as the writer's room worked, so we were in conversation with him as it was going on.
Sound like you left some room for a couple more seasons.
NA: Well, we always imagined it as one. I really hate when you get into a show and it gets canceled after two seasons, you know there was going to be- so we wanted to do something which I always read that they did on Mad Men and like where every season has, or at least what they hoped was, a satisfying conclusion. In case they didn't come back. Although at a certain point they must have known that show was going to run as long as it wanted to. I don't love cliffhangers at the end of seasons. I love keeping the feeling that life will continue and it's open and there's more to the story, potentially, because that's what life is like. Also, that we've seen a complete meal.
With so many years of experience in Hollywood and in the industry, I'm wondering about the behind-the-scenes connections to such an eerily spot-on performance. Is Lou Burke (Eric Lange) based on any producer in particular?
NA: No he's not. I mean he's kind of the idea of "That Guy" especially in the early 90s, or anytime pre- the last five years or so, who seems to have everything but really has nothing. Because they can't generate on their own, right? They can't generate creative ideas so they have to offer mentorship that they can use to be a parasite. Like he's sucking the psychic energy out of people under the guise of helping them and protecting them. And in a way, Boro [Keener] is doing something similar.
LZ: With Lou, specifically, Eric Lange brought a lot of his own ideas to the character. especially with the styling. He had a lot to do with what his hair looked like, his mannerisms, everything like that.
NA: We had seen him in Escape at Dannemora. I mean he's such a chameleon. He is unrecognizable between the two roles and we just felt like we needed an actor with that chameleonic range to be Lou. to make him a little bit sympathetic as he suffers. This is a guy who is very hard to have sympathy for because he does some monstrous things, but you've got to bring humanity to his comeuppance.
A lot of these characters seem rather nonplussed by all the supernatural goings-on. Is this a comment on how empty and vapid L.A. and its residents are perceived?
LZ: One of the tonal elements of Todd's book is a casual acceptance of the bizarre, and we wanted to take that into the show. Lisa takes everything that happens to her in stride in the book, she really doesn't question the things that she's doing. We sort of loved that about that character, that she would just kind of go along with everything.
NA: There is a real magical realist tinge to the show, the nightmare logic of it. The supporting characters, Manny (Jacinto) and Hanna Levine, who plays Christine, brought a wonderful deadpan energy… We talked a lot about riding the line between how people are going to react in real life, how they are going to react in real life, how they are going to react in this slightly heightened magical realist world and where the overlap is.
Did you have to tone down the gore from the book?
LZ: We got to play around with gore all we wanted. There was a day with a lot of blood where we got to wear these painter coveralls, and just get super bloody.
NA: Sometimes we had to wear ponchos because there was so much blood in a couple scenes. You know it's not a gore show. There are eruptions of gore here and there…. I think there's some scenes in the finale that are stomach-turning. It's not a gore scene exactly, but in terms of what you might call body horror, the intimate scene in episode four was something that a lot of us, both behind and in front of the camera, were fond of.
What do you want everyone to know about "Brand New Cherry Flavor"?
NA: If you want to watch a show that there really isn't anything quite like it on TV, turn this on. There's a lot of superhero shows and there's a lot of reboots and all that, but this is a show that feels like it came out of nowhere.
In Brand New Cherry Flavor, a filmmaker heads to Hollywood in the early '90s to make her movie but tumbles down a hallucinatory rabbit hole of sex, magic, revenge – and kittens. Nick Antosca, through his production banner, Eat the Cat, and under his overall deal with UCP (a division of Universal Studio Group), and Lenore Zion (Billions, Channel Zero) serve as executive producers, showrunners, and writers. The series stars Rosa Salazar (Alita: Battle Angel, Maze Runner series), Catherine Keener (The 40-Year-Old Virgin, The Incredibles 2), Eric Lange (The Empty Man, The Man in the High Castle), Jeff Ward (Channel Zero, Agents of S.H.I.E.L.D.), Manny Jacinto (The Good Place, Top Gun: Maverick), Hannah Levien (The Magicians, Siren), Leland Orser (I Am The Night, Berlin Station), and Patrick Fischler (The Right Stuff, Defending Jacob).

Bleeding Cool TV on Instagram: For all of the stuff too random and bizarre to make the site, make sure to follow us on Instagram: Bleeding Cool TV (@bleedingcooltv).
BCTV Daily Dispatch: For a look at what's going on across the television and streaming landscape, sign up for Bleeding Cool's daily email round-up of the news you need to know here.