Breaking Bad: Bryan Cranston Confirms Work Underway on Film
As the Blue Sky continues to turn…
As AMC and show creator Vince Gilligan continue hiding out in their "cones of silence," it looks like we're getting an official confirmation of a Breaking Bad film from a very reliable source: Bryan Cranston aka Walter White aka Heisenberg. Calling into sports and pop culture program The Dan Patrick Show on Wednesday to promote his Broadway run in Network, Cranston was asked to confirm the rumors at the beginning of the video below – and spoiler? He does…
Though Cranston hasn't read the script, he did offer up what he's been "told" when asked if he would return to his iconic role:
"I would, I would. Absolutely. If Vince Gilligan asked me to do, sure, absolutely. He's a genius. It's a great story and there's a lot of people who felt that they wanted to see some kind of completion to some of these storylines that were left open and this idea, from what I'm told, gets into at least a couple of the characters who were not completed as far as their journey."

As the Blue Sky turns…
Though Vince Gilligan and AMC continue to stay mum on reports that the creator of Breaking Bad is returning to the world of Walter White through a new film, iFilm is reporting that the project will be a sequel to the award-winning series. Aaron Paul is expected to return to the role of Jesse Pinkman in a film that would follow his escape from Albuquerque after the violently fatal events of series finale 'Felina.'

Here's a look back at our original reporting, when word of production first began making the media rounds:
It appears Vince Gilligan has a bit more Breaking Bad in him, with reports circulating that the show's creator is currently working on a two-hour movie based on the critically-acclaimed AMC series. The Hollywood Reporter is reporting that Gilligan will write, executive produce, and possibly direct the film, with Breaking Bad and Better Call Saul executive producers Mark Johnson and Melissa Bernstein expected to be involved with the film.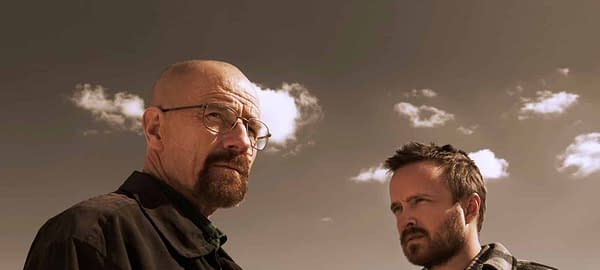 Representatives for Gilligan and Breaking Bad producers Sony Pictures Television haven't commented on the reports, and it is still unknown if the film will be released theatrically or made for television. While details on the project are understandably minimal at this point, it's also reported that the project has been circulating under the fake/working title Greenbrier. Aside from that, it's still not known if the film will be a sequel or prequel; or if stars Bryan Cranston and Aaron Paul will be involved.
Greenbrier is described as "following the esacpe of a kidnapped man and his quest for freedom." Production is expected to begin later this month in New Mexico, with The Albuquerque Journal first reporting about the project through documents filed through the New Mexico Film Office. For their part, the office would only confirm that a project with the title "Greenbrier" is slated to shoot in that area during the time period listed.
"We are happy to welcome 'Greenbrier' and Sony Studios to New Mexico. For years we've built up the film industry in New Mexico and strengthened our film incentives, now we're seeing success after success for the film industry in our state."

– Nick Maniatis, Director, New Mexico State Film Office