In a surprise release on Wednesday, the BBC unveiled a short John Rebus drama written by Ian Rankin starring Brian Cox. John Rebus: The Lockdown Blues finds retired Edinburgh cop Rebus, the hero of more than 20 novels by Rankin, trapped in lockdown and contemplating his own mortality. This is a big deal. The Rebus novels are considered an institution in Scotland. Rebus, the latest in a long line of curmudgeonly Scottish coppers in crime fiction, is also considered a Scottish national treasure.
The novels are international bestsellers. Rebus has investigated murders, gangsters, and bent coppers on the mean streets of Edinburgh since 1987. Rankin actually had him age in real-time so he's now retired in the books but still gets drawn into solving cases. He has his fair share of an ex-wife, an estranged daughter, and various ex-girlfriends because he's dysfunctional in ways that British crime fiction demands its detective heroes should be. The only steady female relationship in his life is with his younger protégé Siobhan Clarke, which is platonic.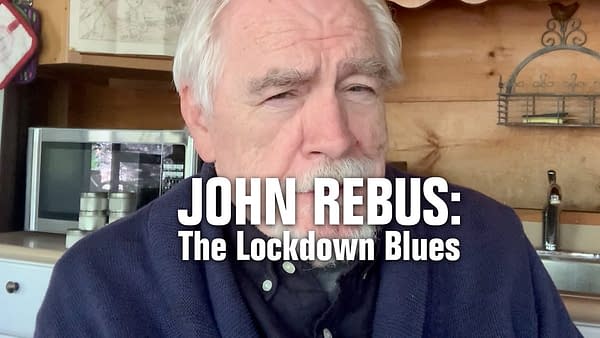 Here's the short in full:
The Ultimate Rebus
Gangsters, killers, and crooked cops couldn't bring Rebus down, but John Rebus: The Lockdown Blues finds him defeated by the Pandemic. Forced to self-isolate in the middle of nowhere, Rebus faces an existential crisis when he feels like a prisoner like the crims he spent his life putting away. He may be an ornery loner, but he needs to be in the world, not locked away from him. Being alone forces him to reckon with his life, his mistakes, his loneliness, and how much Siobhan really means to him. His bewilderment with modern technology and alienation from the world is funny and poignant.
The real treat here is to see Cox play Rebus for the first time, as many fans have pictured Cox as Rebus for years. John Hannah and Ken Stott played Rebus on television for four seasons back in the early 2000s and Ron Donachie played him in the BBC Radio 4 adaptations of the books from 2003 to 2016. Cox recently became a household name in America due to the success of HBO's Succession, so his presence adds some extra prestige to the short. In a weird sort of way, it almost feels like the final Rebus story, but Rankin will probably produce another novel soon. The UK is really leaning in on dramas shot in lockdown, far more than Hollywood. This short is part of a series produced by the National Theatre of Scotland and put out by BBC Scotland. It's one of the first six of over 40 shorts film in isolation in the Scenes of Survival series.
If you want to watch the first six Scenes of Survival series, the BBC Scotland channel on YouTube has you covered. The National Theatre of Scotland has also set up a hardship fund to benefit the Scottish theatre community impacted by the pandemic that's asking for donations.
Enjoyed this article? Share it!