Carnival Row Star Cara Delevingne Offers Season 2 Production Update
At the beginning of May, the Czech Republic's Film Commission announced that film and television productions could start back up later that month. That's especially good news for freshmen series such as Amazon's fantasy series adaptation Wheel of Time and Disney+'s Marvel's The Falcon and The Winter Soldier, as well as Amazon's Carnival Row. At the time that resuming of productions in the Czech Republic was announced, it was reported that the Orlando Bloom/Cara Delevingne-starrer was already preparing to return. Now, Delevingne has offered an update that has a little good news and a little not-so-good news to it.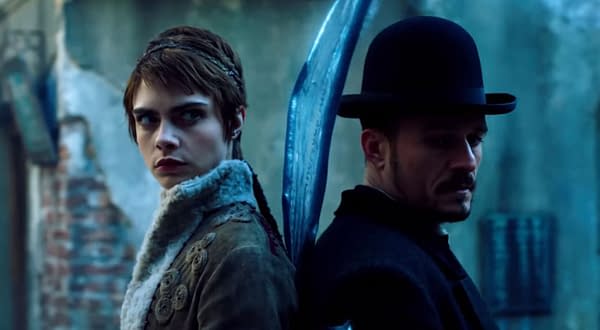 During an interview earlier this month with Variety, Delevingne revealed that six of the second season's eight episodes were filmed (the good news). On the not-so-good news front? While there's nothing definite yet when it comes to when production will resume or the second season will air, Delevingne can't imagine filming resuming before winter: "The second season is going to be so good, but I don't know when we're going to finish it. And probably not until the winter, because it has to be cold outside and snowing and miserable."
The Czech Republic's Film Commission posted a full rundown of the new standards and practices here, but one thing Czech film commissioner Pavlina Zipkova wanted to make clear is that foreign actors and crew members "must show a negative test when leaving their country, a measure that, according to the latest reports, airlines will also begin to require for all their passengers." Once the individuals arrive in the country, "they will undergo a second test, and remain quarantined until they receive a negative result. The result is usually received the next day. In this way, they can avoid the 14-day quarantine, which would severely impact film budgets." Actors and performers will be exempt from having to wear a mask while in production, but "PCR testing will be required every 14 days."
Before production was shuttered, Carnival Row was keeping a nice, steady flow of news coming fans' way (even if it wasn't always the most positive). Jay Ali (USA Network's The Purge) is joining the series as Kaine, a Faerie allied with the Black Raven criminal gang alongside Delevingne's Vignette. Erik Oleson (Netflix's Daredevil) agreed to join as executive producer and showrunner, taking over the helm from first season showrunner Marc Guggenheim (who will still consult on the series and remain and executive producer). There was even a "creative differences" moment, with series co-creator Travis Beacham departing the series (co-created with Rene Echevarria) in what was reported as a "mutual decision" (though Beacham remains an executive producer).