The first season of Cobra Kai, the TV spinoff from the Karate Kid films, will be available to stream for free with YouTube's shift to AVOD (ad-supported video on demand). The streaming service is hoping that the Karate Kid sequel series starring Ralph Macchio and William Zabka will enough of a hook to sell the viewing audience on the change.
Gotta run! If you haven't watched @CobraKaiSeries yet, mark your calendars — All of Season 1 will be streaming on YouTube for FREE starting August 29th for 2 weeks! After that, you'll be able to watch a new FREE episode of Season 2 each week until you've seen them all! #CobraKai pic.twitter.com/I7lkgXcsQY

— Jon Hurwitz (@jonhurwitz) August 10, 2019
Cobra Kai is part of YouTube Premium, where monthly subscribers have full access to the platform's original programming. Prior to the shift to AVOD, YouTube had only made the first episode of the first two seasons available for non-subscribers. To differentiate between AVOD viewers and Premium services, YouTube will release new episodes of original programming weekly on AVOD with ads while Premium subscribers will be able to binge without ads.
"Today, we are welcoming a global audience to enjoy our award-winning series and specials. We see a tremendous opportunity to develop more region-specific content, particularly in Europe, Asia and Latin America, and will continue to partner with the biggest stars and creators in the world to share their stories and voices."

– Robert Kyncl, Chief Business Officer, YouTube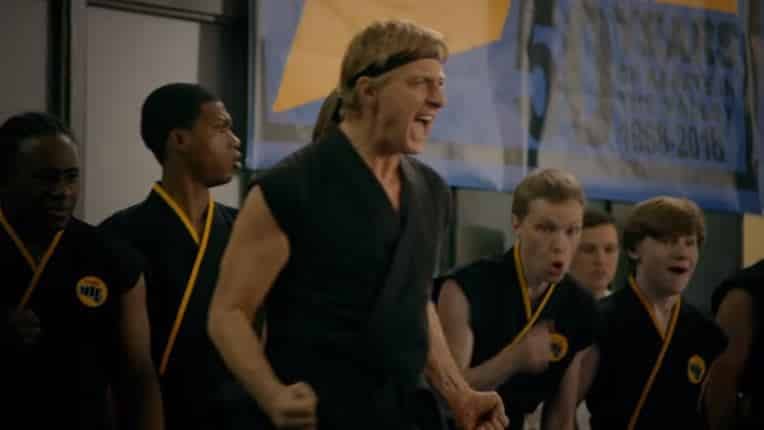 Cobra Kai's become the platform's most successful series to date, hitting nearly 55 million views for the first episode of the first season – with the second season premiere episode hitting nearly 75 million, making it the fastest YouTube Original to hit 20 million views (in six days, according to the streaming giant). Production for season three is slated to begin shortly, with the season expected to premiere some time in early 2020.
The limited first season promotion will also apply to the comedy series Liza on Demand, with its second season set to premiere on September 25; and action-drama series Impule, set to return on October 16.
YouTube's applying the AVOD promotion to only the three aforementioned series following the cancellations of Step Up: High Water, Wayne, and the Dark Cargo pilot – which are all looking for new homes. The network's looking to shift away from scripted projects, but will still maintain a programming slate of some originals.
"YouTube propels popular culture and our new slate reflects our unmatched opportunity to celebrate the best and brightest parts of the platform. We are now developing new series and specials centered on fan-favorite areas like music, personalities and life-long learning that will entertain and inspire a global audience."

– Susanne Daniels, Global Head of Original Content, YouTube
Enjoyed this article? Share it!