Comisery Production Diary Week 5: We're In The Deep Now
Comisery, the Asian-American Science Fiction Screwball Comedy webseries that Quentin Lee and I are making went past the midway point last week. We're now on the 5th episode with 3 left to go. The past weeks have gone by so quickly that it's all becoming a bit of a blur, which is probably why I should keep writing these diaries. Making 8 episodes over 8 weeks is akin to the schedule for a feature-length movie shoot. Movies that aren't big blockbusters usually average 8 weeks to shoot. Unlike movies that shoot for five, sometimes six days a week, we picked one afternoon to rehearse the week's episode over 2 or 3 hours and then take another afternoon to shoot the whole episode in 2 to 3 hours. We're pretty much shooting a movie!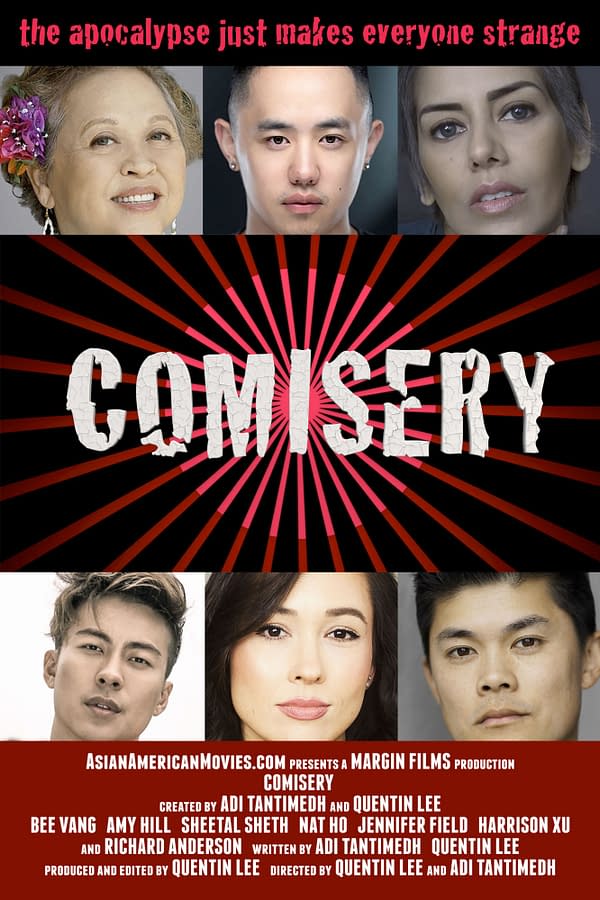 Comisery: Streamlining Production
If you've ever wondered what production on a series shot entirely on zoom with everyone at home looks like, here's a glimpse: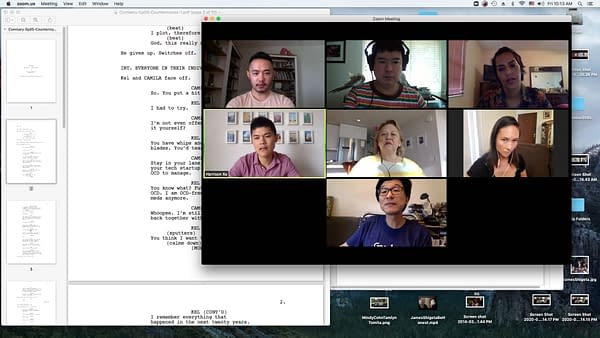 This episode moves the story forward and changes the game, ending on a cliffhanger to set up the endgame in the final 3 episodes. This is the first time we decided to rehearse and shoot in a single afternoon. Some of the actors are starting to get busy so we have to schedule around them now. Fortunately, everyone shows up prepared and raring to go. The style of writing a serialized webseries where each episode is around 10 minutes means a fast pace and characters' histories and stories are often revealed as you go. Screenwriting is frequently about painting in broad strokes, but those strokes should be very specific.
The big theme I wanted to maintain throughout the series is ambiguity. In my experience, Hollywood hates ambiguity. Everything needs a definitive answer, and that can end up in stories lacking in nuance. Part of the story here is whether the alien virus is real, whether people have really been infected, and whether the virus is actually bad. David Cronenberg's movies often traded in ambiguity – the body horror and viral transmission plots of his early movies toy with the notion that change may be terrifying but could actually be transcendent. That influenced our story.
It's All About The Actors
When you're shooting on zoom with no elaborate action scenes, choreography, car chases or special effects, your most valuable assets are the actors. They are the ultimate Special Effect. It's all about performance here. This is also the first time I worked with a cast where every actor is great at comedy. It's common for actors to be serious or Method, but if you meet any who are good at comedy, do not lose their numbers! Harrison Xu gets funnier with each episode he appears in. His character Kel has become the Charlie Brown of the story – everyone keeps dumping on Kel, but everything that happens has been due to him in one way or another. Sheetal Sheth's sardonic, no-nonsense skepticism brings another color to the story. Bee Vang plays Skylar's deep ambivalence as a tightrope act. Amy Hill continues to be effortless. Jennifer Hill still impresses me with the way she balances alienness, bitchiness, and bits of insecurity that leak through the façade.
The end of this episode is the game-changer. The 3 left to go are going to have a different dynamic. What am I going to do with my life after that?! You can catch up with all the episodes via comisery.tv.
Comisery (Episode 105: "Superspreaders")

Celebrate LGBTQ Pride Month with #comiserytv! Comisery is an apocalyptic science fiction comedy series told entirely through web chat sessions about a group of Asian-American friends living through an invasion by an alien virus now. Here's the fifth episode starring Harrison Xu, Amy Hill (Magnum PI), Sheetal Sheth (Hummingbird), Bee Vang (Gran Torino) and Jennifer Field (9-1-1). Quentin Lee, the co-creator of the series, wants to express his gratitude to The Roddenberry Foundation for giving him a 2020 Roddenberry Impact Award. Watch #comiserytv for free and donate to our non-profit partner Asian CineVision!

Posted by Chopso on Sunday, June 21, 2020