'Conan': The Cast of 'The Good Place' Talk Topless Chidi, Tahani/Eleanor and More [VIDEO]
Missing your favorite "soul squad" after last week's season finale of NBC's The Good Place? So are we! To help fill a void roughly the size of Tahani's celebrity contacts list, I present the cast being witty – courtesy of Conan O'Brien's revamped late-night TBS talk/variety show Conan.
Last week, the cast stopped by to chat, decompress from the end of the season – and discuss a few juicy behind-the-scenes topics. First up, a not-so-juicy-but-still-very-interesting clip: given the show's moral and ethical nature, the cast talks about how they've been inspired to live more ethical lives. For instance, Jameela Jamil mentions how she strives to show even more compassion and understanding – especially when dealing with frustrating people. Manny Jacinto is proud to let everyone know he's been properly recycling!
Speaking of ethics… apparently some of the writers are a little… *ahem* less than ethical when it comes to all the situations they put William Jackson Harper's Chidi in. He mentions being sprayed in the face with a blood cannon ("The Trolley Problem"), having 50 acupuncture needles stuck in his face ("Janet and Michael"), and most recently, grocery shopping "with [his] tiddies out" ("Jeremy Bearimy"):
In less interesting news (then again, isn't everything basically less interesting than a shirtless Chidi?), Kristen Bell's husband is supportive. Hooray. Thanks for giving us that tidbit, Conan… technically, it's more a statement about their domestic life – but cute enough, though (and nice to see Bell was able to pull some strings to get him a guest spot on the show):
Finally, the real juicy stuff: are Eleanor and Tahani into each other?!? According to Bell, Eleanor likes who she likes… and that includes Tahani – which we already knew. I mean, who doesn't have a thing for Tahani? She's like an exotic deity with legs for days and an absolute radiance about her inner beauty…
Okay… maybe I'm legit into Tahani, too.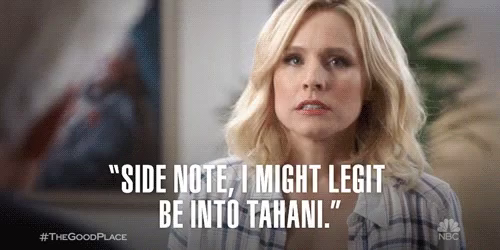 All Tahani-worship aside, the actresses are both into the idea – but also agree it wouldn't add to the overall story they're currently telling to establish that level of relationship between them. However, they love the prospect of it and would welcome it.
But what would their "power couple" name be? "Eleahani"? "Telanor"? Hmmm…
The Good Place is set to return for a fourth season this fall, with Netflix hosting the first two seasons and Hulu your source for recent episodes. Until then, keep Bleeding Cool your main source for The Good Place news, views, and reviews – while we patiently wait in the Jeremy Bearimy for the "soul squad's" return.