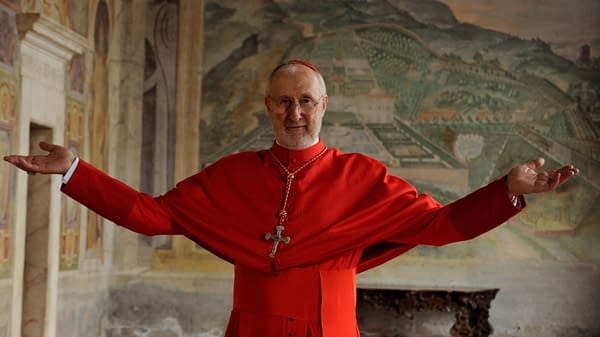 If J.K. Simmons's Howard Silk thought Counterpart ran scorched-earth over his life during the first season, wait until he finds who the new warden of Echo is heading into season 2 (hint: think, "That'll do, Howard. That'll do."). Emmy winner and Oscar nominee James Cromwell (Babe, American Horror Story) has been tapped for the major recurring role of Yanek opposite Simmons in the second season of Starz's espionage spy thriller; written, executive produced and created by Justin Marks.
Production on the second season of the series is currently under way in Los Angeles and is expected to wrap up work in Berlin, Germany, later this year. Counterpart hails from Gilbert Films and Anonymous Content; with MRC serving as the series' production studio.
Cromwell is no stranger to the small screen: the actor won an Emmy for Best Supporting Actor for FX's American Horror Story: Asylum season in 2012-2013; and nominated for an Oscar for Best Supporting Actor in 1996's Babe. Cromwell also appeared as Father Michael in HBO's The Young Pope; and can be seen in next month's Jurassic World: Fallen Kingdom.
Counterpart is about a mysterious world hidden beneath the surface of our everyday existence; starring J.K. Simmons as Howard Silk, a lowly cog in the bureaucratic machinery of a Berlin-based United Nations spy agency. When Howard discovers that his organization safeguards the secret of a crossing into a parallel dimension, he is thrust into a shadow world of intrigue, danger, and double cross… where the only man he can trust is his near-identical counterpart from this parallel world. The show explores themes of identity, fate and lost love, posing the eternal question, "what if our lives could have been different?"

Starz's Counterpart also stars joins Olivia Williams (Emily Burton Silk), Harry Lloyd (Peter Quayle), Nicholas Pinnock (Ian Shaw), Nazanin Boniadi (Clare) and Sara Serraiocco (Baldwin).
Enjoyed this article? Share it!