Cowboy Bebop Writer: Netflix Adapt Won't "Scarlett Johansson" Anime
Between series star John Cho's injury and the COVID-19-related production shutdown, the news vibe on Netflix's live-action Cowboy Bebop series had been quiet for some time. But over the past few weeks (and with word that filming location New Zealand is opening back up for film and television productions), fans have had reason to feel cautiously optimistic. First, there was writer and executive producer Jeff Pinkner (Fringe, Lost) revealing that work was already underway on scripts for a second season. Then a little over a week ago, executive producer Marty Adelstein and writer Javier Grillo-Marxuach. offered updates on the production and how the first season was shaping up. Now, Grillo-Marxuach is back to tease fans with even more intel on what they're doing to bring Spike Spiegel to life.
The first thing that Grillo-Marxuach wants to make clear to fans is that the team behind Netflix's adaptation are there to do right by the anime. One rule to the production is basic yet essential: "We ain't playing Bebop, Bebop is playing us." As far as the team's concerned, the anime is already its own template for a proper adaptation: "You can't look at Cowboy Bebop and say, 'Well, it's just a take-off point. We're going to give them different hair and different clothing, and we're gonna call it something different. And it's just sort of gonna be a loose thing.' If you're doing Cowboy Bebop, you're doing Cowboy Bebop. You know? It's kind of like doing Star Wars."
Grillo-Marxuach has screened a cut of the first episode and is impressed with what he's seen so far, especially Cho, Mustafa Shakir (Jet Black), Daniella Pineda (Faye Valentine), and Alex Hassell (Vicious), as well as the overall look of their on-screen universe. The series is taking a number of its stylistic leanings from anime, something that Grillo-Marxuach never imagined growing up: "Being a sci-fi nerd in the '90s meant you'd sit there and watch a show, and for the first act, you're usually just getting information you already know. Flash forward to like almost 30 years later and TV is weird now, like TV is batshit crazy right now. It is hard to tell people how weird Game of Thrones is to me, having grown up in a world where the thing most like Game of Thrones was a show called Wizards and Warriors that was on CBS in the late '80s. We can be weird. We can look at anime and take design cues out of anime."
While the series looks to reflect the anime's tone and vibe, it's not looking to be a direct adaptation. As far as Grillo-Marxuach sees it, the anime is absolutely fine the way it is. With hour-long episodes, the Netflix series will have the opportunity to expand storylines on a number of fronts: "You've got a show where you have 26 episodes that are full of very colorful villains, very colorful stories, very colorful adversaries, bounties, and all of that. We're not going to go one-to-one on all of those stories because we're also trying to tell the broader story of Spike Spiegel and the Syndicate, Spike Spiegel and Julia, Spike Spiegel and Vicious, and all that. But we are looking at the show and saying, 'Who are some of the great villains in this show, and how can we put them into this into this broader narrative?' So that we are telling both of the big stories that Cowboy Bebop tells."
One of the challenges the team has faced is finding the right balance between the spirit of the original and adapting to changing times and audiences. For example, Faye's costume is set to be dialed back a bit ("we need to have a real human being wearing that") and smoking will be on less prominent display as it is in the anime. "You've got an entity that is very much a kind of gathering together of influences that were very important in post-war Japan: jazz, American pop culture, the whole sort-of cowboy thing, reality television. So, you're looking at a show that's already a commentary on the influence of American pop culture with Japanese culture in the future, in space. And then we're taking that and then we're…trying to translate that not just in English, but also a format that is not the original format of the show."
While the series has received some pushback over what's been described as its mostly white and male creative team, Grillo-Marxuach (who is Puerto Rican) defended the project by reminding fans that creator Shinichirō Watanabe is consulting on the series and that fellow writers Karl Taro Greenfeld and Vivian Lee-Durkin are of Asian descent. The writer also noted the series commitment to diversity in front of the camera: "Spike Spiegel has to be Asian. Like, you can't Scarlett Johansson this shit. We are making a show that takes place in a future that is multicultural, that is extraordinarily integrated and where those things are the norm."
While work is already underway on the second season, Grillo-Marxuach says the series could run well beyond that ("there's always going to be criminals to catch"). But before they start thinking too far ahead, Grillo-Marxuach hopes that anime fans give the series a chance and approach it with an open mind: "Everybody has a different idea of what the best version of a show is, and a lot of Cowboy Bebop fans believe that the anime is the best version of that show. We hope that we can convert them to look at our version of it, and think that it's a wonderful translation, a wonderful addition to the original canon. We're deep enough in a world that where fandom is important to the existence of shows, that people like me don't ever really lose sight of that. I think that there are always going to be tone-deaf reboots of things and all of that, but we're fans. You know, we come at this as fans. We love genre, we love science fiction, and we love Cowboy Bebop."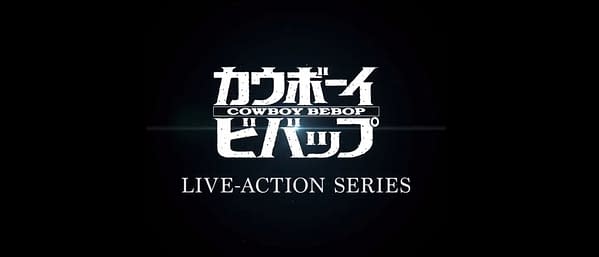 Based on the 1998-1999 anime of the same name created by Watanabe, the series follows Spike (former criminal with a smooth 'do and charming personality who specializes in Jeet Kune Do), Jet (former police officer), Faye (amnesiac with a sordid past who was revived after a long slumber), Ed (sly child prodigy computer hacker), and Ein (intelligent Welsh Corgi classified as a data dog). Together, the ragtag crew of bounty hunters is running from their respective pasts as they hunt down the solar system's most dangerous criminals. They might even end up saving a planet or two if the price is right.
The live-action adaptation also stars Elena Satine, Mustafa Shakir, Daniella Pineda, and Alex Hassell. Pilot writer Yost will also serve as executive producer, alongside Pinkner, Josh Appelbaum, Andre Nemec, Scott Rosenberg, Marty Adelstein, and Becky Clements in the United States. Yasuo Miyakawa, Masayuki Ozaki, Tetsu Fujimura, and Matthew Weinberg will serve as executive producers in Japan, with Watanabe serving as a consultant. Netflix and Tomorrow Studios are co-producing the project, with series composer Yoko Kanno returning to compose the live-action series.