DC-Loving Congressman Robert Garcia Has DCU "Warning" for James Gunn
If James Gunn & Peter Safran don't reveal DCU plans by February 1st, DC-Loving Congressman Robert Garcia (D- California) has fans' backs.
---
If you caught out latest update/dumping of gasoline on our dumpster fires of ransom DCU speculation from Saturday night, then you know we've reached that "cliffhanger endgame" when it comes to DC Studios co-heads James Gunn & Peter Safran's promise of some announcements by the end of January when it comes to their "big picture" plans for the DCU. In their defense? They still have slightly less than 72 hours to produce (though we might be crossing off today as an option… maybe?). Still, while I respect their waiting game, we would be lying if we said that we didn't think something was going to hit after the Shazam: Fury of the Gods trailer dropped. But then again, social media was still a little raw after learning that HBO Max had pulled the plug on Titans and Doom Patrol after their respective fourth seasons. But what if Gunn & Safran decide to go rogue and hold out on their DCU intel until February? Well, have no fear! Because DC-Loving Congressman Robert Garcia (D- California) is ready to leap Washington, DC, in a single bound to get some answers from Gunn.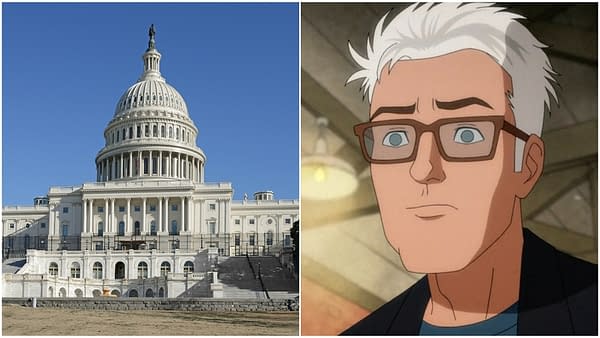 Taking to Twitter, Rep. Garcia stuck a sweet superhero three-point landing (metaphorically speaking) when it came to supporting our greedy fan impatience regarding what Gunn & Safran have to roll out. Because if they're going to make us wait until the very last day, then Rep. Garcia is going to make sure they're held to their promise. And if not? "If [James Gunn] doesn't present the new DCU plan by February 1st, I'm calling him in for a congressional hearing where I will ask the tough questions everyone wants to know." Folks, if there ever was anyone who could call themselves "A Man of the People"? Rep. Garcia might be at the top of that list. Best use of our tax dollars and Congress' valuable time? Well, if it gets us the info on any DCU streaming series coming our way, then I'm going with money well spent. Here's a look at the tweet (while we wait to see how many people take him seriously):
James Gunn, DCU & Our Adventures in Random Speculating
When Gunn posted a look on Instagram Stories at his furry writing partner to let us know that Saturday ("Caturday") was a writing day, how could we not enlarge what he had on his screen to see if there was anything interesting? And if you check out the top of the screencap below, you might notice what we did: "Waller." Well, if we're to assume that means Viola Davis' Amanda Waller, then that's interesting. Unfortunately, it also doesn't offer us much clarity. Assuming that's what Gunn was working on today, then that could be any number of things. Maybe Peacemaker Season 2? Sure! But it could also be the "Superman" film that Gunn's writing, that Amanda Waller spinoff series that was rumored some time back, or something completely different. Or nothing at all. But, hey… it's something to help make the slightly less-than-72-hour wait seem a bit more tolerable.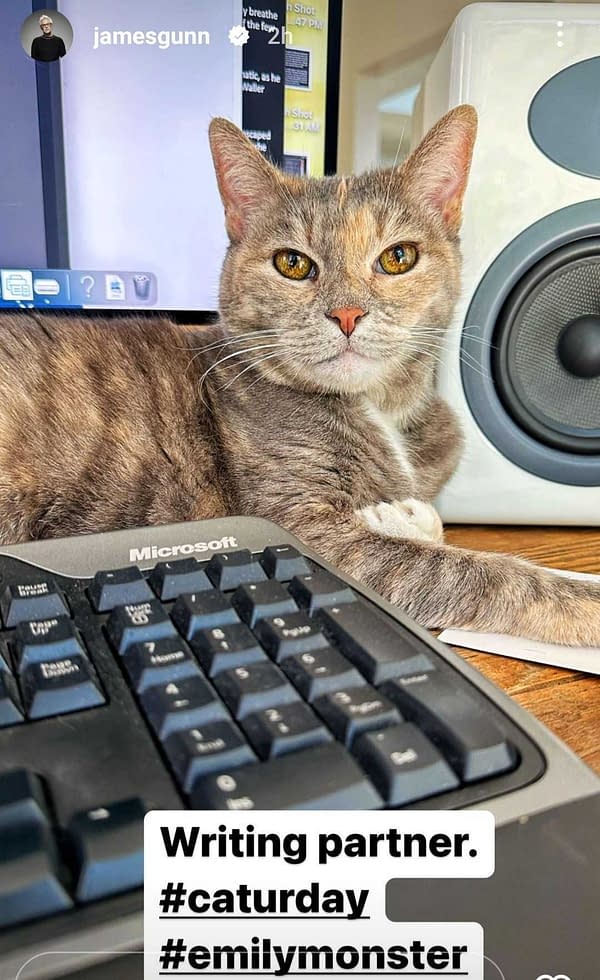 A few days ago, Gunn took to Twitter to make clear that the decision to end HBO Max's Titans and Doom Patrol was made before they took over DC Studios, writing, "The decision to end the series precedes us. But I certainly wish the best for the talented group of creators, actors, and the rest of the crew that produced both shows." For what it's worth? We had heard a decent amount of off-the-record rumblings about both shows ending well before Gunn & Safran first took on charting the DCU back in November 2022. Here's a look at Gunn's tweet from this evening clarifying that the decision by HBO Max to wrap both series was one that was made before Gunn & Safran began leading DC Studios: