We're not sure what the minds behind CBS All Access' The Good Fight were thinking with recent third-season episode "The One Where Diane Joins The Resistance" – specifically, the scene where a series of President Donald Trump-related "target words" are on display. The "target words" in question – the ones that happened to be following one another on the list? "Assassinate President Trump" and "Eliminate Mar-a-Lago."
Now, the quick defense would be to say, "just a coincidence" or "harmless prank only meant for careful eyes," Problem with that? The Good Fight tweeted out an image of that moment from the episode on Friday with the following message – one that can be seen as calling into question the defense of "harmless coincidence":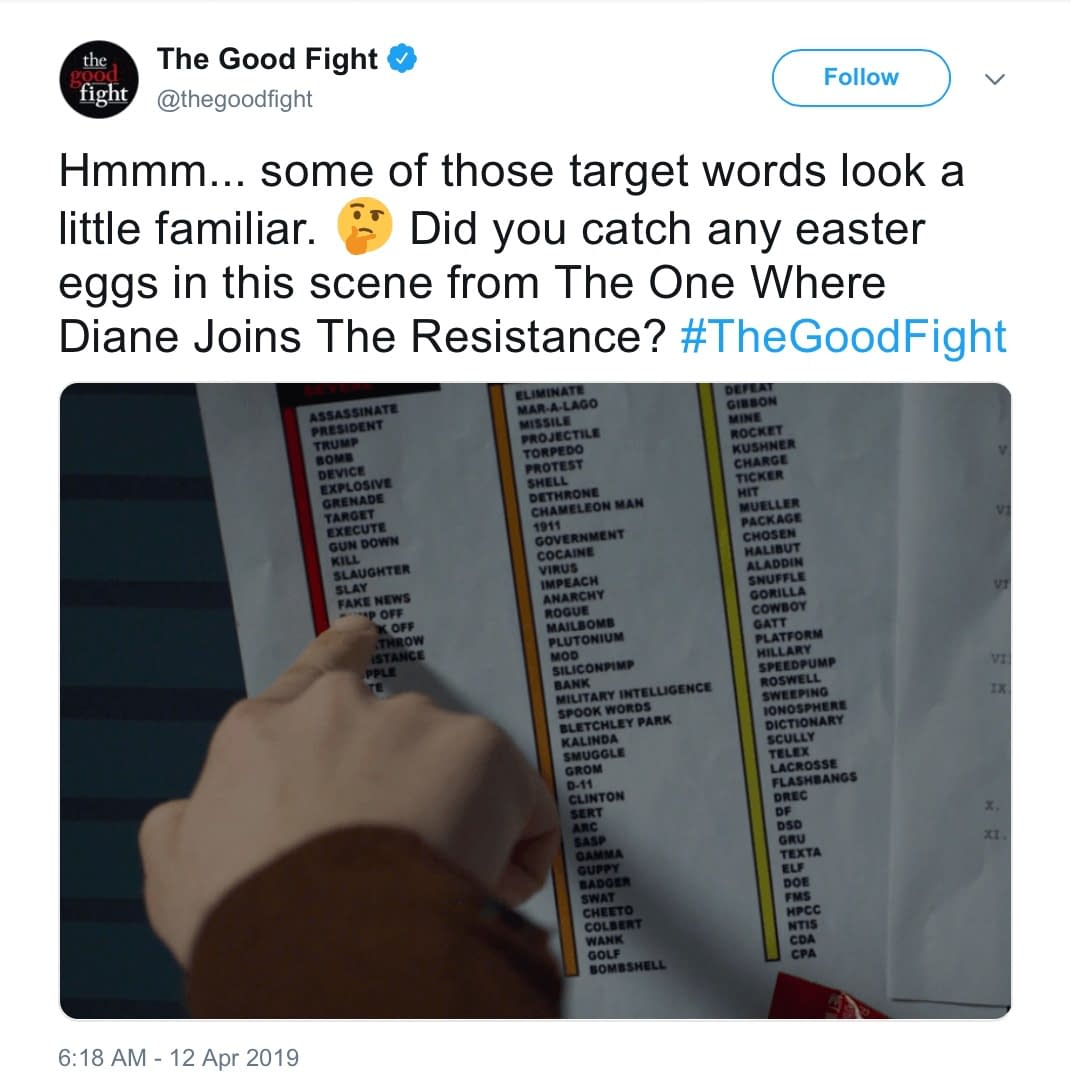 Needless to say, quite a few Twitter users – on both sides of the political aisle – weren't interested in being "in" on the "joke" and the tweet has since been deleted (though Deadline Hollywood saved an image of the tweet.) CBS has not issued a formal statement on the matter.
In an interview with Entertainment Weekly in January 2019, Robert King descibed the series as being more of a "satire" of Democrats' reactions to Trump's administration:
"The Democrats are licking their chops at the possibility of turning the House over and impeachment. So it's really a satire of Democrats wanting to impeach a sitting president in a way that would make them angry if it were Republicans going after Obama … There's a lot of argument among them — especially because Michael Boatman's character is very much a Trump supporter. We wanted to see what the debate would be…"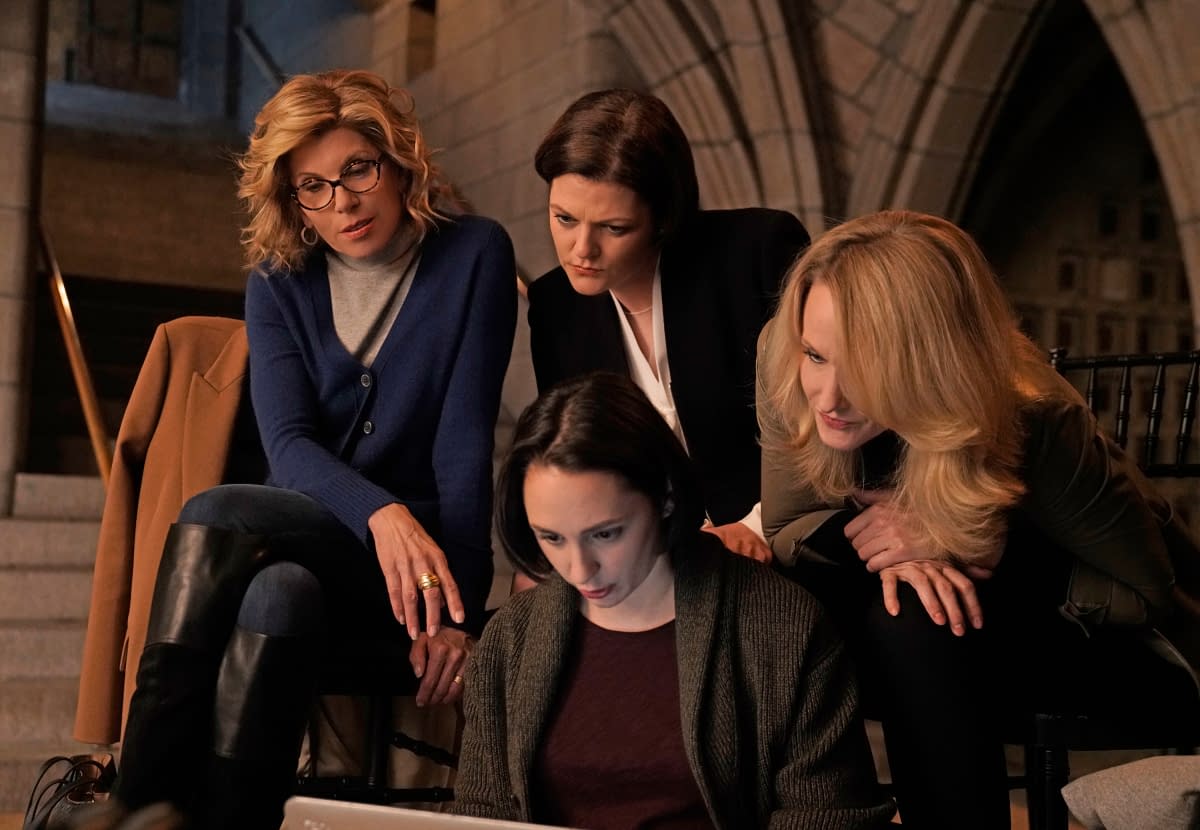 The Good Fight s03e03 "The One Where Diane Joins The Resistance": As the world appears to spin out of control, Diane Lockhart (Christine Baranski) starts to lose hope–until she finds a group of other like-minded women who refuse to play by the rules. Will Liz Reddick-Lawrence (Audra McDonald) join the fight, too?
In the episode, Christine Baranski's Diane Lockhart joined a female resistance group commited to driving down Trump's approval ratings.
The world went crazy in the THE GOOD FIGHT's second season, and now, in season three, the resistance does. Diane Lockhart (Christine Baranski) tries to figure out whether you can resist a crazy administration without going crazy yourself, while Adrian Boseman (Delroy Lindo) and Liz Reddick-Lawrence (Audra McDonald) struggle with a new post-factual world where the lawyer who tells the best story triumphs over the lawyer with the best facts. Meanwhile, Lucca Quinn (Cush Jumbo) balances a new baby with a new love, and Maia Rindell (Rose Leslie) finds a new Mephistopheles in Roland Blum (Michael Sheen), a lawyer who is corruption incarnate.
CBS All Access' The Good Fight stars Baranski (Diane Lockhart), Cush Jumbo (Lucca Quinn), Rose Leslie (Maia Rindell), Audra McDonald (Liz Reddick-Lawrence), Sarah Steele (Marissa Gold), Michael Boatman (Julius Cain), Nyambi Nyambi (Jay Dipersia), Michael Sheen (Roland Blum), and Delroy Lindo (Adrian Boseman).
Created by Robert King and Michelle King and Phil Alden Robinson, The Good Fight is executive produced by Robert and Michelle King, Ridley Scott, David W. Zucker, Liz Glotzer, Brooke Kennedy, and William Finkelstein. The series is produced by CBS Television Studios in association with Scott Free Productions and King Size Productions. The series is distributed worldwide by CBS Studios International.
Enjoyed this article? Share it!