Anthony Mackie has the rare distinction of becoming two superheroes in the same cinematic universe playing Sam Wilson, who becomes Steve Rogers' (Chris Evans best friend in modern times as The Falcon, and becoming his chosen successor as Captain America at the conclusion of Avengers: Endgame. Disney+ have Mackie and Sebastian Stan pairing up with Steve's best friend from World War II, Bucky Barnes in the series The Falcon and The Winter Soldier.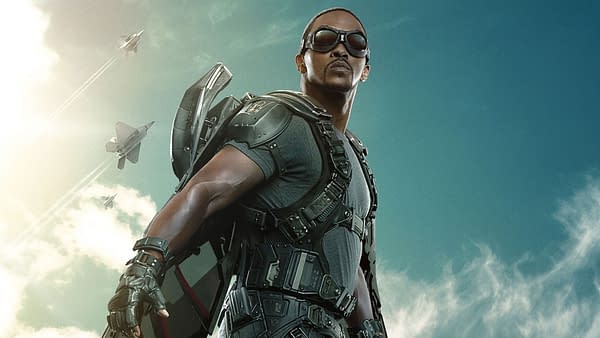 Barnes adopted the Winter Soldier following his capture at the hands of H.Y.D.R.A. Forces, forced augmentation and brainwashing. Rogers and Barnes would reunite a few more times as a visit to Wakanda finally deprogrammed Buck for good. Falcon and the Winter Soldier bonded from their mutual friendship with Cap. Falcon has been a staple in the Marvel Cinematic Universe since making his debut in Captain America: The Winter Soldier. He's also appeared in the final film of the trilogy, Captain America: Civil War, and most of the Avengers in The Age of Ultron and Infinity War. Those able to catch the preview at Comic-Con: International at San Diego (SDCC), were able to see Sam sporting his new look as the new Captain America, shield and all. Mackie and Stan spoke with MTV News at SDCC.
There's a new #CaptainAmerica in town, and @AnthonyMackie says he's got a new suit! The #AvengersEndgame star spilled the details about his first fitting at #ComicCon: "It looks really good" #SDCC pic.twitter.com/A8gsXsQA1o

— MTV NEWS (@MTVNEWS) July 20, 2019
"They came to my house," Mackie said. "I did a fitting in my house." He admitted bugging Marvel Studios for spandex for seven years. Guessing from the name of the series, wouldn't it make more sense to call it Captain America and the Winter Soldier? Perhaps given the name, there could be some explanation why Falcon eventually drops the moniker. In the comics, both Sam and Buck at one point took up Steve's mantle as Captain America. Do you think Mackie should be on TV or should have continued the role on film?
You can see Mackie in The Falcon and The Winter Solider on Disney+ in 2020. You can also catch him in Amazon Studios' Against All Enemies and Netflix science fiction series Altered Carbon and anthology Black Mirror.
You can check all the Marvel Phase 4 announcements at San Diego Comic-Con 2019's Hall H right here.
Enjoyed this article? Share it!