Drag Race All Stars' Chad-tastic Debut: RuPaul Quaran-Stream Rewatch
Welcome back to my epic RuPaul's Drag Race re-watch, friends! This time we're deviating a bit from the regular season and starting in on the epic All Stars spinoff of Drag Race. Yes, all your favorite queens are back and so ready to compete for that sweet, sweet $100k, and all the fabulous prizes included in the winning prize and weekly challenges. Now, it's absolutely no secret that I love basically anything Chad Michaels does: he's so sweet and really does care about the craft. Everything is polished and presented with class and grace, and on top of that, he's not a bitchy backstabbing queen who will throw anyone under the bus with no reason; he's willing and happy to pass along tips and some of the knowledge he's accrued from decades in the business. That said, I do love the other queens this season – there's really not a single queen on that program (aside from Tammie Brown and Mimi Imfurst) who doesn't deserve to be called an all-star.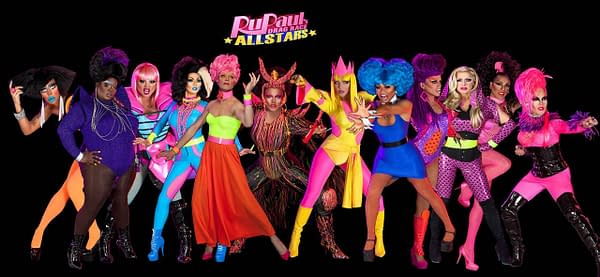 I mean, Pandora Boxx, Raven, Jujubee, Latrice Royale, Manila Luzon, Shannel, Team PR: Alexis Mateo and Yara Sofia, and Nina Flowers are all fierce and strong competitors. Really any of them could have taken the title, with it tooth-and-nail right up through the finale. That said, I feel the two weaker competitors were Mimi Imfurst and Tammie Brown. I mean, they're not all-star material, in my opinion. Tammie is just on another planet, which I get that's a conscious choice and her artistic expression, which is great, but I kind of count her as a low low budget Jinkx Monsoon. They both have that quirky old Hollywood style and it just doesn't really work, especially not for America's next drag superstar.
And then there's Mimi Imfurst. She was basically disqualified from season 3 when she literally picked up India Ferrah when lip-syncing for her life. Needless to say, between that and her selfish "I'm first" attitude, she's not exactly a favorite among queens or fans. I think they just brought her in for the friction and drama that comes with her being paired up with another queen. Poor Pandora Boxx – she would have had a good chance if it weren't for Mimi. Mimi is just such an overpowering personality and a total downer to be paired with, I don't blame Pandora for being totally dejected the entire time.
Needless to say, I am incredibly pleased to see Chad Michaels finally get his spot in the Drag Race hall of fame, though he's always been in the hall of fame of my heart. I mean, have you seen his Cher? Though he proved beyond a shadow of a doubt this time around that he is so much more than "the Cher impersonator" and he has his own style and it is to die for. Here's looking forward to future seasons of All Stars where hopefully some of the best queens come back and finally go all the way this time.