Today we're going to take a look at the single best episode of the season in each of the superhero-related shows I cover for Bleeding Cool. These are, of course, based on my opinion, and you are welcome to disagree in the comments below. What I look for in an episode is how it moves the characters, plot, and/or universe forward, as well as how memorable the episode is and how I felt about the series after having watched it.
Gotham had to be the most difficult of the shows to settle on which episode was the best, and in truth, I'm still not 100% this is the right choice, but 'A Dark Knight: Queen Takes Knight' is my pick… for now.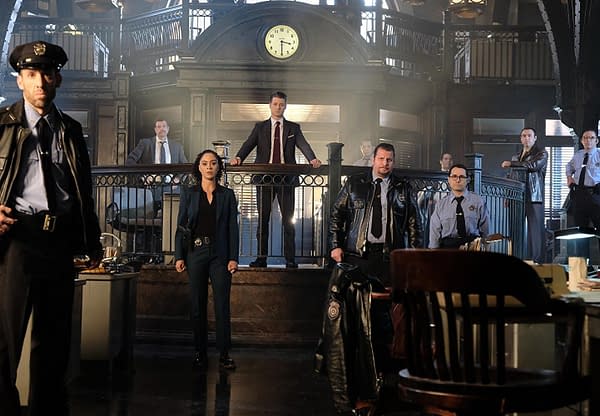 The episode features the return of Carmine Falcone (John Dorman), and I always like it when a series ties up a loose end from their first season. In this case, we've met his daughter Sofia (Crystal Reed), who has proven to be far more manipulating and cunning than expected. But this episode busts her whole plan wide open, and we see how much of what has happened in the first season was her making — including the introduction of Professor Pyg (Michael Cerveris) and a plan to have her father killed and to take control of Gotham in revenge for what Jim Gordon (Ben McKenzie) did when killing her brother. Turns out she's a very complicated woman. This was also the episode that had Gordon accepting credit for killing Pyg, which would work against him later in the season.
But this episode also had a lot going on when it comes to the other characters. Alfred (Sean Petwee) makes a final push to get through to Bruce (David Mazouz), which ends with him being fired. Nygma (Cory Michael Smith) trying to take control of his mind from Riddler. Tabbitha (Jessica Lucas) literally beating the sense back into Solomon Grundy (Drew Powell), and with all of that going on, we get to catch up on Jerome Valeska (Cameron Monaghan).
This episode was the payoff for the first part of the season and either wrapped up or started off story lines. The episode was written by John Stephens and directed by executive producer Danny Cannon. This was the winter finale for the series that wouldn't return again until March.
Enjoyed this article? Share it!