HBO Max: Bugs Bunny and Elmo Beat Out Bada Bing, Dragons and Cosmos
In another classic case of "Good News/We're-Not-Sure-What-It-Means News," we're getting some early intel from Parrot Analytics on what the biggest eyeball-grabbers have been for WarnerMedia's now one-week-old streaming service HBO Max. Using social media, fan ratings, and rates of online (shall we say) "access", the organization gauges (and in this case, ranks) the popularity of shows, and guess what? If you're a fan of The Sopranos, Game of Thrones, Sex and the City, or Doctor Who, you might want to sit down because animation and Sesame Street fans are crushing all of you right now. So the good news: Looney Tunes Cartoons, the streamer's new take on Bugs Bunny and Daffy Duck; and The Not-Too-Late Show With Elmo, a talk show hosted by the popular Sesame Street character, are the top two most in-demand shows.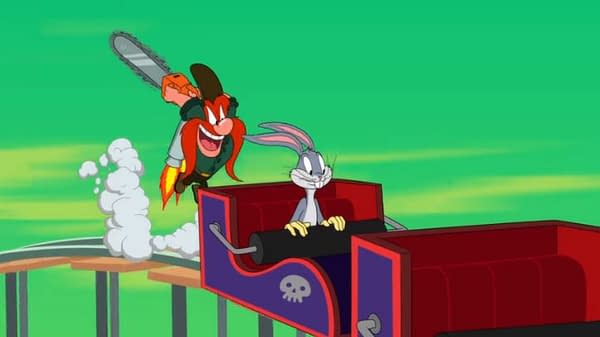 While that does wonders to help secure the streaming service as "family-friendly," the report also raises a few red flags for HBO Max moving forward. Anna Kendrick-starrer Love Life started slow, but has been picking up eyeballs over the past few days and actually premiered early due to "strong positive audience response". Underground ballroom competition show Legendary is also premiering with a strong buzz, with the streamer planning to roll out a considerable amount of original content later this year. But HBO Max is still looking for that live-action, across-the-board hit to put it on the map the way The Mandalorian did for Disney+. Acquiring HBO's parent company Time Warner in 2018, AT&T is looking to not only transition over existing customers to the service but also create a library of original programming to lure in enough eyeballs to pay for the billions being spent. With NBCUniversal's Peacock streaming service ramping up next month and other streamers increasing original programming spending, the competition for content will only get more fierce.