Hollywood Cast, Creative Team Show How Their Tinseltown Came to Life
With Ian Brennan and Ryan Murphy's Hollywood coming up on its one-month anniversary on Netflix, viewers are getting a four-part look behind the scenes at how the series was able to reflect the Tinsletown we knew while creating its own universe of characters. Set in post-WWII America, the series follows a group of aspiring actors and filmmakers as each tries to achieve success. Each character offers a unique glimpse behind the gilded curtain of Hollywood's Golden Age, spotlighting the unfair systems and biases across race, gender, and sexuality that continue to this day. The series takes a very interesting "What If?" approach to the issues, one that considers how things might've been if those power dynamics didn't exist.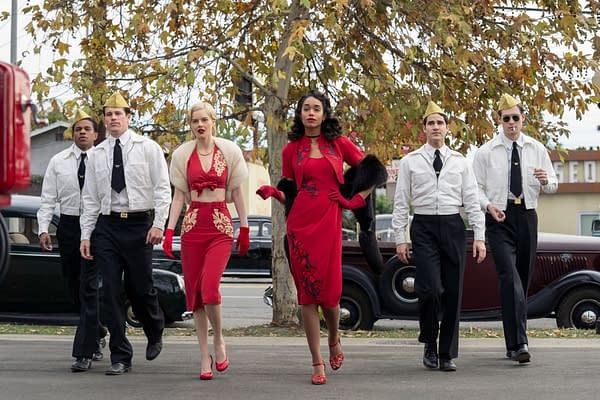 In our first video, production designer Matthew Flood Ferguson and visual effects supervisor Paul Santagada take viewers to iconic Hollywood locations and explain the research needed to bring '40s Tinseltown to life. Following that, we get a look at what went into creating the beautiful and hopeful opening credits and what they mean to in relation to the essence of what the series is about:
Next up, the cast and creative team discuss how the characters were developed and the casting process that was in play to find the right match for the right role. But the series wouldn't the series with just a stellar cast alone, with the costume design, makeup, and hairstyling reveal the character of this glamorous golden age that serves as the anchor in the limited series.
Netflix's Hollywood stars David Corenswet as Jack Castello, Darren Criss as Raymond Ansley, Jeremy Pope as Archie Coleman, Patti LuPone as Avis Amberg, Laura Harrier as Camille Washington, Samara Weaving as Claire Wood, Dylan McDermott as Ernie, and Holland Taylor as Ellen Kincaid. In addition, the series also stars Jim Parsons as Henry Willson, Joe Mantello as Dick Samuels, Jake Picking as Rock Hudson, Queen Latifah as Hattie McDaniel, Michelle Krusiec as Anna May Wong, Maude Apatow as Henrietta, Mira Sorvino as Jeanne Crandall, Rob Reiner as Ace Amberg, Katie McGuinness as Vivian Leigh, and Harriet Harris as Eleanor Roosevelt.