Invincible: Has Jeffrey Dean Morgan Joined Season 2 Voice Cast?
Maybe we're reading into Jeffrey Dean Morgan's post too much, but it seems like he might've joined the voice cast of Invincible Season 2.
---
If you're a fan of Amazon & Robert Kirkman's Steven Yeun (Mark Grayson / Invincible) & JK Simmons (Nolan Grayson / Omni-Man)-starring Invincible, then last week was a pretty good week for you. We learned that the second season would hit later this year, which was accompanied by a teaser as well as a look at a page from a Season 2 script teasing a long-awaited face-off. That's not too shabby, considering how much more time there is until the adult animated series returns. But earlier today, we saw that Jeffrey Dean Morgan shared a look at some "light reading material" that Kirkman sent along, thanking everyone for it. And what were the presents? The second and third compendium of Image's Invincible collections.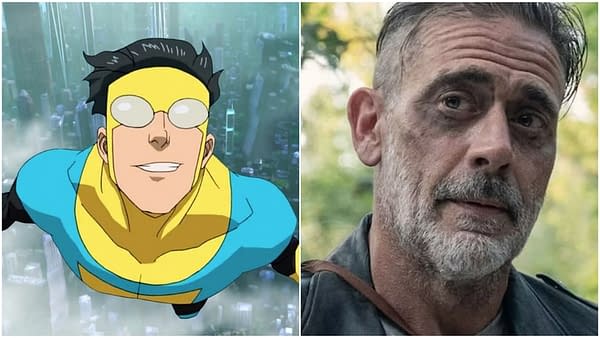 Of course, our raging dumpster fires of random speculation began raging higher… but with caution. Maybe it was just that… a present. Or, maybe it has to do with talk of a live-action film adaptation of the comic book series? But then we saw what the show's Twitter account sent out, and we went with the idea that Morgan's joining the voice cast for the animated series. Why? Because the compendiums don't include the first volume, which you would think would have to be there if you were starting up things from the feature film standpoint. But as who? Thragg? Conquest? Let the speculation begin…
So here's a look at comic book creators Robert Kirkman, Cory Walker, and Ryan Ottley reacting to the teaser for Season 2 that was released, followed by a look back at what we learned about the second season:
Here's that Season 2 script page teasing a very bloody (and not surprising) throwdown between Mark and Ross Marquand's The Immortal, accompanied by the appropriate Jason Mantzoukas (Rex Sloan/Rex Splode) screencap reaction shot:
And here's a look back at the preview video that was released confirming the season's release window, with Seth Rogen's Allen The Alien finally getting the information out of Mark after some stalling (clearly, someone's been reading social media over the past few months):
Running between 48:15 – 54:16, The Walking Dead star Khary Payton (Markus Grimshaw / Black Samson) and Daniel Merrifield (aka The Movie Dweeb) get into great conversations about working with Kirkman, how the voice cast became a mini "The Walking Dead" reunion & more. But with regards to the second season of the animated series, Payton shared that the recording work was done for the second season and that they had already moved on to the third season. But when it came to the animation side, Payton explained that more time was needed because of the glut of big studio animation projects that needed to be worked on because of the pandemic. But even though he says it's still "gonna take awhile," Payton made sure folks knew that the artists are taking their time to guarantee the first season's quality is maintained.