Invincible Vs. Homelander? Kirkman, Walker & Ottley Share Thoughts
Comic book creators Robert Kirkman, Cory Walker & Ryan Ottley offer their thoughts on The Boys' Homelander versus Invincible and Omni-Man.
---
We've all played this game before and still continue to play it when we're bored or in one of a number of altered states of consciousness. If two pop culture characters had to throw down, who would win? Invincible comic book creators Robert Kirkman, Cory Walker, and Ryan Ottley set down to do that very things, taking a look at how both Mark Grayson (Invincible) and Nolan Grayson (Omni-Man), played by Steven Yeun & J.K. Simmons, respectively, in Amazon's Prime Video series. And to kick things off, the trio pitted both Graysons against Showrunner Eric Kripke's Homelander (Antony Starr). So how would things turn out when the dust settled?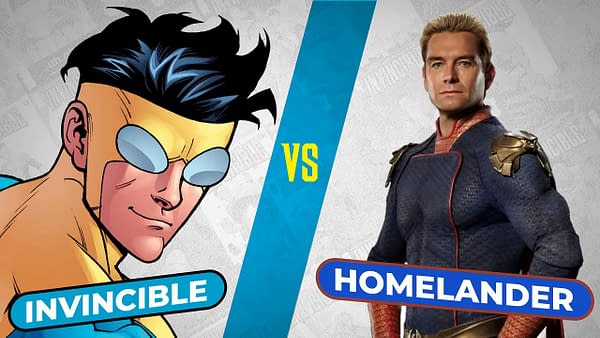 When it comes to Homelander taking on Omni-Man, Kirman, Walker & Ottley don't see it being close – Omni-Man gets the win easily. In fact, Kirkman shares that even The Boys EPs Seth Rogen & Evan Goldberg conceded that a Homelander/Omni-Man would be brutally one-sided. As for Invincible, the trio believes Homelander has a shot if he's taking on Mark early in the series or comic book run. But if we're talking a smackdown with late-in-the-season Mark? Well, that's a different story. Here's a look at the clip that was released where Kirman, Walker & Ottley offer a reality check to the leader of The Seven and Vought International Chairman:
And here's a look at the full video, where Kirman, Walker & Ottley discuss how their hero would fare going up against a broad range of characters, from Superman and All Might to Lobo and Chainsaw Man:
Here's a look back at Kirkman, Walker, and Ottley reacting to the teaser for Season 2 that was released in January, followed by a look back at what we learned about the second season:
Here's that Season 2 script page teasing a very bloody (and not surprising) throwdown between Mark and Ross Marquand's The Immortal, accompanied by the appropriate Jason Mantzoukas (Rex Sloan/Rex Splode) screencap reaction shot:
And here's a look back at the preview video that was released confirming the season's release window, with Seth Rogen's Allen The Alien finally getting the information out of Mark after some stalling (clearly, someone's been reading social media over the past few months):
Running between 48:15 – 54:16, The Walking Dead star Khary Payton (Markus Grimshaw / Black Samson) and Daniel Merrifield (aka The Movie Dweeb) get into great conversations about working with Kirkman, how the voice cast became a mini "The Walking Dead" reunion & more. But with regards to the second season of the animated series, Payton shared that the recording work was done for the second season and that they had already moved on to the third season. But when it came to the animation side, Payton explained that more time was needed because of the glut of big studio animation projects that needed to be worked on because of the pandemic. But even though he says it's still "gonna take awhile," Payton made sure folks knew that the artists are taking their time to guarantee the first season's quality is maintained.