It's Always Sunny in Philadelphia S16 Filming Delays Podcast & More
With The Gang hard at work on It's Always Sunny in Philadelphia Season 16, The Always Sunny Podcast is set to return later this month.
---
As you can tell from our updates over the past few weeks, filming is underway on the 16th season of FXX's Rob McElhenney, Charlie Day, Glenn Howerton, Kaitlin Olson & Danny DeVito-starring It's Always Sunny in Philadelphia. And based on the familiar faces set to return alone, it's already shaping up to be a pretty impressive season. But with all of that work going on, The Gang needs to take a longer break from The Always Sunny Podcast than originally expected. Taking to social media, the word went out that there won't be episodes on March 6th 0r 13th so that they can keep their focus on the upcoming season. And while it might be about another two weeks before another episode, we look forward to the behind-the-scenes looks that The Gang has been sharing. Here's hoping they're grabbing at least a few minutes here and there to actually sleep.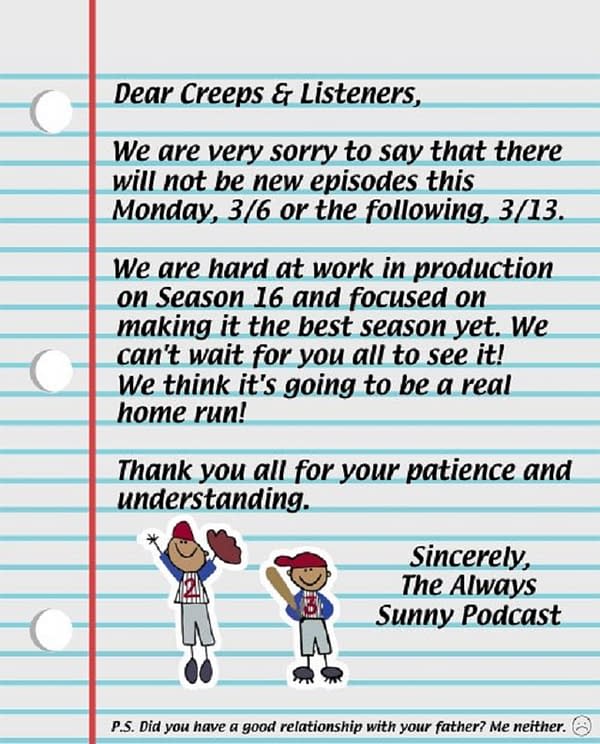 And here's a look at the tweet that was sent out earlier today confirming that the next podcast episode won't be hitting our screens until March 20th (and made a whole lot easier by how much we laughed at the key art image above):
IASIP Is a Very Wordy Show
And speaking of the long-running, record-setting series, did you know that "Always Sunny" is also the wordiest show on television? At least, according to a study from WordFinderX, it is – using OpenSubtitles, Subdl & TVSubtitles.net to analyze a number of series over the course of their respective seasons. IASIP registers at 176.2 words/minute, putting it 36.2 words above what the National Disability Authority recommends the maximum number of words/minute should be (140 words/minute). To check out the full report, head on over to WordFinderX to learn everything you need to know about how the study was put together and for a deeper dive into the results ("The Most Difficult TV Shows to Understand").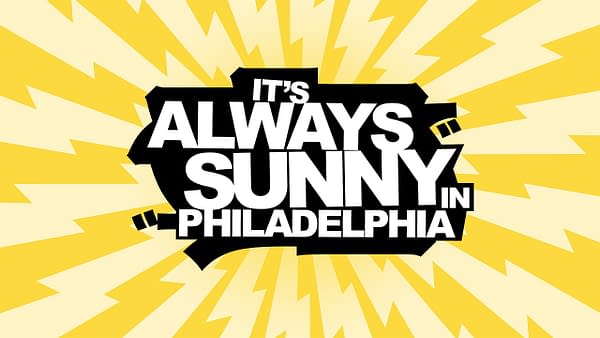 It's Always Sunny in Philadelphia S16: Mac's Dream About to Come True?
Could It's Always Sunny in Philadelphia Season 16 be the season that Mac's dream is finally realized? Will Mac finally get to play catch with Philadelphia Phillies All-Star Second Baseman Chase Utley? As The Gang continues working away on the 16th season, McElhenney posted a brief Instagram Stories video showing the outside of his trailer… followed by a look outside of a trailer with the name "Chase Utley" on the door, with the text, "Should be a real home run" (along with what we're sure is supposed to represent stickers). After learning of Mac's love for Utley back in S05E06 "The World Series Defense" via a letter that Dee (Olson) was supposed to deliver to him (with Olson's reading of Mac's letter one of the show's classic moments), it would be in S06E11 where Dennis (Howerton) would prove the depths of his cruelty by sending Mac an image of himself posing with a certain all-star athlete at a celebrity event (after a game of catch, no less). Yup. It was Utley. Thankfully, the real-life story of Utley and McElhenney had a happy ending back in June 2019.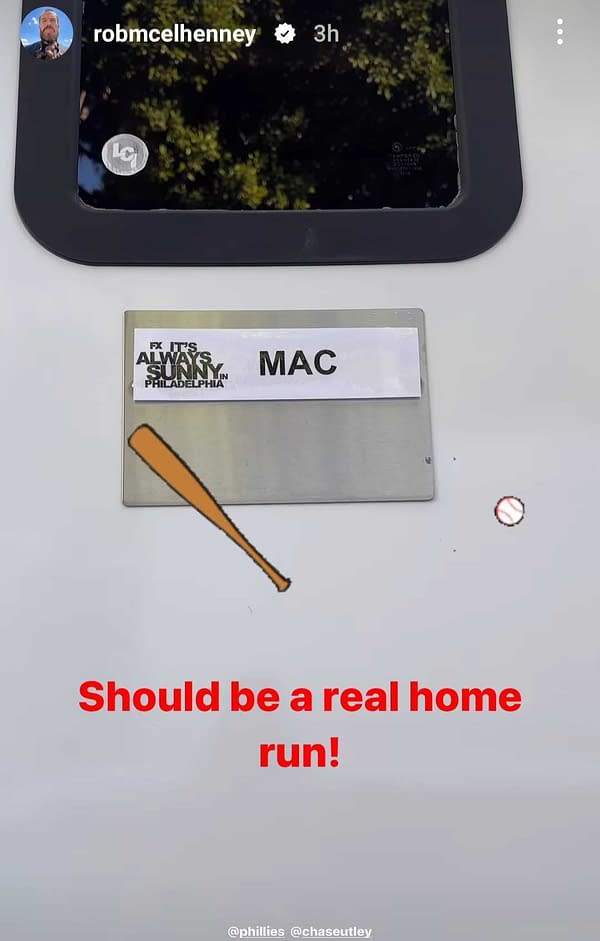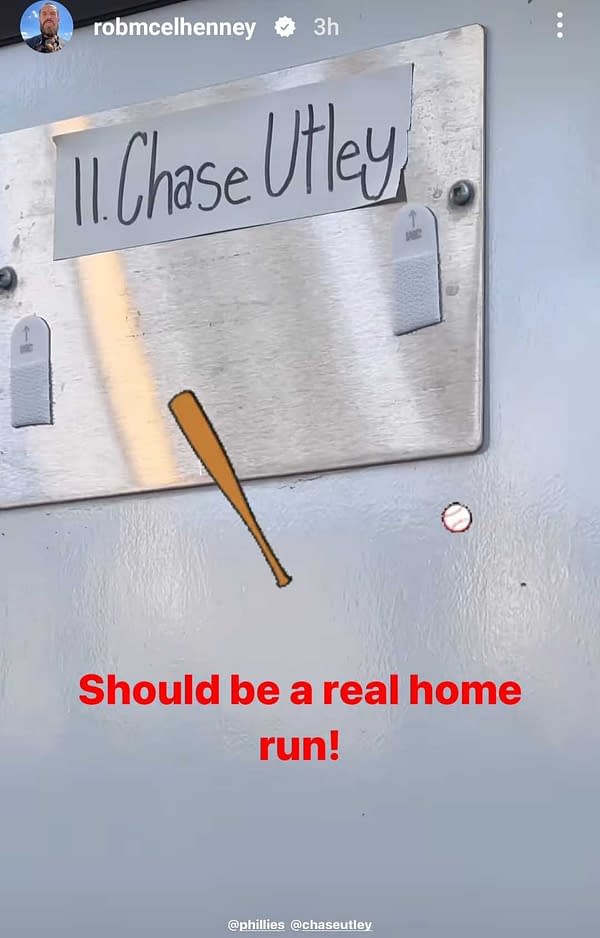 ---
---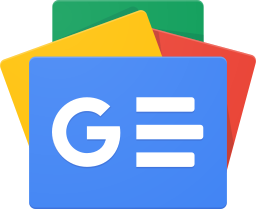 Stay up-to-date and support the site by following Bleeding Cool on Google News today!