James Gunn, Peter Safran Settle Differences "Rock 'Em Sock 'Em" Style
So this is a pretty big week around the hallways of Warner Bros. Discovery. Now, we know an opener like that is just begging for a joke, but this time, we're actually being serious because this is the week that James Gunn ("Guardians of the Galaxy" film franchise, Peacemaker) and producer Peter Safran begin as the new Co-Chairmen & Chief Executive Officers of DC Studios. Reporting only to WBD head David Zaslav, Gunn and Safran will oversee the overall creative direction of the DC Universe across film, television, animation, and more, all under one banner. Now, Gunn is having some fun "addressing" one of the many questions folks have for the duo as they look to put their imprint on the DCU. How will they settle their differences if they're at a stalemate? Thankfully, Gunn had an image of himself with Safran from a few years ago that best exemplified the "Rock 'Em Sock 'Em!" approach that the two are adopting for any of the really tough decisions that come along.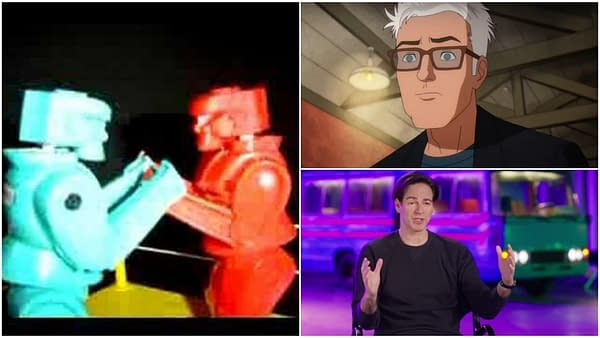 Here's a look at Gunn's tweet from earlier today, which not only sets a fun, everyone-take-a-deep-breath approach to things but is also a nice reminder that Gunn & Safran didn't just meet each other last week. And for those of you who missed the point earlier, this is Gunn having some fun & this is not a new image. Okay… enjoy!
Earlier this week, Gunn honored his first day in his new role with a classic image of Clark Kent from the comics. And if we're being honest? An image like that only fuels my need for a Henry Cavill-starring, Gunn written & directed (or one of the two since he's so busy) Superman movie that brings back a sense of hope & triumph to the hero: