James Gunn, Peter Safran's DCU Casting Policy Hurting Voice Actors?
DC Studios co-heads James Gunn & Peter Safran rolled out a DCU casting policy that's being seen by some as a direct slight to voice actors.
---
Earlier this week, in keeping with their promise to have some news to break by the end of January, DC Studios co-heads James Gunn & Peter Safran rolled out the first wave of films and series comprising their "big picture" blueprint for the DCU. And on the television side of the pop culture landscape, there was a lot to like about what we heard (and we explained why not long after the news hit). The lineup included the animated Creature Commandos, the Amanda Waller (Viola Davis)-focused Waller, the Green Lantern series Lanterns, the Wonder Woman prequel series Paradise Lost, and a Booster Gold series. And let's not forget what Matt Reeves has going on in his "Elseworlds" The Batman universe with the Colin Farrell-starring Penguin as well as an Arkham Asylum-based series.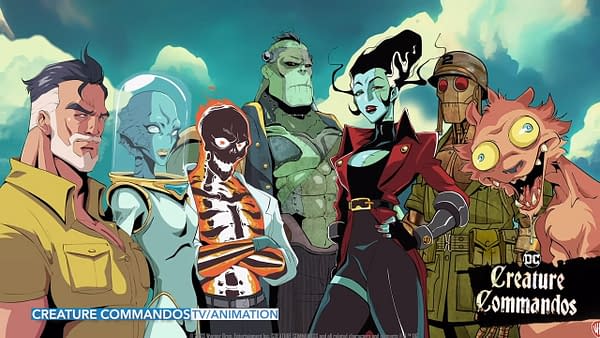 And then there were the little details that (at least, at first) impressed us, like how Creature Commandos (based on writer J. M. DeMatteis & artist Pat Broderick's comic book characters) would be specifically voiced by actors who can play their physical counterparts in any live-action series or film that might come up down the line. Again, our initial thought was how great of an idea that was to keep a level of flow & consistency between animated & live action. We saw it as a way of guaranteeing that viewers knew that animation mattered just as much as live-action does when it comes to the DCU. But thanks to Twitter, which really can educate you sometimes, we learned that there was one group's perspective we hadn't considered… one group who will definitely be impacted by Gunn & Safran's policy- and not in a good way. Voice actors.
With animation seemingly at the top of the list when it comes to content that companies such as Warner Bros Discovery and Netflix look to when they need to save a few books and wrack up some tax write-offs, the post-pandemic pop culture landscape has not been a kind one for animation. Especially when you consider how animation was one of the few areas that were able to rebound near the "end" of the pandemic, helping boost more than a few hurting companies. And then there's the matter of how many voice actors aren't given the respect they deserve as actors and how a memorable voice (think Kevin Conroy's Batman or John DiMaggio's Bender from Futurama) can be just as much of a draw as having an actor physically appear. So with all of that in mind, it's understandable why Naughty Dog senior character artist Del Walker had this to say via Twitter after the news hit and folks had time to process.
"James Gunn just stated that DC want the film, games, and animation characters to be consistent and played by the same actors," Walker's tweet began. "I'll never work on a DC title ever again if that's upheld. You've lost your mind if you think Hollywood can outdo [Tara Strong's] Harley or any VA actor." Walker is far from alone, based on how much the rumblings on social media & online have grown over the past 24 hours. And it's hard to argue that they don't have a point. From their perspective, it makes what they do seem easily replaceable. But as we've seen in the past, a quality voice actor can make an okay animated series something magical… or painfully cringe-worthy (we're looking at you, Disney+'s What If…?). A fumble that's fixable for Gunn & Safran? All they have to do is show voice actors that they're deserving of as much respect as live-action actors. And they can do that by casting the best person for the live-action series and the best person for the animated series. If it the same? Great! But don't make it a mandatory policy.