James Gunn, Peter Safran Proved Streaming Matters in Their DCU Plans
With today's DC Studios announcement, James Gunn & Peter Safran proved that streaming has a very important role in their new DCU.
---
Okay, now that DC Studios co-heads James Gunn & Peter Safran have announced the first wave of films and series that comprise their "big picture" blueprint for the DCU… I can let out the breath that I've been holding since November 2022. Not that I was doubtful of what Gunn & Safran would have up their sleeves… just the opposite, in fact. Because after reporting on how much Gunn enjoyed his experience working in television/streaming during production on HBO Max's John Cena-starring Peacemaker, I was keeping every available body part crossed that his feelings would translate into streaming having a strong presence in their new DCU. And holy s**t does it! The lineup included the animated Creature Commandos, the Amanda Waller (Viola Davis)-focused Waller, the Green Lantern series Lanterns, the Wonder Woman prequel series Paradise Lost, and a Booster Gold series. And let's not forget what Matt Reeves has going on in his "Elseworlds" The Batman universe with the Colin Farrell-starring Penguin as well as an Arkham Asylum-based series.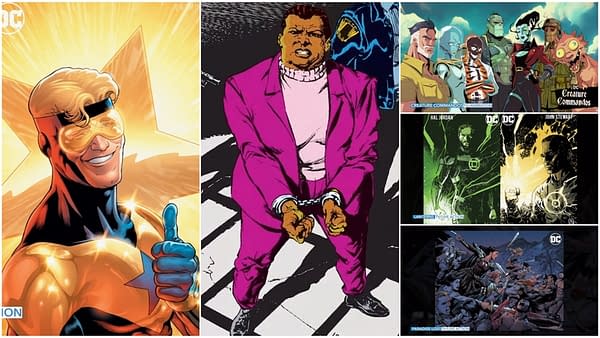 But it wasn't just a numbers game, though five series is pretty impressive. There were actual reasons given for each of these projects, reasons that showed Gunn & Safran's understanding that both a cohesive DCU and a creatively personalized "Elseworlds" will work best when both film and streaming are embraced.
"Creature Commandos": Right off the bat, we're going to have a connection to Gunn's The Suicide Squad via Weasel and the father of a very familiar name, Rick Flag Sr. And then, the voice cast will also play their real-life counterparts. Brilliant planning on both counts, but in the bigger picture? "Monsters fighting Nazis" is not a bad way for the new DCU to make a major splash in adult animation (nothing against Harley Quinn), plus animation is a great (and cheaper) way to try out new characters for potential animated or live-action spinoffs.
"Waller": A streaming series that finds Viola Davis returning as one of the DCU's "baddest" of bad-asses and ties into Peacemaker? We're sold. Because we're all in on the idea of Waller being a much deadlier version of Nick Fury and the influence she could have across the DCU. And if anyone's going to play the role of the rare person who will look Batman in the eye without so much as a blink, it's Davis. And then add Jeremy Carver (Doom Patrol) and Christal Henry, and you quickly realize that there's a lot to love here.
"Lanterns": A "Green Lantern" series that finds Hal Jordan & John Stewart investigating a mystery that strikes at the heart of the main storyline running through the DCU's films and series makes this series matter right out of the gate. And going with a "True Detective" approach could make this series a great way to introduce other aspects of the DCU's more universal side. Plus, who can pass up a good mystery?
"Paradise Lost": A series set before the birth of Diana (Wonder Woman) and set on the island of Themyscira that's being seen as the DCU's "Game of Thrones" -like series may have been the big surprise for me, and in a good way. We've been teased about the island's history in the past, but it's always been done in this nostalgic, sanitized way. Having the chance to see Themyscira comes to be (warts and all) is a fascinating one.
"Booster Gold": If the DCU is looking to prove that it has a serious comedic side, Booster Gold was a great choice. Basically, Booster was a self-absorbed influencer well before the phrase "influencer" started getting overused to the point of nausea. A poser who wants to be a superhero for all of the power and none of the responsibility, Booster is a walking "satirical series "that's been begging to happen. But for it to truly work, I truly hope they take a page out of the "Deadpool" playbook and go "smart raunchy" with the humor (and some fourth wall-breaking wouldn't hurt).