Posted in: DC Universe, Opinion, streaming, TV, TV | Tagged: dc studios, dcu, james gunn, Jennifer Holland, peacemaker, The Suicide Squad
---
James Gunn Takes on Sexist Trolls "Deeply in Need of Reasons to Hate"
Earlier this evening, DC Studios' James Gunn took to Twitter to push back & fact-check sexist trolls "deeply in need of reasons to hate."
---
Even before DC Studio co-heads James Gunn & Peter Safran rolled out "Chapter 1 – Gods and Monsters," their first wave of films & series that serve to establish the new DCU, Gunn made it clear what their casting philosophy would be. In a nutshell, it's the right person for the right part. But does that matter to the obnoxiously loud trolls on social media? You know, the soft, privileged & protected folks who only exist to hate because otherwise, the reality of pathetic loneliness would become too much to bear? Yeah, those folks. Now, we're not saying there would ever be a "good" day to peddle the sexist bulls**t that the person that Gunn responded to did, but today was definitely a more wrong day than normal.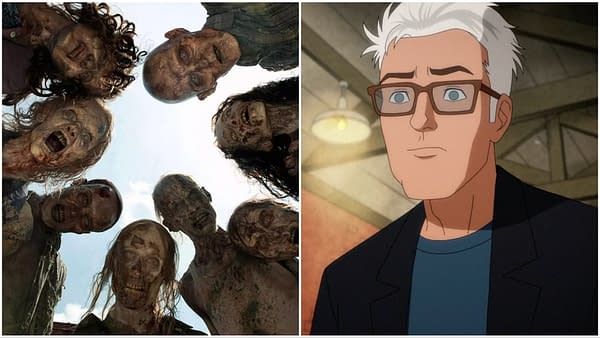 Responding to a tweet that tagged Gunn and actress (and Gunn's wife) Jennifer Holland (Peacemaker, American Horror Story: Asylum), telling Gunn to "stop putting your wife in every DC project." Apparently, that was a comment Gunn wasn't willing to let slide, calling out just how factually stupid the comment was as well as the hate behind it. "The only DC movie I've ever cast my wife in was [The Suicide Squad]. I had nothing to do with the casting of any other movie – anything else was shot a year or so ago while I was deep in 'Vol 3.' But I know some of you are deeply in need of reasons to hate," Gunn responded. Here's a look at a screencap of Gunn's response, with the name of the individual making the initial comment redacted to protect the ignorant: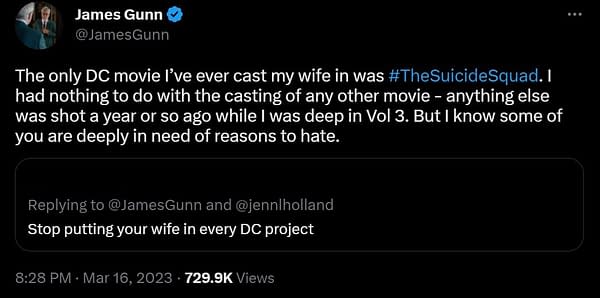 Gunn Makes Clear DC Studios' Casting Philosophy
As the speculation behind who was going to play who continued to roll on (an interesting practice considering projects hadn't been announced yet beyond the Gunn-penned Superman movie), an individual on Twitter urged Gunn not to cast anyone from Marvel Studios' "Guardians of the Galaxy" film franchise, arguing that Gunn should be focusing on "new memories for audiences instead of swimming in the same muddy pond" and that they were "not alone" in their opinion. History lesson? Large groups of people all believing the same things isn't always a good thing… "We have hundreds of roles to cast. As I've always done, some will be brand new faces, some will be actors I've worked with before, & some will be actors you know who I've never worked with. What matters most is the actor fits the role & they're easy to work with," was Gunn's response, explaining that casting will be based on the right actor for the right role and not on their past filmography. Here's a look at Gunn's tweet breaking down the open-mindedness with which DC Studios is approaching its casting process moving forward:
---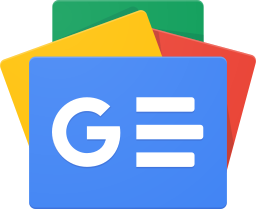 Stay up-to-date and support the site by following Bleeding Cool on Google News today!