Ben Affleck on Directing for Gunn & Safran's New DCU: "Absolutely Not"
Ben Affleck says he will "not direct something for the [James] Gunn DC" and discusses the problems with filming Zack Snyder's Justice League.
---
Well, if anyone thought that Ben Affleck would be spending some time in DC Studios heads James Gunn & Peter Safran's new DCU? Now would be a good time to put away any plans you had to hold your breath. In a profile of the actor, writer & director from The Hollywood Reporter that was based on two interviews earlier this month, Affleck was asked if he would direct a project for Gunn & Safran's new DCU – and Affleck didn't leave a lot of wiggle room with his response. "I would not direct something for the [James] Gunn DC. Absolutely not. I have nothing against James Gunn. Nice guy, sure he's going to do a great job. I just wouldn't want to go in and direct in the way they're doing that. I'm not interested in that." A large part of the reason that may be a factor in all of this? Affleck's ordeals involving Zack Snyder's Justice League and "the fact that those stories became somewhat repetitive to me and less interesting."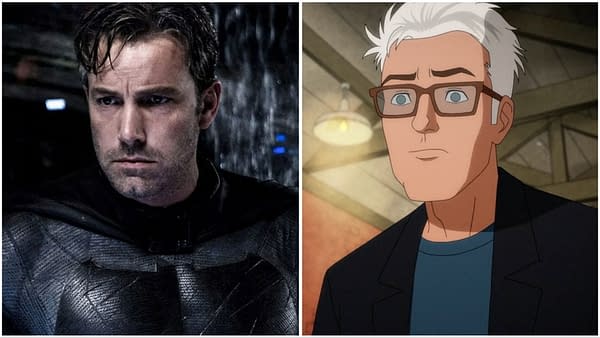 "'Justice League' … You could teach a seminar on all the reasons why this is how not to do it. Ranging from production to bad decisions to horrible personal tragedy, and just ending with the most monstrous taste in my mouth," Affleck shared when explaining what it was about the production that soured him on staying with the DCU. "The genius, and the silver lining, is that Zack Snyder eventually went to AT&T and was like, 'Look, I can get you four hours of content.' And it's principally just all the slow motion that he shot in black-and-white. And one day of shooting with me and him. He was like, 'Do you want to come shoot in my backyard?' I was like, 'I think there are unions, Zack. I think we have to make a deal.' But I went and did it. And now [Zack Snyder's 'Justice League'] is my highest-rated movie on IMDb."
When the point is brought up that Snyder's passionate fanbase was a major factor in that, Affleck counters that he won't argue with fans appreciating after-the-fact a film that Affleck describes as being "the worst experience I've ever seen in a business which is full of some shitty experiences." In fact, the experience killed off any interest he had in directing "Batman" or any other genre film of that nature moving forward. "Say what you want, it is my highest-rated career movie. I've never had one that went from nadir to pinnacle. Retroactively, it's a hit. All of a sudden, I was getting congratulated for the bomb I'm in. But I was going to direct a Batman, and [Justice League] made me go, 'I'm out. I never want to do any of this again. I'm not suited.' That was the worst experience I've ever seen in a business which is full of some shitty experiences. It broke my heart. There was an idea of someone [Joss Whedon] coming in, like, 'I'll rescue you, and we'll do 60 days of shooting, and I'll write a whole thing around what you have. I've got the secret.' And it wasn't the secret. That was hard." Affleck then went on to explain how the experience impacted him personally, requiring him to seek help.