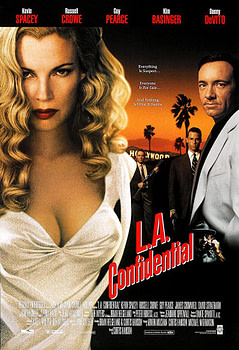 Arnon Milchan, the producer of the acclaimed 1997 L.A. Confidential film, along with CBS TV Studios, New Regency and Lionsgate TV are putting together a pilot for an L.A. Confidential TV series. And they've tapped Michael Dinner (Justified) to direct and executive produce the new adaptation being written by Jordan Harper. The James Ellroy classic noir novel follows three homicide detectives, an actress and a female reporter as the police tracks a sadistic serial killer. It's set in a 1950s Los Angeles filled with secrets and lies. Harper will also executive produce with Milchan and Dinner.
Dinner was a writer, director and executive producer on Justifed and served as director and executive producer on the recently released Phillip K. Dick's Electric Dreams on Amazon Prime. He's been nominated for five Emmys for his directing work on The Wonder Years and has also worked on The Get Down, The Blacklist and Sneaky Pete.
Harper has been a producer and writer on The Mentalist and Gotham, writing 14 episodes of the former and four of the latter.
Ellory wrote L.A. Confidential in 1990. It's the third of his L.A. Quartet that also includes The Black Dahlia, The Big Nowhere and White Jazz.
Source: Deadline