Krypton Episode 8: Decrypting 'Savage Night'
Decrypting Krypton is back with a look at the eighth episode of the season, 'Savage Night'. Host Matt Hiscox is joined by guest host Holly Payne are joined by series showrunner Cameron Welsh and comic book artist Jim Mahfood to talk about the episode that not only shakes things up quiet a bit, but gives us a bit more on Adam Strange (Shaun Sipos) and introduces us to another character from the DC universe. Spoilers ahead!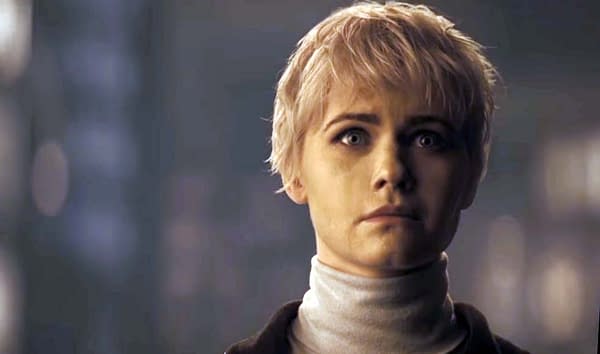 In the video, Mahfood draws some images of Nyssa (Wallis Day), who appears to be an artist favorite at this point, and of Brainiac/Voice of Rao (Blake Ritson). There's also discussion about the use of Ona (Tipper Seifert-Cleveland) as a bomb. Turns out using a child as a weapon is considered a bad thing. They also talk about the introduction of Sardath and Alanna to the series and debate if just hearing a voice counts as an introduction. If it doesn't, then Charlie Townsend (John Forsythe) was never introduced on Charlie's Angels.
But the most important part of the video is the discussion of the woman, Natalia Kostrzewa, at the very end (shown above). A quick interview with Welsh verifies that Kostrzewa is playing someone from the DC Universe — someone they have changed a bit. There's been talking since the summer that one of the characters we'd see is Hawkwoman. Could this be Shayera Hol, the Thanagarian? If you're bringing in the Hero of Rann, can a Thanagarian be far away? We'll have to wait and see.
Krypton airs Wednesdays at 10 p.m. ET with only two episodes left in the season.