Krypton Season 1: Things You Might've Missed in the Pilot
The second episode of Krypton airs tomorrow night and Syfy has put together a video pointing out some of the unique things about the series. The video features two 'super-fans', Matt Hiscox and Simon Tse pointing out a few things about the new series that even the best Superman fans might have missed. But, if you haven't watched the first episode… there be spoilers here a plenty, so be warned.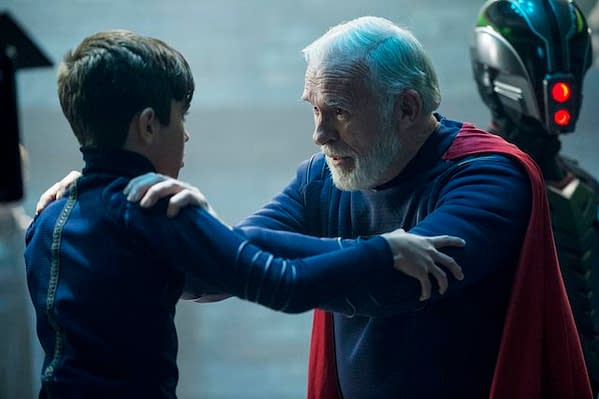 One of the things they point out that I hadn't really put together is that Seg-El (Cameron Cuffe) is involved with Lyta Zod (Georgina Campbell). Now I know General Zod and figured this was his House / Family line. But I didn't realize that Lyta was General Zod's mother, meaning Zod could've been Superman's uncle had things turned out a little different. They also point out that the named Seg-El is a tribute to Superman co-creator Jerry Siegel. And the dome we've known about over Kandor for years was put there by the Kryptonians, not Brainiac. There is also a brief interview with artist Moritat who works on the series. And they point out that the villain from the future that Adam Strange (Shaun Sipos) mentions isn't necessarily Brainiac (Blake Ritson), actually from what I've seen, Brainiac was already there, so I think it's someone who is trying to use Brainiac as a weapon.
Krytpon airs Wednesdays at 10 PM on Syfy.