Law & Order: Christopher Meloni Knows It's Mariska Hargitay's Day
Law & Order: Organized Crime star Christopher Meloni shared a video to let SVU's Mariska Hargitay know that HE knows today's her special day.
---
While NBC's Law & Order fans have the returns of the main series (S22E12 "Almost Famous"), "SVU" (S24E12 "Blood Out") and "Organized Crime" (S03E12 "Partners in Crime") to look forward to this week, we have much more important business to address today. And we mean literally today… as in, January 23rd. Because today marks Mariska Hargitay's (SVU's Olivia Benson) birthday, and a whole lot of fans have hit social media to offer their love & well-wishes on her special day. But this is "Law & Order" that we're talking about, so when we mention Hargitay, then we have to check in on what her long-time friend & co-star Christopher Meloni (Elliot Stabler) had to share on Hargitay's day. And Meloni didn't disappoint, letting Hargitay know that he knew what today was… without actually saying it.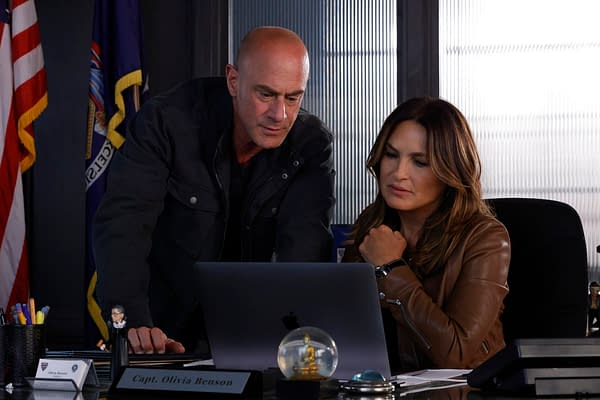 So here's a look at Meloni's Instagram post that went live earlier today. Following that, we have a look at the promos & overviews for this Thursday's three new chapters of the franchise:
Law and Order Season 22 Episode 12 "Almost Famous": After a teenager is killed, Cosgrove and Shaw discover what lengths kids will go to become internet famous; Price and Maroun take a risk to go after whom they believe to be the real criminal in the case, but they wind up back where they started.
Law and Order: SVU Season 24 Episode 12 "Blood Out": As Benson and Carisi put a vengeful crime boss on trial, Fin tries to help a woman who was drugged and left for dead; Velasco takes drastic action to get information from a witness.
Law and Order: Organized Crime Season 3 Episode 12 "Partners in Crime": After learning that an untouchable crime boss may have been behind her former partner's death, Bell enlists the task force to take him down; Stabler is recruited for a secret mission of his own.