MacGruber Fan Christopher Nolan Sends Cast, Crew Encouraging Email
What began as a spoof of MacGyver on NBC's Saturday Night Life in 2007 turned to its own cultural phenomenon in MacGruber. Played by Will Forte, the skits introduced a comedic dynamic not thoroughly explored on the former ABC series, sidetracking. Joined by Vicki (Kristen Wiig) and usually the SNL host as another character, MacGruber always found himself in situations where he had to disarm a bomb. After asking for his random items from paper clips to gum wrappers, something always distracted the hero in another direction. While the other characters try to get MacGruber refocused, the skit always ended with the off-screen explosion and title screen. The skits proved so popular original MacGyver actor Richard Dean Anderson appeared in a few connected skits as MacGruber's father, but also Rogue Pictures released a feature film adaptation in 2010. Among the franchise's biggest fans is Tenet director Christopher Nolan, and he can't wait for the Peacock series to debut.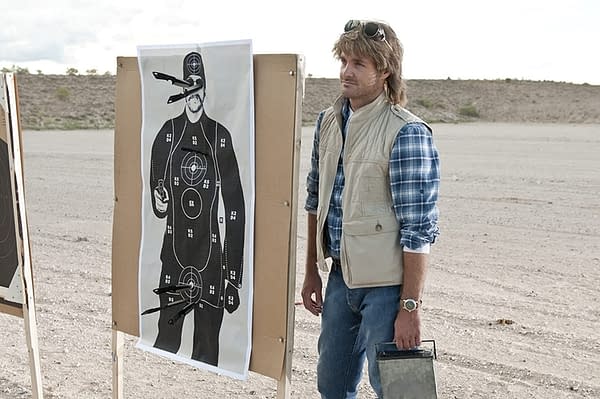 Christopher Nolan's Email to MacGruber Cast and Crew
Jorma Taccone, who directed the MacGruber film, spoke to Vanity Fair about inviting the five-time Oscar nominee over as work continues on the TV-pilot for the NBCUniversal streamer network Peacock. "I invited Christopher Nolan to the pilot read-through and he sent the best f***ing email," Taccone said. "It's kind of stellar. It was such an amazing way to start the read-through." The email reads, "Though I can't be there in person to watch you take the first step of your odyssey — know that my spirit soars with you, and whilst it's perhaps unfair to add to the great sense of responsibility you must already feel, I am duty-bound to tell you—the world is waiting, the world is watching."
Anne Hathaway, who worked with Nolan on The Dark Knight Rises (2012) and Interstellar (2014) could attest to the director's passion for the film when she spoke about it eight years ago with Jimmy Fallon. "I was so intimidated [when I first met Nolan]. But you spend some time on set, and you learn to like read how the days go. Because he's not a very demonstrative person, so if you get a hug, it's amazing. And if he's being quiet, you know it's probably not a great day. And if he starts making jokes, you're like 'Oh my god, this day is so good.' And if he starts quoting MacGruber, you're just like this film will win an Oscar."