Where Were You During "The Great Christine Teigen/Macy's Twitter Shade of 2018"?
Since the days of cavemen dragging people and animals behind them while others grunted and banged rocks, there has always been a Macy's Thanksgiving Day Parade. While the historical accuracy of that first sentence may be in doubt, one fact is beyond refute: that parade's been around for a loooooooong time.
Since 1924, the Macy's Thanksgiving Day Parade has served as a holiday tradition for New York City and the U.S. – and around the world. Over the years, the parade has grown in size and scope – a seizure-inducing blend of sights and sounds, usually backed by subzero temperatures with spectators crammed together so tightly there's a good chance someone might get pregnant. Through it all, generations of children are left with fanciful memories of a beautiful day – in much the same manner that the mind allows you to forget the particulars of a car accident years later but remember that it was sunny out.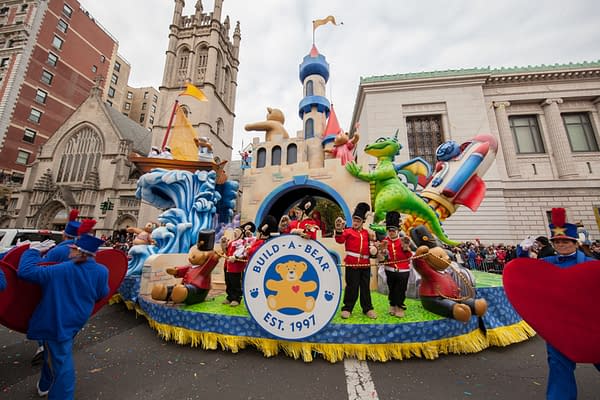 But no one will forget "The Great Christine Teigen/Macy's Twitter Shade of 2019"…
Background: Author/model Christine Teigen's (whose "word fu" is righteously strong and someone you should follow on Twitter) husband, Emmy/Grammy/Oscar/Tony-award-winning singer John Legend, was booked to perform on the Build-A-Bear Workshop's float. Promoting his new album A Legendary Christmas with a performance of "Merry Little Christmas," Legend made sure his Twitter followers tuned in to show some love and support: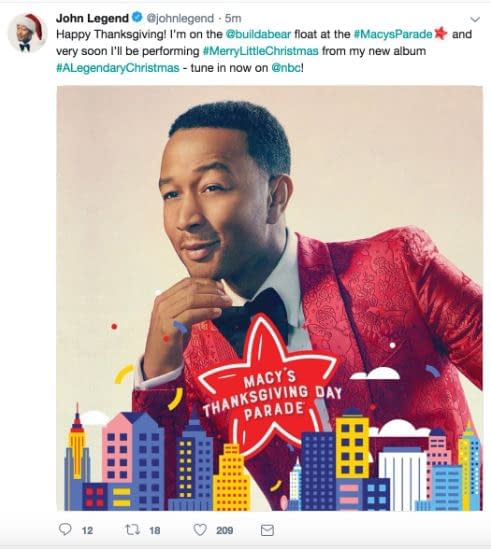 That's where things took an interesting turn – because Legend's push to get as many eyeballs tuned is as possible for his performance didn't quite seem on the same page as his better half, who had a slightly different opinion on parade-watching in 2014: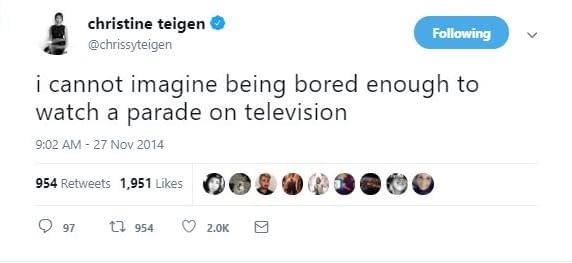 The beauty of social media? It never forgets – and neither does Macy's, who under the smooth guise of a #tbt tweet threw some playful shade at Teigen to "remind" her of how her views on parades has "evolved" over time:
Even Legend tweeted an appreciation of Macy's point:
But this is Christine Teigen, people! She's taken on Twitter trolls by the legions and left quivering, insecure bodies in her wake – she doesn't back down from anyone…let alone a near-century-old parade!
As for Legend choosing to side with Macy's over "The Family," Teigen saved the harshest burn for last: