Matt Ryan on John Constantine and His Journey to the Waverider
Before it was even announced that DC's Legends of Tomorrow was going to get a fourth season, we knew that Matt Ryan would be promoted to series regular for it. His character of John Constantine joined the Waverider at the halfway point of season 3 for an episode and popped up a few more times, really clicking with the series. But his road there has been very strange when you take a look at it.
The actor started on his path with a few episode of The Tudors with current Superman Henry Cavill, he then popped up on Torchwood with Malcolm Merlyn actor John Barrowman before finding his way to the Criminal Minds franchise. Then in 2014 he was cast as Constantine in the 13-episode-then-cancelled series on NBC. He has since played him on Arrow, voiced him in the Justice League Dark animated movie and the CW Seed Animated series Constantine: City of Demons, before returning to live action for Legends.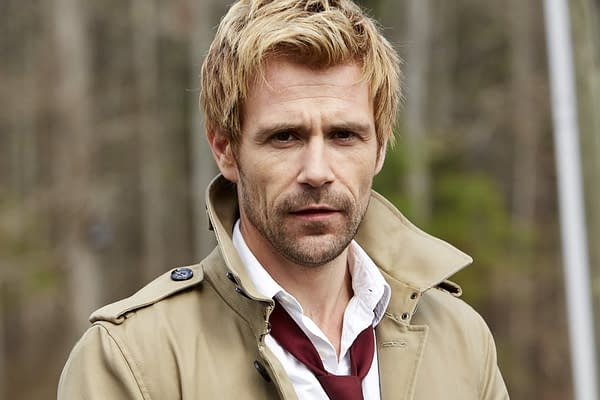 He recently talked with the Iris about his take on the character:
I think I've gotten to know him pretty well, through all the research I've done, and I'm currently reading all the Hellblazer comics, or as many as I can get in before we start, and I'd probably be reading Enduring, as well. But it's a great character to play. It's fun, he's dark and he's witty, he's a real three-dimensional human being, and I loved that about this wisecracking street magician in this universe.
And he talked about the journey from a cancelled series, to a guest spot, to becoming a series regular with the same character:
The fact that the show was originally short-lived, we only did 13 episodes, and with every corner of this journey with this character, I thought that it was the end. The show was cancelled, I thought that was it, and I was about to start to do a play on Broadway, and they asked me to do the episode of Arrow, and I was really pleased about that. But, again, I thought then, that it was over. Then I went and did the Justice League Dark animation movie, and then Constantine: City of Demons, so at every corner, I thought of this character as being over. And then, they keep on getting me back, so it's a great privilege, really, to be playing such an iconic character in, over all these different mediums. Now I'm really looking forward to having a good run at the character over a full season on Legends of Tomorrow.
And about how the character differs in each interation:
Well, doing Constantine on Legends of Tomorrow is different to, obviously, Constantine, or even the Hellblazer comics. There's so many different elements of the character, which I think the writers of Legends, Arrow, and of Constantine, always did a great job of bringing those out. In terms of particular storylines, we did, and start to explore, we explored a few of those on the NBC show. That was great, to watch those writers kind of adapt in those stories, and see them through the medium of television. But there's so many great stories in the comic books, and as I say, what's great about them is just reading them, kind of gives me a little bit more, kind of history to the character, and a little bit under more my skin towards him, as well. And there's always other elements of the character, and it's great, but we can bring those to the fore in this show.

That's one thing I love about John is, he has so much going on and there's so much more to explore that keeps you interested, and how they make of it in the character, as well. Because there are all these weird story lines that are being written over the years, that people always draw on them.
John Constantine and DC's Legends of Tomorrow return this fall on Mondays at 8 p.m. ET on The CW.