Good news, fans of drag queens, Pride month, dangerous toys designed for children, and of course, cake! RuPaul's Drag Race alum and Netflix/YouTube personality Trixie Mattel just released a new video of her proudly baking a 6-layer rainbow cake in honor of Pride. And because Trixie has to be the "gayest gay", she does it all in an Easy-Bake Oven. I mean, who doesn't love tiny food made in a plastic toy that bakes via 40-watt lightbulb and has caused approximately 297 injuries? Exactly.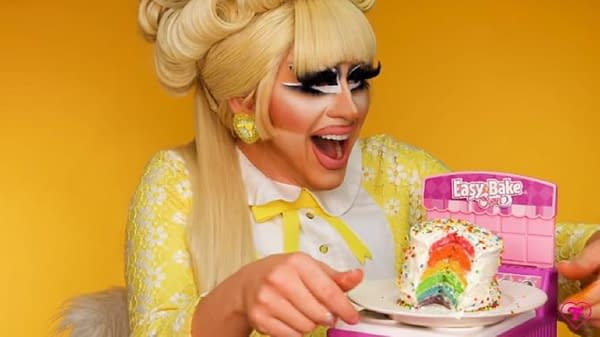 While you may think that quarantine is a time to slack off and chill, Trixie recently has used her time to brush up on her cooking skills – I mean, she even made a whole burger and fries, from scratch, all by herself! Postmates is awesome, but nothing beats being a 30-year-old man in a wig cooking in their own apartment. And to up the levels of gay, of course, everything happens in her new favorite toy, the 2006 Easy-Bake Oven; it's "the gayest way ™."
While Trixie threatens a toy, sets off the smoke alarm in her place, and is almost murdered by the blue cake, there are a plethora of quips and witty jokes – as is par for the course for this amazingly talented queen. The cake actually turns out really, really well.
Trixie gives a shout out to the people on the Pride rainbow, and especially transwomen of color (we love you, we see you, we will protect you), and mentions that "we're not doing fine, but as usual, we are thriving." A cute video about baking a tiny rainbow cake won't fix the problems against the LBGTQ community, but the charming Trixie Mattel gives us a cute video that highlights Pride month and delivers big gay fun and a tiny gay cake. Now, happy Pride, and remember black trans lives matter.
Enjoyed this article? Share it!