NBC Assigns "Brooklyn Nine-Nine" Season 8 Shift
Now this is how you head into the holiday season: with an eighth season renewal. And that's exactly what NBC did with Brooklyn Nine-Nine – and what makes the news even more satisfying? The network's official greenlight comes nearly three months before the series drops its seventh season (with back-to-back episodes on Thursday, February 6) – and here's a look at the moment the team found out they'd be back for another season-long shift:
Good things come to those who w8. The #Brooklyn99 squad will be coming back for Season 8 on NBC! pic.twitter.com/bQsGYA4oG9

— Brooklyn Nine-Nine (@nbcbrooklyn99) November 14, 2019

Brooklyn Nine-Nine continues to follow the exploits of hilarious Det. Jake Peralta (Andy Samberg), his diverse, lovable colleagues and their more-serious-than-a-hunk-of-actual-granite boss, Capt. Holt (Andre Braugher), as they police the NYPD's 99th precinct. The new season will also dive into the marital life of Jake and his new bride, the extremely type-A Sgt. Amy Santiago (Melissa Fumero), who were married in the season five finale.

Rounding out the ensemble are Holt's next-in-command, Sgt. Terry Jeffords (Terry Crews), a muscle-bound human mountain who loves nothing more than his three little daughters, except for a fresh carton of full-fat yogurt. The man loves yogurt. Jake's fellow detectives include his best friend and human puppy dog, Det. Charles Boyle (Joe Lo Truglio), and the incredibly secretive, tough-as-nails Det. Rosa Diaz (Stephanie Beatriz). Holt's civilian assistant is Gina Linetti (Chelsea Peretti), the living embodiment of the "100" emoji. Also part of the Nine-Nine are veteran officers Det. Scully (Joel McKinnon Miller) and Det. Hitchcock (Dirk Blocker), whose only skill as police officers is their ability to make a passable pot of coffee.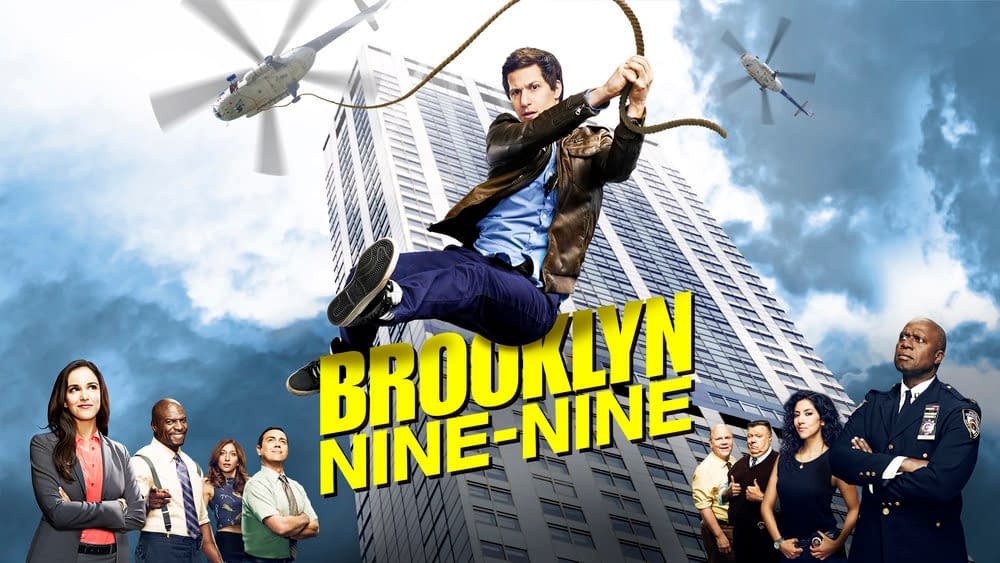 From Emmy Award-winning writer/producers Dan Goor and Michael Schur, Brooklyn Nine-Nine won the 2014 Golden Globe Awards for "Best Television Series – Comedy or Musical" and "Best Performance by an Actor in a Television Series – Comedy or Musical" (Samberg). Emmy winner Braugher earned three consecutive Emmy Award nominations for "Outstanding Supporting Actor in a Comedy Series" from 2014-2016.