NOS4A2: Jahkara Smith Hits AMC Over George Floyd Protest Support Delay
In the almost week since the killing of George Floyd by Minneapolis police officers, protests in cities across the country and around the world have grown as more and more call out the United States' long history of racist violence towards the black community by law enforcement as well as President Trump's threatening, adversarial response to the protests. More and more faces from across the pop culture landscape have been taking to social media to voice their support, donate to protest funding organizations, and use their influence to share important resource materials. Then there's NOS4A2 actress Jahkara Smith (Maggie). For those of you who've followed Smith before the AMC series, you know that the multi-talent is no stranger to activism and supporting some amazing causes. You also know that Smith likes to exercise the "active" part of "activism", with very few s**ts to give about what others think or how what she says might impact her professionally.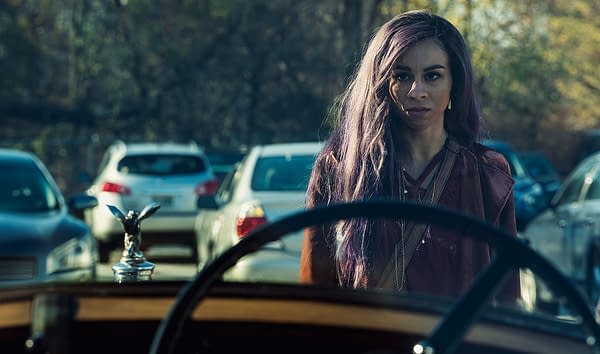 Monday saw a perfect example of that, with Smith taking to Twitter to call out AMC for their delayed response in supporting the Black community and the Black Lives Matter movement. AMC posted an official statement in support of the protestors on May 31, six days after Floyd was killed. Smith wanted to make sure the company knew that she expected better from them. She continued in a follow-up, asking where AMC's support was after she was shot in the head during a protest. Here's a look at Smith's tweets:
Here's a look at the image Smith posted on Saturday of the head wound she received while protesting, writing in her tweet that she was shot by police from "several feet away" while holding a sign and without any warning. The injury was most likely caused by a rubber bullet or bean bag device (though not specified), which have been proven to be destructive and even deadly when used as a "non-violent" method of crowd control.
On Monday, May 25, George Floyd, an African-American Minneapolis man, was confronted by police officers over an accusation of using a counterfeit $20 bill at a local market. While details on what happened next are still being pieced together, what we do know is that Floyd was handcuffed and lying face down as police officer Derek Chauvin kept his knee on Floyd's neck for a reported 8 minutes and 46 seconds (nearly three minutes of that time taking place after Floyd became unresponsive). Officers Tou Thao, J. Alexander Kueng, and Thomas K. Lane were the other three officers involved, with Kueng and Lane assisting Chauvin in holding Floyd to the ground and Thao looking on from nearby.
NOS4A2's second season picks up eight years after the events of season one. Vic McQueen (Ashleigh Cummings) remains more determined than ever to destroy Charlie Manx (Zachary Quinto). Charlie, having faced his own mortality, emerges desperate for revenge against Vic. This time, he sets his sights on the person who means most to Vic – her eight-year-old son Wayne. The race for Wayne's soul sends Vic and Charlie on a high-speed collision course, forcing both to confront the mistakes of their pasts in order to secure a hold on Wayne's future.

NOS4A2 season 2, episode 1 "Bad Mother": Eight years on, Vic McQueen receives shocking news about Charlie Manx. Maggie consults her tiles at great risk. Bing hunts down the Wraith but hits a roadblock. Millie Manx discovers a new aspect of Christmasland. Written by Jami O'Brien
Based on best-selling author Joe Hill's novel, and executive produced by series creator/showrunner Jami O'Brien (Fear the Walking Dead) and Hill, NOS4A2 stars Quinto, Cummings, Jahkara Smith, Olafur Darri Olafsson, Ebon Moss-Bachrach, Virginia Kull, Jonathan Langdon, Ashley Romans, Jason David, and Mattea Conforti. Produced by AMC Studios in association with Tornante Television, NOS4A2 is executive produced by Hill, O'Brien, and Tornante Television's Lauren Corrao.