Posted in: Anime, Netflix, Preview, Trailer, TV | Tagged: anime, manga, netflix, one piece, preview, trailer
---
One Piece Series Poster Makes It Loud & Clear: The Pirates Are Coming!
With the streaming series hitting Netflix on August 31st, a new key art poster for One Piece definitely gets its point across in a big way.
---
On Monday, it was all about going behind the scenes of Netflix, Tomorrow Studios (Netflix's Cowboy Bebop, TNT's Snowpiercer) & publisher Shueisha's live-action series take on author Eiichiro Oda's manga One Piece (more on that in a minute). But today, we're back to passing along more really cool key art for the streaming series. And with only nine days to go, it's all about showing off the action, adventure & intrigue that awaits viewers because… "THE PIRATES ARE COMING"!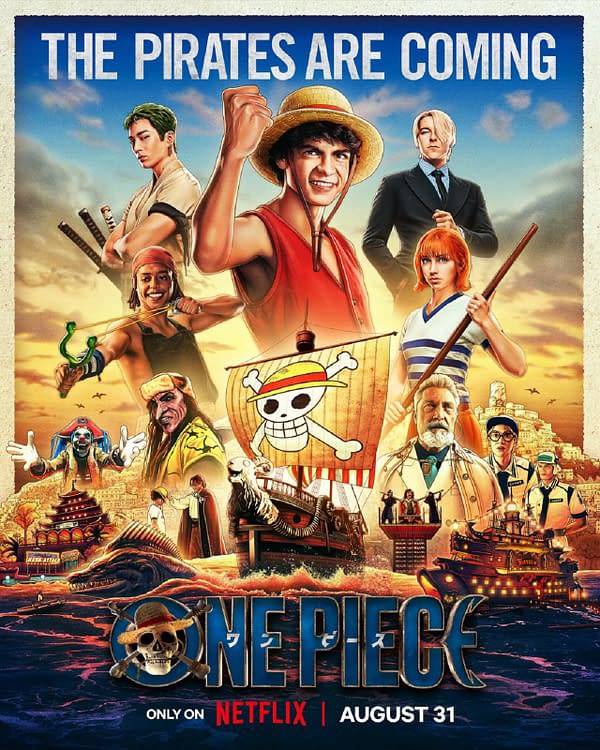 Earlier this week, fans were treated to a behind-the-scenes featurette giving us a chance to see how the classic made the jump from ink to live-action. The streamer has never-before-seen interviews with the cast and the creative team (done well before the SAG-AFTRA & WGA strikes) discussing bringing Oda's iconic work in a brand new & exciting way, what went into finding the perfect cast, the impressive stunt coordination that we'll see this season, and much more.
Back on "'One Piece' Day," fans were able to check in with Oda, who offered his thoughts on the upcoming series. In the following beautiful-looking two-piece letter to the fans, Oda makes it clear right in the opening that "no compromises" were made in bringing the series to life. From there, the franchise creator reveals just how much creative say he had on the production, how the folks working on the series are "'One Piece' superfans," and how he's looking forward to hearing from the fans: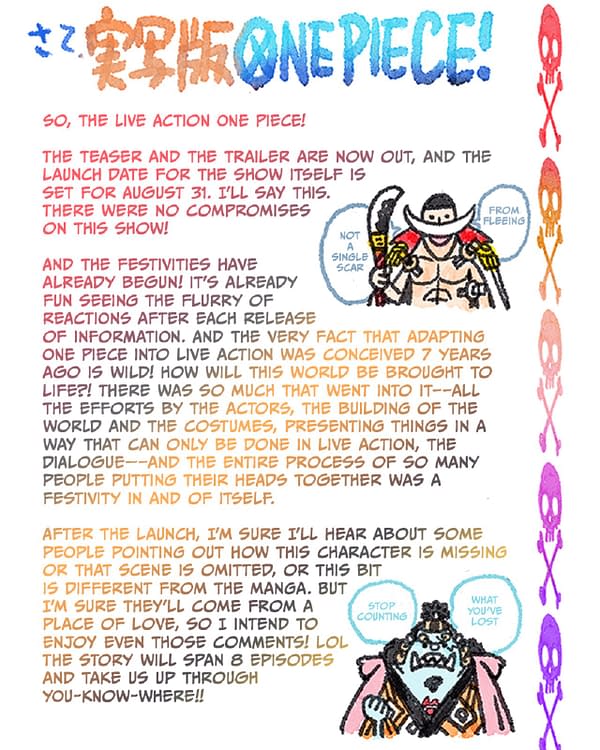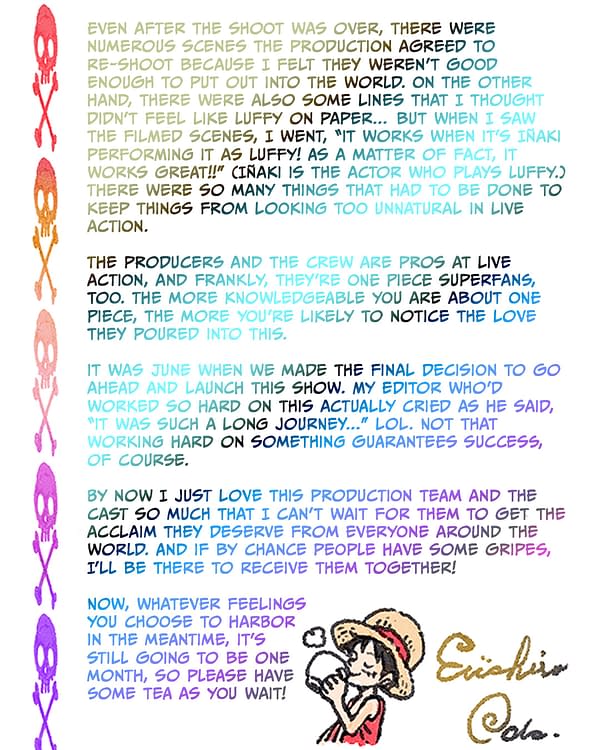 Here's a look at the official trailer for Netflix's One Piece, with the streaming series adaptation setting sail on August 31st – and following that, we have a look back at the previously-released teaser trailer and additional information on the streaming series adaptation:
Netflix's One Piece: What You Need to Know…
Netflix's One Piece stars Iñaki Godoy (Who Killed Sara?) as Monkey D. Luffy, Peter Gadiot (Yellowjackets) as Shanks, Mackenyu (Ruroni Kenshin: Final Chapter) as Rornoa Zoro, Emily Rudd (Fear Street) as Nami, Jacob Romero Gibson (All Rise) as Usopp, Taz Skylar (Boiling Point) as Sanji, Morgan Davies (The Evil Dead) as Koby, Ilia Isorelýs Paulino (The Sex Lives of College Girls) as Alvida, Aidan Scott (Action Point) as Helmeppo, Jeff Ward (Hacks) as Buggy, McKinley Belcher III (Ozark) as Arlong, Vincent Regan (Troy) as Garp, Langley Kirkwood as Captain Morgan, Celeste Loots as Kaya, Alexander Maniatis as Klahadore, Craig Fairbrass as Chef Zeff, Steven Ward as Mihawk, and Chioma Umeala as Nojiko. Now here's a look back at the behind-the-scenes featurette showcasing just how massive of production the live-action series take on One Piece has become (including some amazing looking examples of how the concept art is coming to life):
The streamer's 8-episode series highlights the adventures of Monkey D. Luffy and his pirate crew as they explore a fantastical world of endless oceans and exotic islands in search of the world's ultimate treasure known as "One Piece" to become the next Pirate King. Steven Maeda (Lost, The X-Files) serves as writer, showrunner & executive producer, with Matt Owens (Marvel's Agents of S.H.I.E.L.D., Marvel's Luke Cage) also writing as well as producing. Oda serves as an executive producer alongside Tomorrow Studios' Marty Adelstein and Becky Clements (with Netflix and Tomorrow Studios co-producing). Now, here's a listen to "Wealth Fame Power," the show's main theme from Billboard chart-topping artists, composers, songwriters, and music producers Sonya Belousova & Giona Ostinelli (The Witcher, "Toss A Coin to Your Witcher"):
---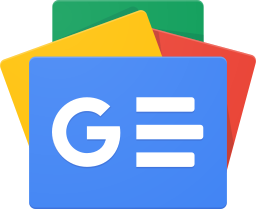 Stay up-to-date and support the site by following Bleeding Cool on Google News today!