Pedro Pascal Talks Community, Buffy the Vampire Slayer Role and More
First things first, if you haven't checked out the Community cast's charity table read of fifth season episode "Cooperative Polygraphy", you need to treat yourself to it (check out the link below). Along with bringing Joel McHale, Gillian Jacobs, Danny Pudi, Yvette Nicole Brown, Alison Brie, Jim Rash, Ken Jeong, Donald Glover, and series creator Dan Harmon back together, the event also gifted us with guest star Pedro Pascal. Sitting in for Walton Goggins in the role of Mr. Stone, The Mandalorian star made himself an honorary member of the study group (and the breakout star of the table read) by cracking up over the comedic genius behind the line, "liquid nitrogen–cooled cylinder of my hyper-virile sperm" (and not just once).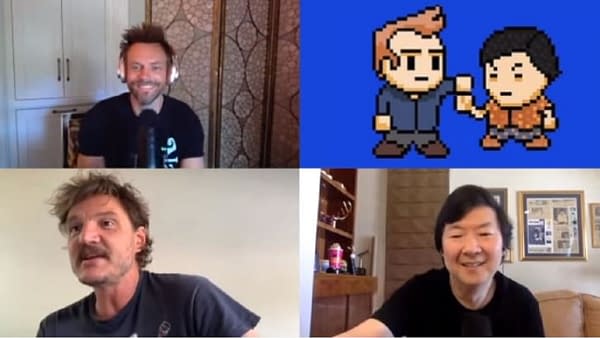 Thankfully, Pascal got a chance to "explain himself" when he appeared on McHale and Jeong's The Darkest Timeline podcast (Episode #13: "The Changdalorian"). The actor covers his professional journey that's included global series successes Game of Thrones and Narcos, and what lead to his involvement in the Community table read. But for our money, the best part? Pascal's (brief) connection to Buffy's college years during the fourth season opener of Buffy the Vampire Slayer.
Community fans are also being asked to contribute to two charities that have been front-and-center in the COVID-19 relief effort to get fresh, nourishing meals to both frontline responders and communities in need: Frontline Foods and its partner, José Andrés' World Central Kitchen. Over at the study group's Prizeo site (here), you can make a donation that earns you "entries" (though you don't have to donate to enter) that could find you walking away with the Ultimate Community Fan Package. How "ultimate" are we talking? Oh, it's pretty "ultimate". Following another look at the cast's post-table-read Q&A is a rundown of all the things you can walk away with if you get an entry in before June 1, 11:59 p.m. PST.
In case there's any doubt if the contest's worth it, the prize package begins with a 20-minute private video chat where you get to meet cast members, followed by a guest appearance on McHale and Jeong's podcast The Darkest Timeline. From there, it's a proverbial tidal wave of props and memorabilia: a tiny sombrero that says "Señor Chang", three planters from Troy and Abed's apartment, a CD of "Daybreak" signed by Michael Haggins, one of Britta's sweaters, a custom sweatshirt made exclusively for cast and crew, a signed copy of Shirley's Brownie Bible, a book from the "Competitive Wine Tasting" episode, ten (10) custom lunch boxes made exclusively for cast and crew, and signed Abed, Annie, Britta, and Shirley Funko figures.