Perry Mason: Enjoy an Episode 1 Cocktail with Our Episode 2 Preview
Before we offer up the overview and preview images for this week's episode of HBO's Perry Mason (appropriately titled "Chapter 2 since it's… well… the second episode of the season), the fine folks at the eyeball-grabbing limited series and cable giant think you might be in need of a drink. Or two. No, it's not that they're condoning alcoholism or binge drinking. The two are looking to get viewers into the Prohibition Era vibe of the series, and they've asked The Educated Barfly to help them out. Here's a look at two series' time period-appropriate libations that should definitely get you in the mood (don't worry, we've also screen-capped the info), followed by an overview and preview images for the next episode of the Matthew Rhys (The Americans)-starring series: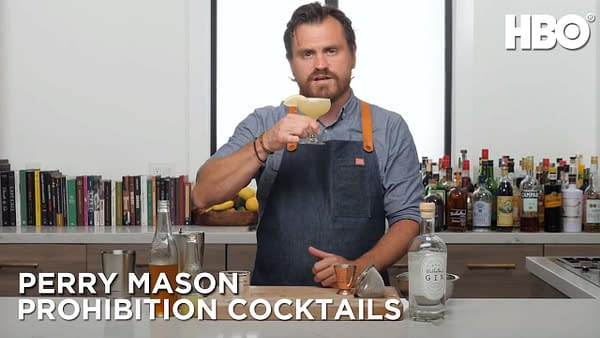 Perry Mason season 1, episode 2 "Chapter 2": Following one of her trademark barn-burning sermons, Evangelical preacher Sister Alice (Tatiana Maslany) offers the Dodsons the church's full moral and financial support – much to her mother Birdy's (Lili Taylor) dismay. During a routine domestic intervention, beat cop Paul Drake (Chris Chalk) is rerouted to a gruesome crime scene, where he follows a confounding trail of evidence. Mason (Matthew Rhys) is left incensed by a jaw-dropping admission from Baggerly (Robert Patrick) and, after pressing Emily (Gayle Rankin) on her husband's alibi, finds himself confronted by an outraged Della (Juliet Rylance). Detectives Holcomb (Eric Lange) and Ennis (Andrew Howard) use Drake's (Chris Chalk) findings to their own advantage. Written by Rolin Jones & Ron Fitzgerald; directed by Tim Van Patten.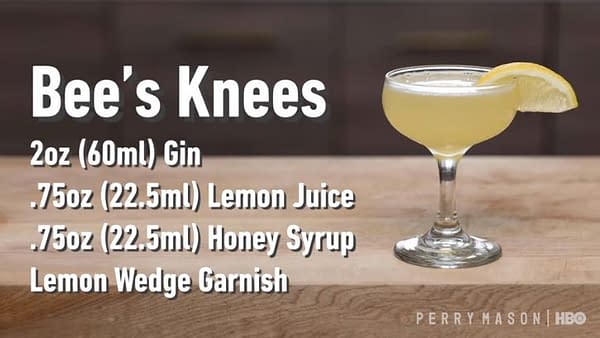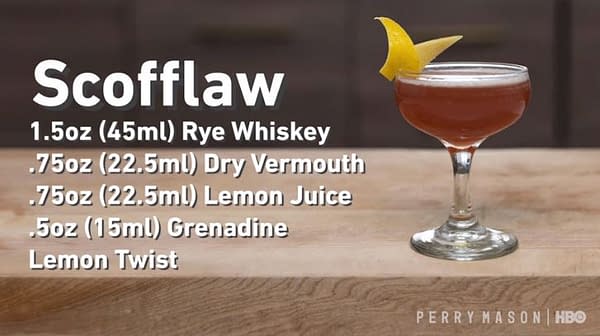 HBO's Perry Mason also stars John Lithgow as Elias Birchard "E.B." Jonathan, a struggling attorney and a semi-regular employer of Mason; Juliet Rylance as Della Street, E.B. Jonathan's creative and driven legal secretary; Tatiana Maslany as Sister Alice McKeegan, the leader of the Radiant Assembly of God, preaching to a hungry congregation and a radio audience across the country; Chris Chalk as Paul Drake, a beat cop with a knack for detective work; and Shea Whigham as Pete Strickland, who is hired by Mason as an extra set of eyes on his various investigations.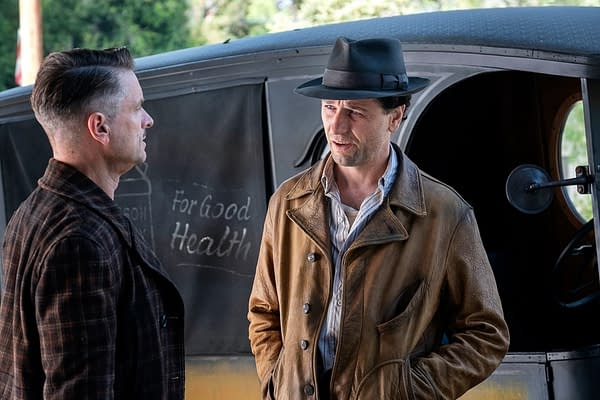 Stephen Root, Gayle Rankin, Nate Corddry, Veronica Falcón, Jefferson Mays, Lili Taylor, Andrew Howard, Eric Lange, and Robert Patrick also star. Executive producers include Amanda Burrell, Robert Downey Jr., Susan Downey, Ron Fitzgerald, Joe Horacek, Rolin Jones, and director Timothy Van Patten. Aida Rodgers co-executive produces, with Matthew Rhys producing. Created by Rolin Jones and Ron Fitzgerald, the series is based on characters created by Erle Stanley Gardner.