"Preacher": Julie Ann Emery Talks Final Season, Featherstone, Malcolm Barrett & More [BLEEDING COOL INTERVIEW]
Folks, we are now only days away from Jesse's (Dominic Cooper) final sermon from "The Book of Genesis" for AMC's series adaptation of Garth Ennis and Steve Dillon's Preacher – where we find out what God's (Mark Harelik) "master plan" has in store for Jesse, Tulip (Ruth Negga), Cassidy (Joseph Gilgun), Herr Starr (Pip Torrens) and their blessed/cursed crew.
One member of the series' chaotic "choir" is The Grail's fatally faithful Featherstone, brought to life by the amazing Julie Ann Emery (Catch-22) – who was kind enough to take the time to discuss the final season with Bleeding Cool. Emery covers a number of topics, from the evolution of her character over the course of the series and working with Malcolm Barrett (Timeless) to her creative interests behind the camera and… yes… her selections for "Geek Guilty Pleasure":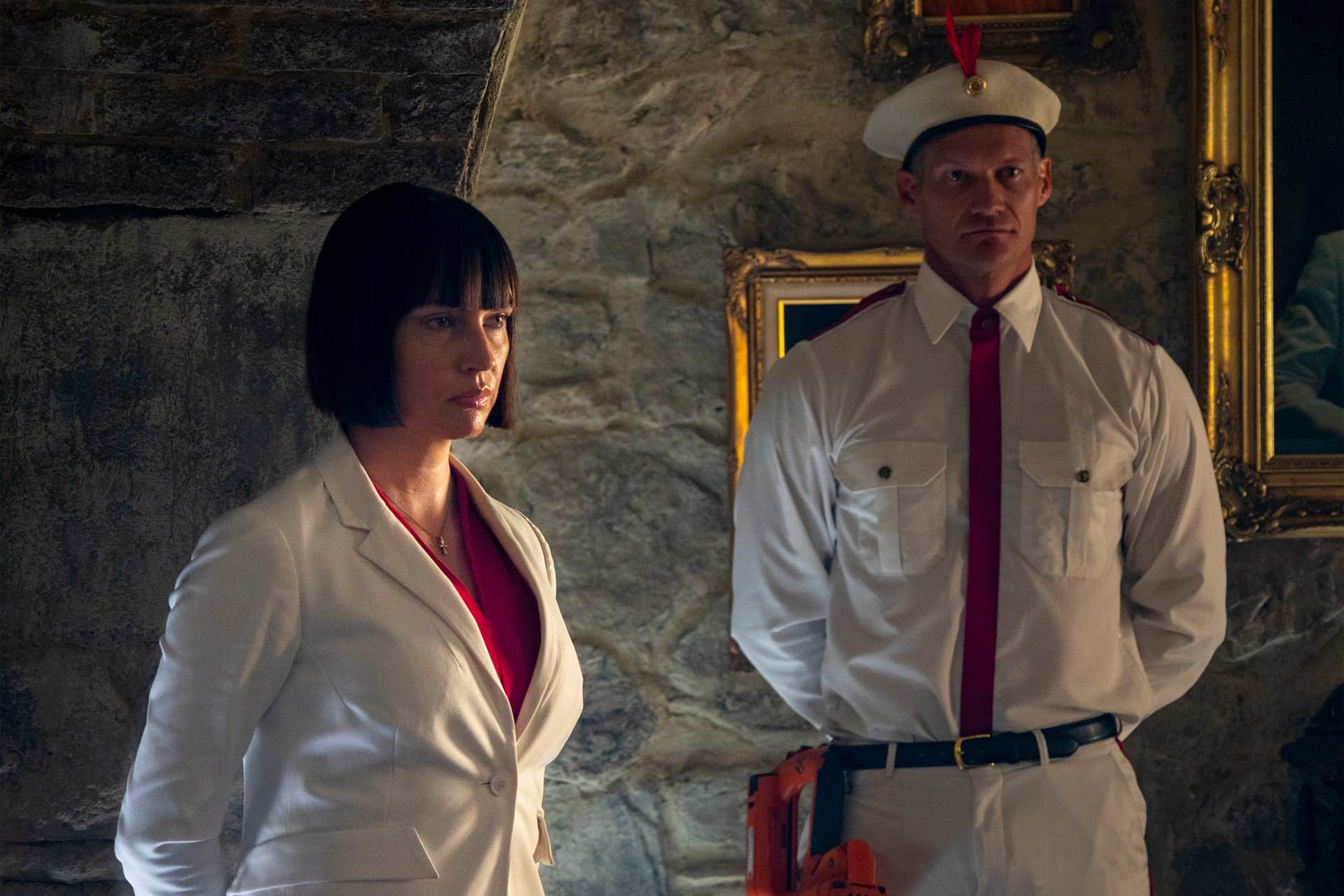 Let me start by saying that we've loved your turn as Featherstone throughout Preacher's run; and while we're sad to see it go, we're glad it appears to be leaving having told the story it wanted to tell. What was your reaction when you first heard the news that the fourth season would be its last, and how did it evolve (if it did) over the course of filming?
Our show runner Sam Catlin, told me during Prep for Season 4 (the week before we started filming). And I thought, "Oh wow, we are ending."

But here is the truth about Preacher, we push all the boundaries, we do things on TV that no one thought possible on TV, and we do it on an Ad supported network. I have left every season of Preacher fairly convinced we would never get picked up after what we just shot. It is a testament to AMC and to Sony that Preacher lasted 4 seasons. It is a testament to Sam, Evan and Seth that we are going out on our own terms. Preacher is a show that deserves an ending, and y'all are definitely getting a hell of an ending.
With the understanding that we know there's only so much you can say about season 4 (though please feel free to spoil… lol), the series' first three seasons could be seen as going from "modern western with a twist" to "buddy road trip/Tarantino flick" to "gothic horror." If you had to apply a "theme tag" to the final season, what would it be (and "apocalypse" or "apocalyptic" don't count)?
Apocalyptic Action Thriller. See? I used your word anyway….we break a lot of rules on Preacher.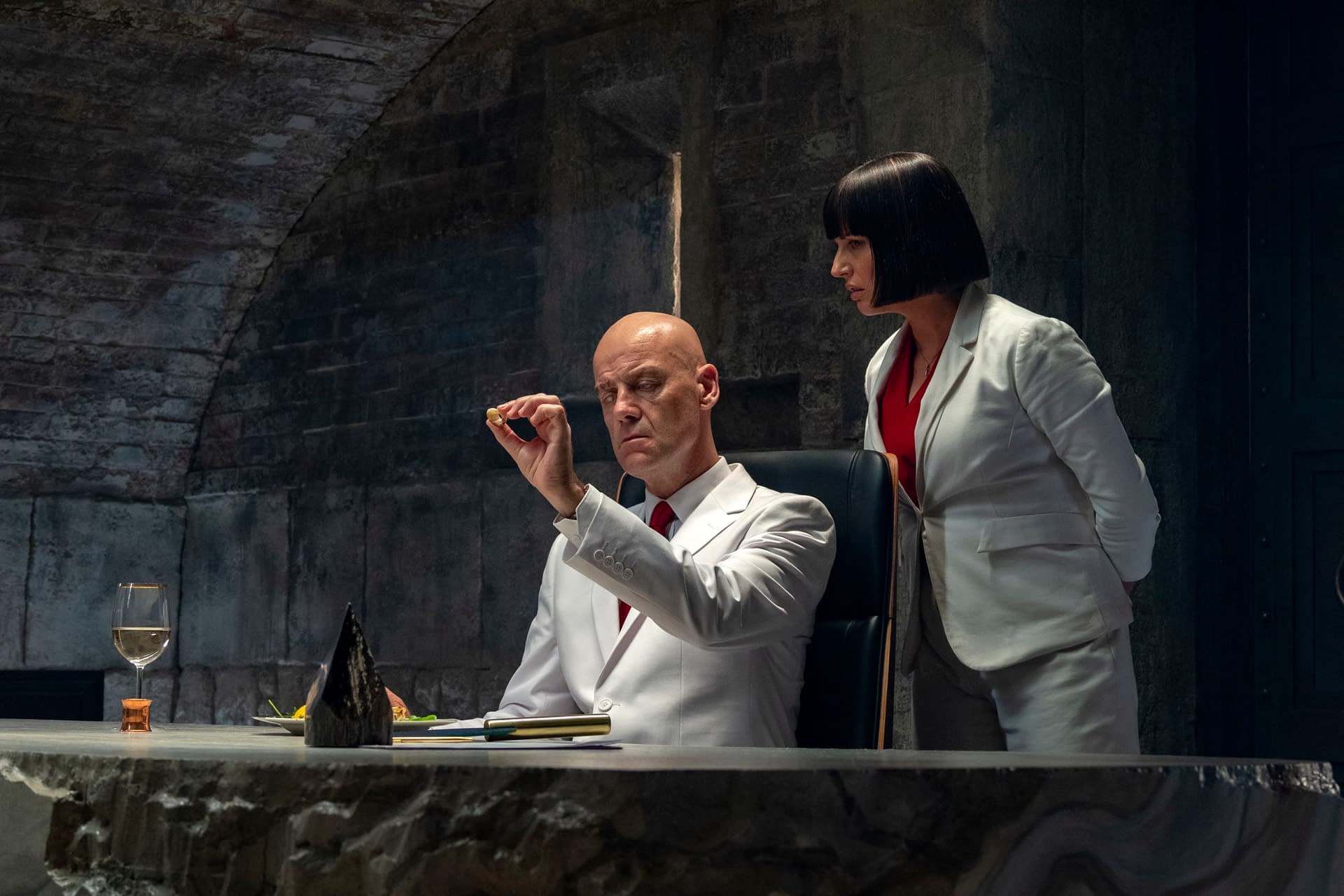 Viewers witnessed Featherstone go from being committed to Herr Starr to possibly wavering a bit – to being even further committed to Herr Starr's cause by the end of the third season. Where would you say Featherstone is at in her mind when the new season begins, and how would you describe her journey so far?
Hmmmmm, how to answer this without the AMC spoiler police sending me to jail…

At the beginning of Season 4, Featherstone is in her element, in every way.

For the record, Season 4 is my favorite Featherstone season. She is pushed to her limits both physically and emotionally by the end.
From what we've seen of the Australian setting so far, it gives the upcoming season a much-needed "epic" feel to it. How important was the location for the story you were looking to tell, and did it also create some obstacles?
Season 3 ends with Herr Starr and Featherstone at Masada waiting…"to play some F****** checkers."

Season 4 kicks off in Masada, and having a desert setting is incredibly important to Season 4.

Australia allowed us that desert setting along with a city scape, and the ocean. We gained a lot of landscape territory with our move to Melbourne. And it definitely shows. The production values and sets this season are pretty fantastic.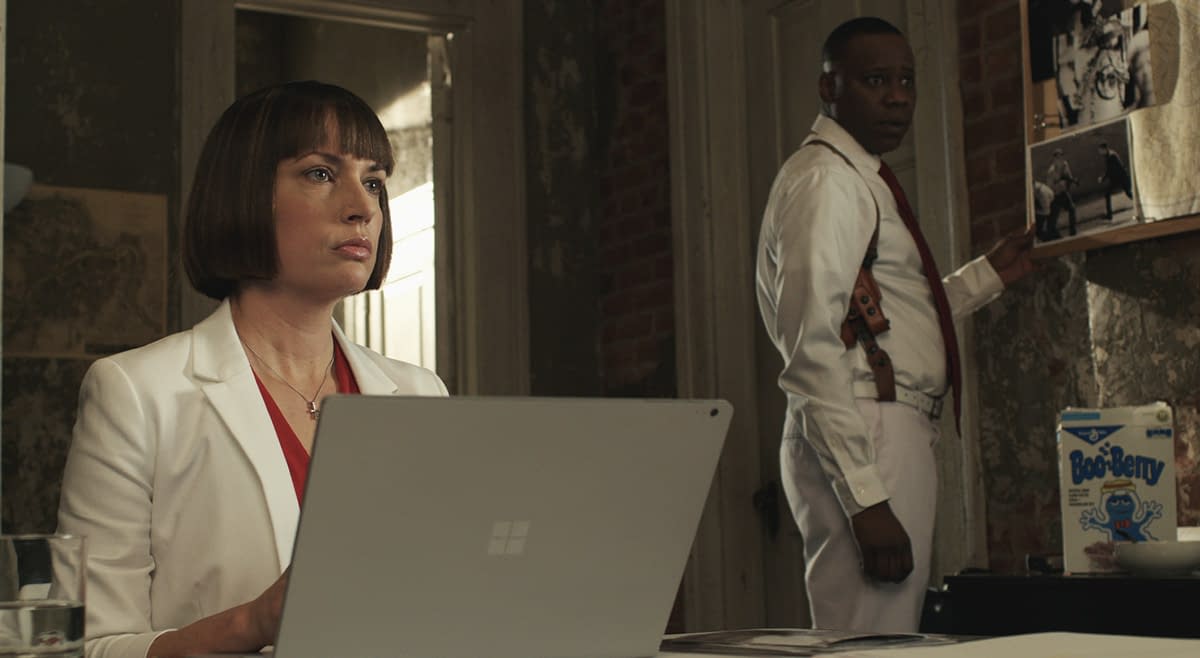 The on-screen dynamic and banter between you and Malcolm Barrett will be greatly missed. How was it working with Barrett, and any Featherstone/Hoover moments you wished had made the cut – either scripted or improvised?
I will work with Malcolm Barrett any time, anywhere, on anything. I have a great love for Malcolm and a great respect for his work. The dynamic between the two of us was so key for me in finding my way into Featherstone's head. And here's the thing about Malcolm, he is funny ALL THE TIME. No two takes are ever quite the same. He is a comedic embarrassment of riches. There are a ton of things he did that I wish made the cut. But at the end of the day the editor has to pick one. …Also, sometimes I blew the take by laughing…he only fussed at me once for that.
Have you been looking at a return to directing? With Then We Got HELP!, you were creator, director and co-writer – is that the type of "creative trifecta" you would like to have moving forward?
It is. I have some scripts floating around that I wrote. And I am attached to direct a film which would be my first feature. I am waiting and hoping that one of them finds their way out fully into the world for an audience. Then We Got HELP! was a lot about discovery for me. As a director, all of me is valuable. There are parts of my personality I have to leave at the sound stage door when I work as an actor. I'm not sure I enjoy the process of writing, per se…but I definitely have something to say and the desire to push it out into the world. I spend a lot of my time encouraging female writers (and directors), it would be hypocritical of me not to put my money where my mouth is.
You've appeared in series that cross a number of genres, from sci-fi to police procedurals to thriller-dramas. Is there a particular genre you would still like to tackle; and from an acting standpoint, do you approach genres differently?
I like great and complex characters. I will follow a great character and great writing across any genre or medium. We are getting more complex female characters on TV now. I love that. Film still has some catching up to do in that area.
My process is different for drama than it is for comedy. I think my process alters for tone based on how deep the waters run.

In terms of mediums, the character process is the same, but the execution is slightly different from screen to stage.
Finally, it's our "Geek Guilty Pleasure" question: What parts of pop culture (movies, TV shows, audio dramas, comics, music, video games, etc.) are you currently enjoying, and would recommend to our readers, and why?
I love this question.

I am massively behind on my movie viewing.

But TV? Fleabag, Stranger Things (I am in the middle of Season 3 right now), Crazy Ex-Girlfriend and frankly a re-binge of Battlestar Galactica or Firefly is always worthy. Killing Eve and the new season of Handmaid's Tale are currently in my queue.

Audio Books? My husband and I listen to the Star Wars audiobooks on road trips. They don't line up with the new movies but are fantastic all the same with deep dives into side stories (there is an entire book about the Millenium Falcon from straight off the production line to when Han gets it) and AMAZING readers.

I currently listening to a lot of Kacey Musgraves, and my gaming mostly involves the latest Battlefront and Tomb Raider (she makes me want to go to the gym, AMAZING arms! I want to be able to hang off a cliff like that!).

AMC's Preacher comes storming its way back onto our screens starting Sunday, August 4.
As our story inches closer to the finale, God's endgame for the universe begins to click into place. Trapped between heavenly prophecies, hellish prisons, and all-out nuclear war, Jesse, Tulip, and Cassidy make their bloody way to the Most High. Whether they can reach God in time — or whether all this carnage is part of His divine plan — will soon be revealed as PREACHER barrels towards the end of the world.

Preacher season 4, episode 1 "Masada": Jesse is rocked by visions of an apocalyptic future as he and Tulip prepare for an all-out assault on Masada, where Cassidy – trapped to a torturous fate – struggles to hang on. But Starr and his Grail operatives are ready for them…