Quantum Leap: Mason Alexander Park on S01E12 Trans Story Importance
NBC's Quantum Leap star Mason Alexander Park took to Twitter to explain why the trans story in S01E12 "Let Them Play" is so important.
---
This week, NBC's Raymond Lee-starring Quantum Leap leaps back onto our screens with a very special episode, as Ben (Lee) leaps into the life of Gia (Josielyn Aguilera) & the Mendéz family as they help the transgender young woman looks to realize her dream of playing on her high school basketball team. Though set in 2012, the episode's themes are as relevant today as ever before- and it's for that very reason that series star Mason Alexander Park is urging everyone to support the episode's message. "Next Monday, 'Quantum Leap' will be putting the spotlight on a trans story in a time where our rights are one of the most aggressively debated issues in the political landscape, and I couldn't be more proud. Representation can be radical, and this is why I hope you all tune in," Park wrote in a series of tweets. "I adored Network Television as a kid, and the issues that shows like 'Will and Grace,' 'Family Matters,' 'Golden Girls,' 'Fresh Prince,' and yes… 'Quantum Leap' tackled, taught me so much about empathy and compassion for others. We are living through a harrowing onslaught of anti-trans rhetoric and legislation, and for a show of this size to be elevating the stories of people like myself and our remarkable writer/director/guest star [Shakina] while focusing on our humanity is 100% why I signed on to it. So please grab a friend, parent, lover, child, and tune in Monday night because it's going to be a historic moment for every little kid like me who was glued to the TV hoping to see myself in the stories they broadcast."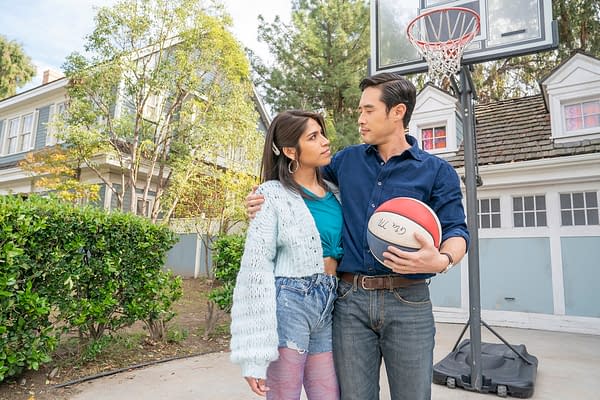 Here's a look at the first in a series of four tweets that Park shared over the past 24 hours urging viewers to check out this week's return episodes (followed by a preview for S01E12 "Let Them Play"):
Quantum Leap Season 1 Episode 12 "Let Them Play" Preview
Quantum Leap Season 1 Episode 12 "Let Them Play": Ben (Lee) finds himself in 2012 in the midst of the Mendéz family as they help their transgender daughter, Gia, who dreams of playing on her high school basketball team. Magic (Ernie Hudson) and Jenn (Nanrisa Lee) discover another piece of the puzzle of why Ben leapt in the first place.
It's been nearly 30 years since Dr. Sam Beckett stepped into the Quantum Leap accelerator and vanished. Now, a new team, led by physicist Ben Song (Lee), has been assembled to restart the project in hope of understanding the mysteries behind the machine and the man who created it. Everything changes, however, when Ben makes an unauthorized leap into the past, leaving the team behind to solve the mystery of why he did it. At Ben's side throughout his leaps is Addison (Caitlin Bassett), who appears in the form of a hologram only Ben can see and hear. She's a decorated Army veteran who brings level-headed precision to her job.
At the helm of the highly confidential operation is Herbert "Magic" Williams (Ernie Hudson), a no-nonsense career military man who has to answer to his bosses, who won't be happy once they learn about the breach of protocol. The rest of the team at headquarters includes Ian Wright (Mason Alexander Park), who runs the Artificial Intelligence unit "Ziggy," and Jenn Chou (Nanrisa Lee), who heads up digital security for the project. As Ben leaps from life to life, putting right what once went wrong, it becomes clear that he and the team are on a thrilling journey. However, Addison, Magic, Ian, and Jenn know that if they are going to solve the mystery of Ben's leap and bring him home, they must act fast or lose him forever.