Ratched: Finn Wittrock, Jon Jon Briones Join Ryan Murphy 'Cuckoo's Nest' Prequel
American Horror Story creator Ryan Murphy is keeping with tradition and staying "close to home" when it comes to the cast of Ratched, his new dramatic series starring Sarah Paulson as a younger version of the sadistic Nurse Ratched from One Flew Over the Cuckoo's Nest. American Crime Story: The Assassination of Gianni Versace stars Finn Wittrock (The Normal Heart) and Jon Jon Briones (American Horror Story) are set to join the series, which has a two-season, 18-episode, straight-to-series commitment from the streaming service. Murphy is set to direct the opening episode – as he's known to do on all of his series – from a script by newcomer writer Evan Romansky.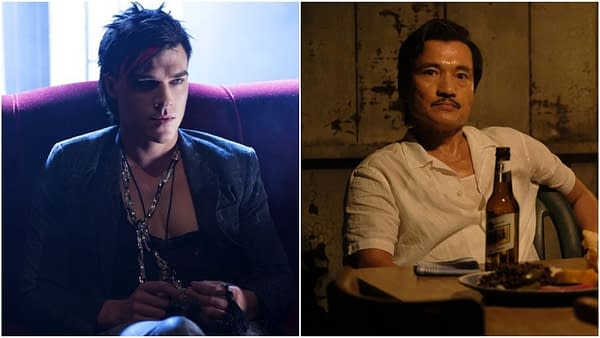 According to Collider's reporting, Briones will play the head doctor at the mental institution where Paulson's Ratched works; while Wittrock plays a violent criminal who shares a secret with the notorious nurse. At the Television Critics Association's (TCA) press event in January 2018, Murphy revealed that he had mapped out a four season origin arc for Paulson's Nurse Ratched, where she would face off against a different male adversary each season; with the fourth and final season blending One Flew Over the Cuckoo's Nest into the narrative.
Similar in approach to Bates Motel, Ratched is an origins story that begins in 1947 and follows Ratched's (Paulson) devolution from nurse to full-fledged monster as she makes her way up through the mental health care system. The Academy Award-winning 1976 film One Flew Over the Cuckoo's Nest (based on Ken Kesey's novel) introduced audiences to the character of Nurse Ratched, who instantly became one of the most famous and infamous pop culture villains of all time. Ratched was played in the movie by Louise Fletcher, who would go on to win a Best Actress Academy Award for the role, one of five Oscars that the film would win.

Speaking at GQ Live in Los Angeles over the weekend, Murphy described the series as a "gorgeous story" that champions feminism and likened the character to another cinematic "big bad": "She's one of the great villains…she's like a female Lecter (from The Silence of the Lambs). She's a great, great villain, very misunderstood."
Murphy's interest was sparked by a viewing of Milos Forman's 1975 film where the writer/director/producer looked at the story from Nurse Ratched's perspective: "How did she get that way? What made her do that? How do you become a sociopath? Most people are not born that way." As has been his custom in the past, women will be taking the lead in a series Murphy describes as "a feminist horror story, that a lot of women are involved with, so I keep waiting for them to tell me when something's too much."
Murphy, original film producer Michael Douglas, as well as Aleen Keshishian, Margaret Riley and Jacob Epstein of Lighthouse Management & Media will serve as executive producers; with Romansky co-executive producing the series. Paulson will produce along with Paul Zaentz of the Saul Zaentz Company, which owns the rights to the Cuckoo's Nest feature. Fox 21 is the designated studio, producing through Murphy's overall deal with 20th Century Fox TV.