"Rick and Morty" Season 4: "One Crew Over the Crewcoo's Morty", You Sonofabitch! We're In! [SPOILER REVIEW]
Fans of Adult Swim's Rick and Morty had been counting down the months and days until Dan Harmon and Justin Roiland's animated mayhem returned to their screens once more.
That wait ended earlier this month with season premiere "Edge of Tomorty: Rick Die Rickpeat" (reviewed here), where we got a crash course in "death crystals" and gained a deeper understanding of just how hard it would be to kill Rick Sanchez – and keep his dead.
Which lead to "The Old Man and the Seat" (our review here), a brilliant balance between sharp social satire and a gut-punch examination of love, loss, control… and poop.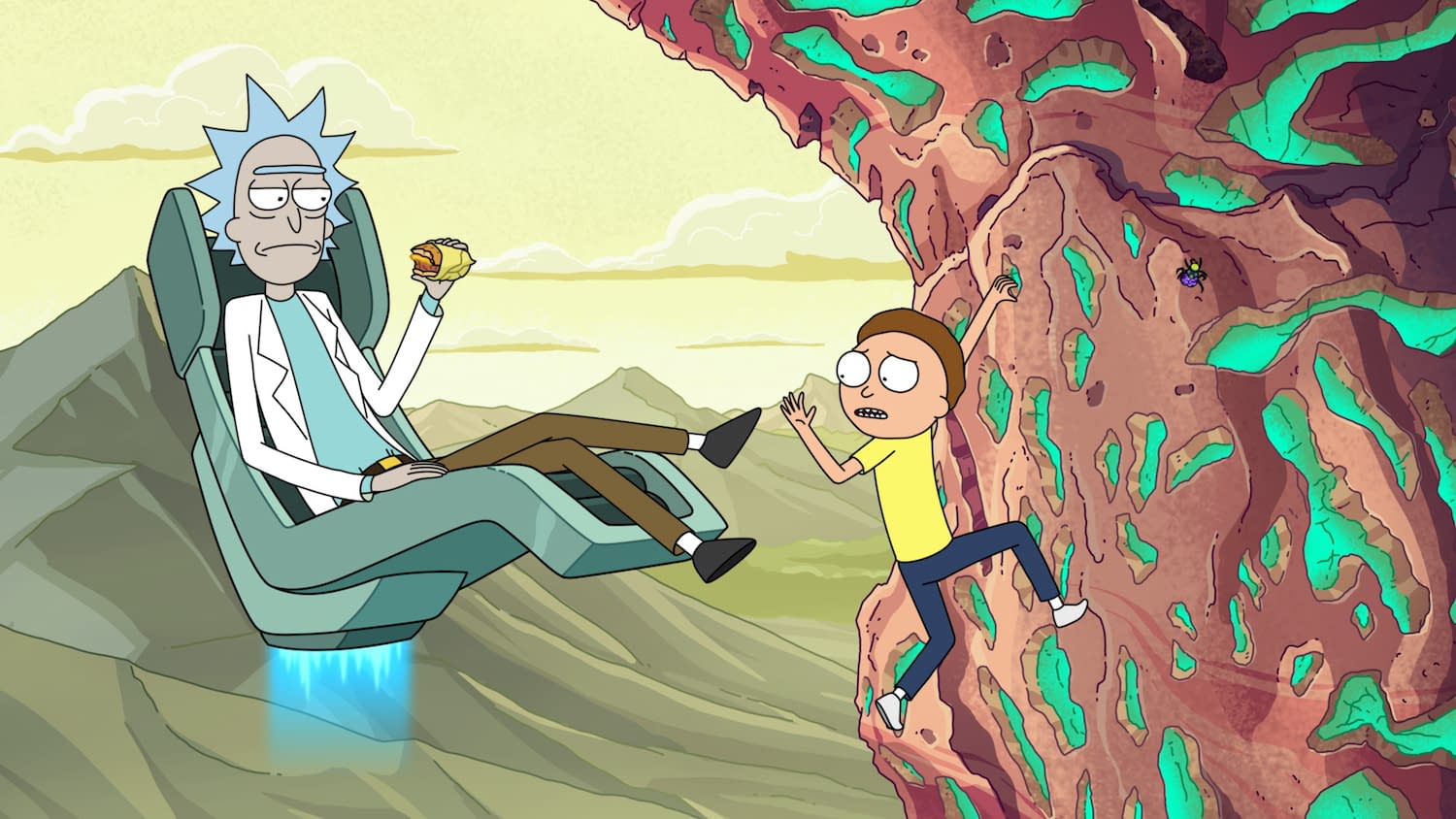 This week, we've got Rick pulling in some favors to get a crew together to pull a new job in "One Crew Over the Crewcoo's Morty" – and guess what, Bryan Newton and Caitie Delaney?
You sonsabitches… we're in!
"Rick and Morty" season 4, episode 3 "One Crew Over the Crewcoo's Morty": Twists and turns abound.
Directed by Newton and written by Delaney, "One Crew Over the Crewcoo's Morty" stuck a filed-down-toothbrush shiv into the kidneys of "heist films" – but let's not use the word "deconstructed": feels like it gives the genre a little too much "depth" credit.
Instead, it used Rick's vendetta against "heists" (think of Rick's mindset in "Something Ricked This Way Comes") to walk us through the basic absurdities of films like Ocean's 11 and The Italian Job. Rick and Morty's inability to get pro badges for Heist Con because they lack a "crew" was a perfect start. After being denied access, Rick assembles a team of favor-owing friends for one last job…
To give him the numbers he needed to get in. That's all. He's got it from there.
But let's do dinner some time, Truckula!
Then there's the overall storyline itself – which finds Rick in a "heist off" with an evil of his own creation… literally. With it being one of Rick's kids, of course it finds a way to evolve itself to the point where it "heists" Earth.
Pretty absurd, right? It's supposed to be – that's the point. The thing about heist films is that they they're like starting writing a joke with a punchline you love and then just throwing something together before that leads into it.
We have the heist's objective and know all the obstacles that lay ahead – thankfully, our hero knows just the right people with just the right specific skills to cover anything that might come up.
One member turns on the team? Check!
One member finds redemption? Check!
Team has a surprise member who was working with them all along? Check!
At least 27 plot twists/double-crosses to just barely keep the bonds of common sense from breaking? Check!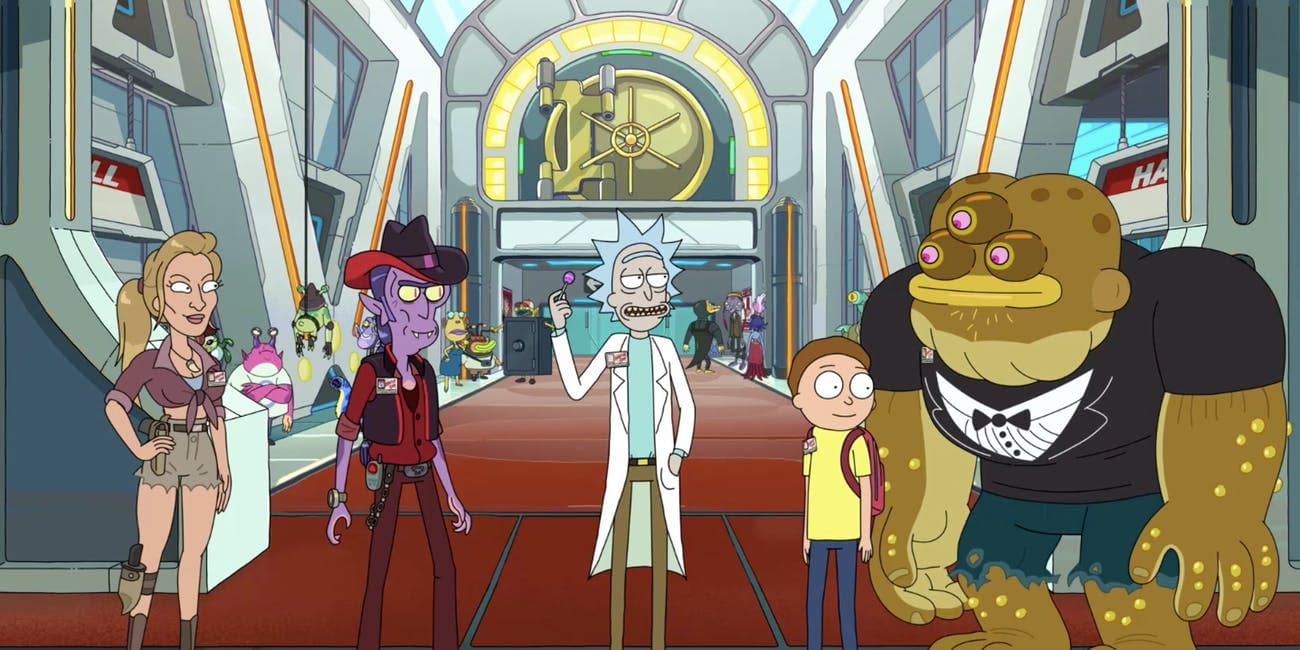 And that's when Newton and Delaney's heaist satire pulled a heist move on us by pulling back the curtain and showing us the real plan that was in play all along – and it only took a crew of one (technically more, but none of them actually knew they were in on it).
That subplot about Morty's heist flick pitch meeting with Netflix? It became the "throwaway" line we sometimes forget in heist film that usually comes back to haunt us by the end – and that was the case here, except this "heist" was much more personal.
Rick's been going though what kinda looks/feel like a midlife crisis – the new family dynamic has changed the pecking order of things so Rick's not looking to chance getting on Beth's bad side (lucky for you, Jerry). So he'll "ask permission" to go on adventures with Morty, and bite his tongue around Jerry (more than usual) – those are "shit sandwiches" he can find a way to bite, chew, and swallow.
But Morty realizing his dream of selling a script and becoming his own person? Well, that's just a little too much for Rick to handle – and as far as he's concerned, that falls outside the bounds of his family agreement. So Rick devises a master plan to expose Morty to the idiocies of heists – convincing Morty that his revelation that the entire genre is stupid is all his own while playing the role of the "supportive grandpa" – thereby securing Rick's comfortable status quo of nonstop adventuring with Morty.
To do it, all Rick had to do was pull off the most valuable heist of them all: steal Morty's dreams.

● With anti-booby suits, Indiana Jones could've compacted all 18 films into one really tough day.
● Maybe I'm thinking a little too "in house", but the scenes at Heist Con and the matter of the pro badges, Q&A lines, etc. all vibe as jabs at the entire comic book/pop culture convention culture – and pretty dead-on, too.
● Are we the only ones who want to see an episode where Rick's butthole gets to put its demolition expert skills into action? Probably. But still…
● Miles Nightly looks like Freddie Mercury because…? Not a complaint – legit question. Oh, never mind – Mr. Nightly didn't last that long anyway.. but I did not see it happening that way.
● Mr. Poopybutthole having insane fighting skills and teaching African-American Women Studies – but we're pretty sure he killed a few of his students. Tenure can cover only so much…
● So there's a "storm" coming, huh? Hmmm…

From the Upfronts earlier in the summer, there was the announcement of season 4 with an accompanying video (see below), and red carpet interviews with Harmon and Roiland that teased (jokingly?) a Rick and Morty future with Daniel Radcliffe and Kanye West in it. In late June, Adult Swim announced a second addition of its two-day festival in Los Angeles – which will be of particular interest to fans (more below).
And then? Things got serious with the season 4 trailer…
https://www.youtube.com/watch?v=Rw6BrzB1drs
Buckle in for disappointment because there's no way these episodes will be good enough for how long you waited. But maybe they will be? It's season four! It's sexy and smooth. Buckle in! Did I already say that? Definitely stay buckled in.

Rick and Morty is the Emmy-award-winning half-hour animated hit comedy series on Adult Swim that follows a sociopathic genius scientist who drags his inherently timid grandson on insanely dangerous adventures across the universe. Rick Sanchez is living with his daughter Beth's family and constantly bringing her, his son-in-law Jerry, granddaughter Summer, and grandson Morty into intergalactic escapades.

Rick and Morty stars Justin Roiland (Adventure Time), Sarah Chalke (Scrubs), Chris Parnell (Saturday Night Live), and Spencer Grammer (Greek). The series is created by Dan Harmon (Community) and Roiland, who also serve as executive producers.

In October, fans learned the titles of this season's opener as well as the following four episodes via an Adult Swim reveal video.
Fair warning: Harmon and Roiland's Rick and Morty "Pun Fu" is strong this season… let the speculation begin!