"Riverdale" EP Roberto Aguirre-Sacasa on "CAOS" Crossover, "Twin Peaks"/David Lynch-Themed Episode
This year's New York Comic Con (NYCC) proved to be an eventful one for The CW's Riverdale – with special announcements, casting news, and exclusive footage – as well as the cast and executive producer Roberto Aguirre-Sacasa having fun discussing the past season's wild ride of storylines while teasing what fans can expect when Riverdale returns for a fourth season on Wednesday, October 9.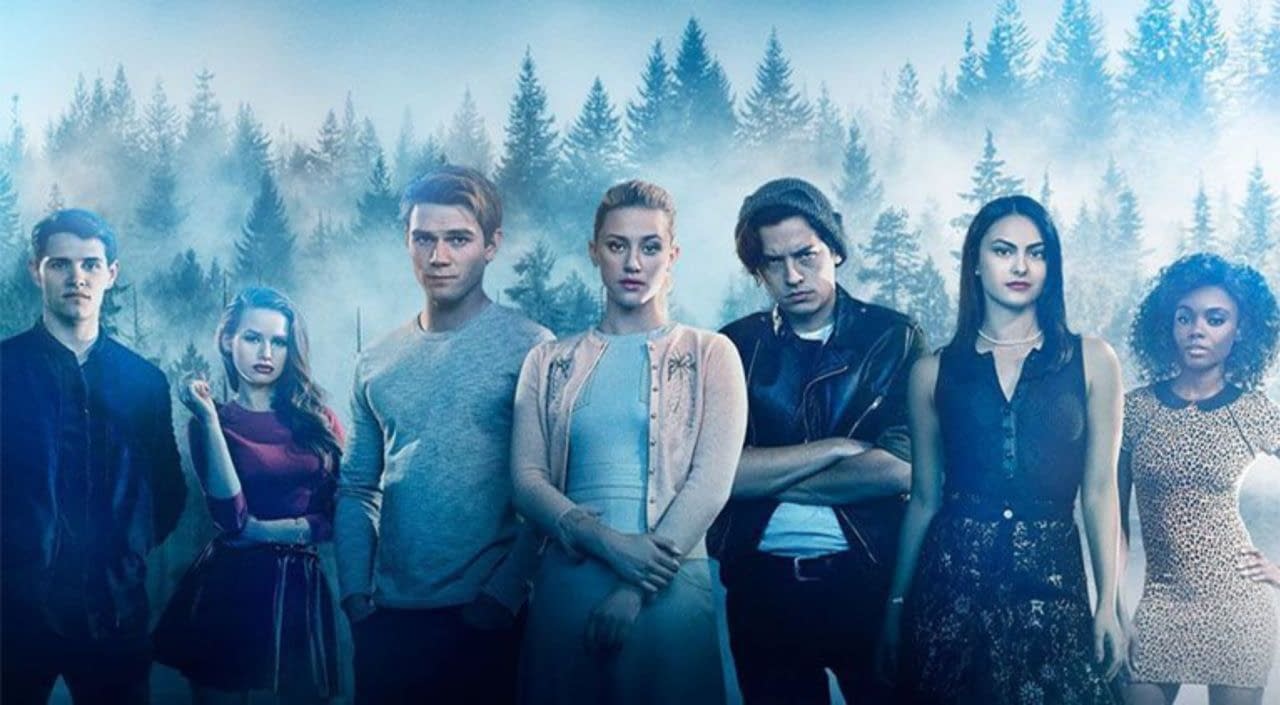 Two of the more jucier takeaways from the panel should catch the interest of both Twin Peaks and Chilling Adventures of Sabrina fans:
● While it doesn't appear there will be a direct Riverdale/CAOS crossover this season, Aguirre-Sacasa revealed that the show is "seeding hints left and right" and that fans will "see more of them this year."
● As for the beloved David Lynch series, Aguirre-Sacasa would like to see Riverdale pay its respects: "One of our big influences is 'Twin Peaks'. One thing we're talking about is doing a David Lynchian episode."
Without missing a beat, Mädchen Amick (Twin Peaks' Shelly Johnson) asked the only question that needed to be asked at that point: "Can I direct that one?".

Previously, viewers were given a look at the upcoming season, which promised a senior year filled with dark secrets and strange days – as the series looks to answer an ominous question: where's Jughead (Cole Sprouse)?
From the looks of things, "buried" under a ton of problems…
But first, there is the passing of a show family member that needs to be honored. Season premiere "Chapter Fifty-Eight: In Memoriam" features a special tribute to the late Luke Perry and bids farewell to beloved character Fred Andrews. Perry's longtime friend and former costar Shannen Doherty (Beverly Hills 90210) will guest star in a special role in the episode, and Molly Ringwald returns to the role of Archie's (KJ Apa) mother, Mary Andrews.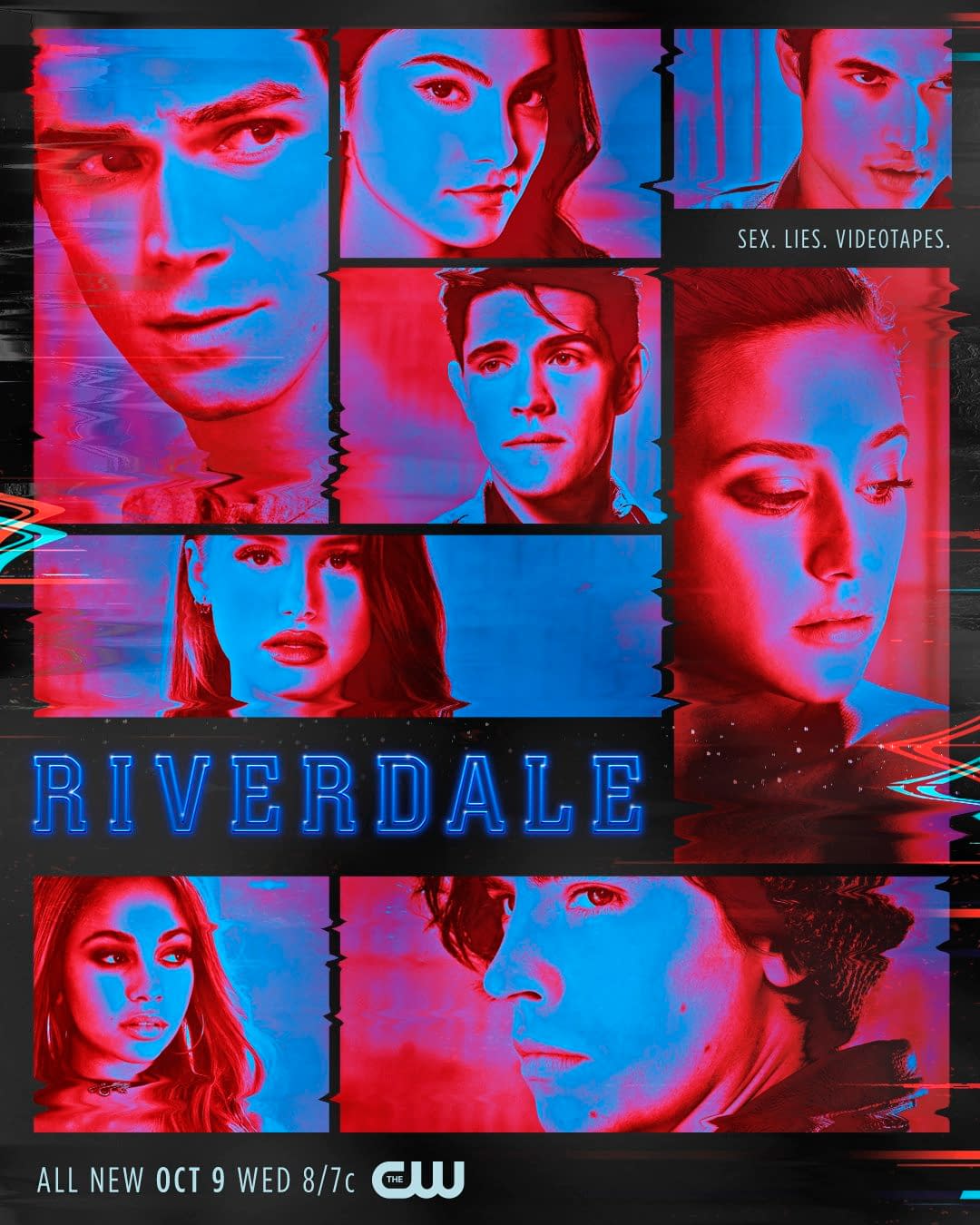 https://www.youtube.com/watch?v=YqIEmfYKf4o
Riverdale season 4, episode 1 "Chapter Fifty-Eight: In Memoriam": A FAREWELL TO FRED ANDREWS — As the residence of Riverdale prepare for its upcoming Independence Day parade, Archie (KJ Apa) receives a phone call that will change the rest of his life forever. Lili Reinhart, Camila Mendes, Cole Sprouse, Madelaine Petsch, Marisol Nichols, Madchen Amick, Mark Consuelos, Skeet Ulrich, Casey Cott, Charles Melton and Vanessa Morgan also star. Gabriel Correa directed the episode written by Roberto Aguirre-Sacasa

Set to air Wednesday, October 9, at 8 p.m. ET/7 p.m. CT., "Chapter Fifty-Eight: In Memoriam" will reflect on Perry's enduring legacy and the indelible impact his character Fred Andrews had on the series. As the town readies for its Independence Day celebration, Archie receives a phone call that will change all of their lives – forever.
What can best be described as "before/after" images for the season opener, two of the images show Archie, Veronica (Camila Mendes), Betty (Lili Reinhart), and Jughead enjoying some 4th of July festivities. While the third image is a righteous heartbreaker between Archie and his mother, which we're assuming takes place post-phone call.
"They were such good friends, and when we were putting together this tribute episode, we wanted to make it as special as possible, and so we asked Shannen to do a pivotal, super-emotional role. She read the script and immediately said 'yes.' It's very impactful."

– Aguirre-Sacasa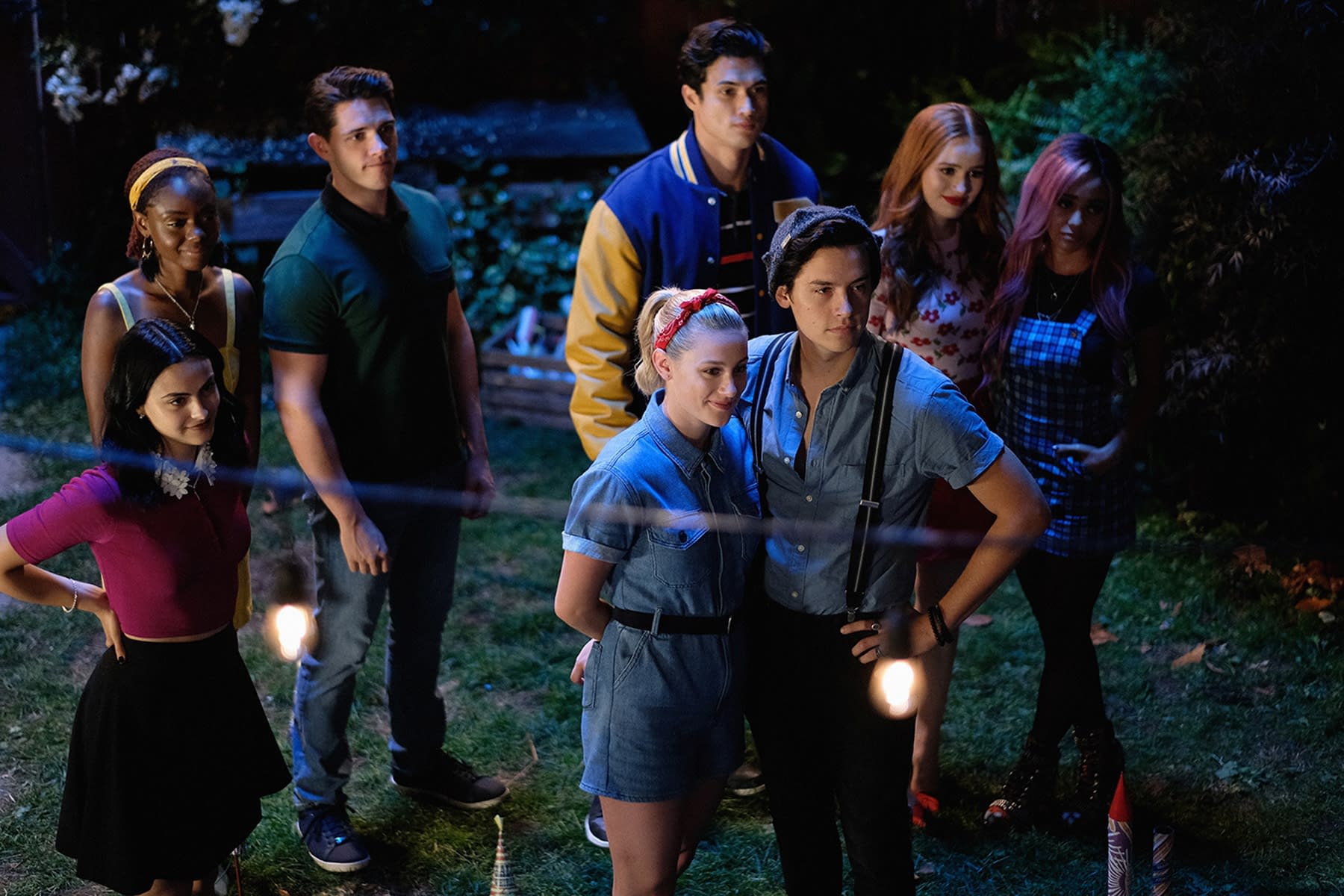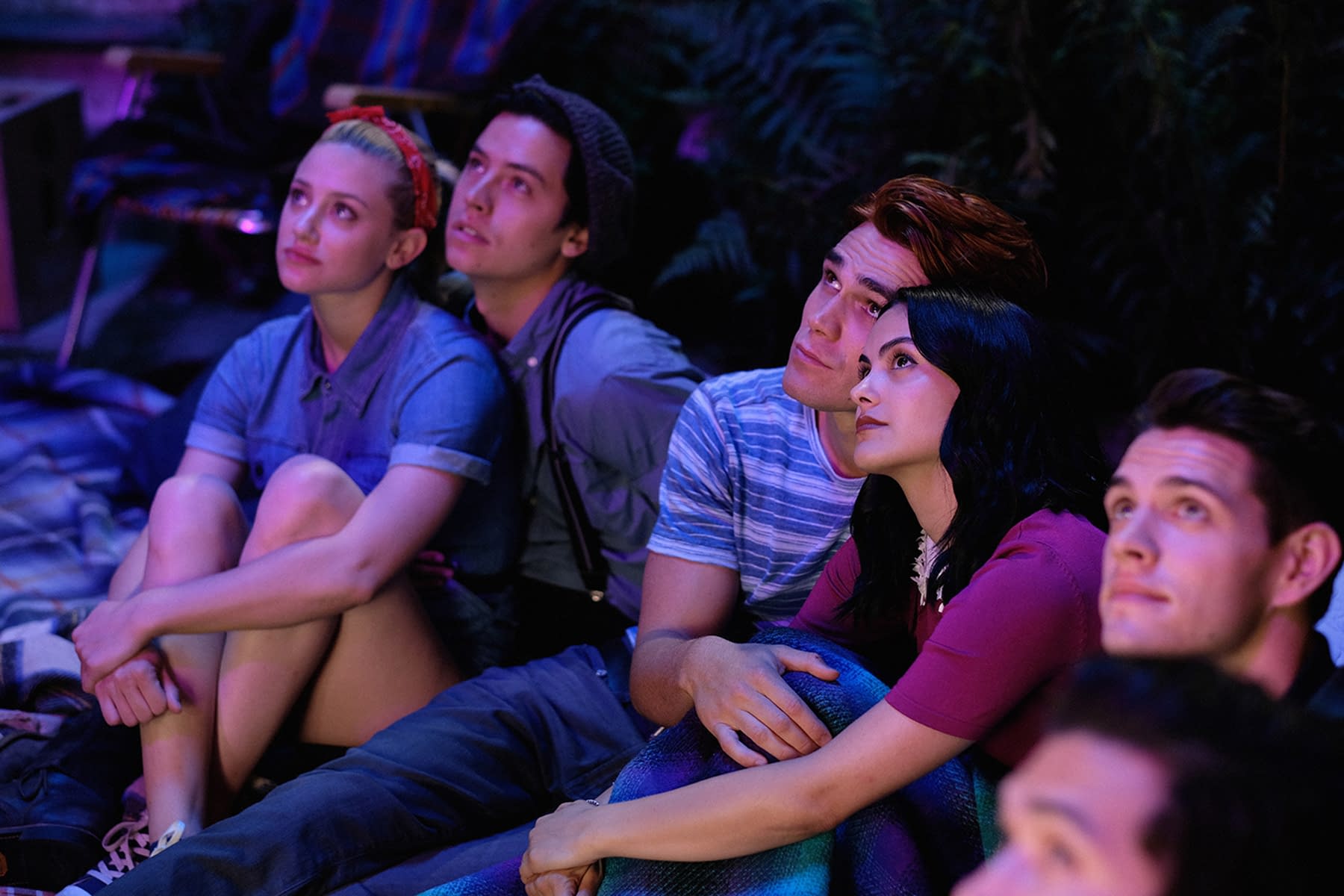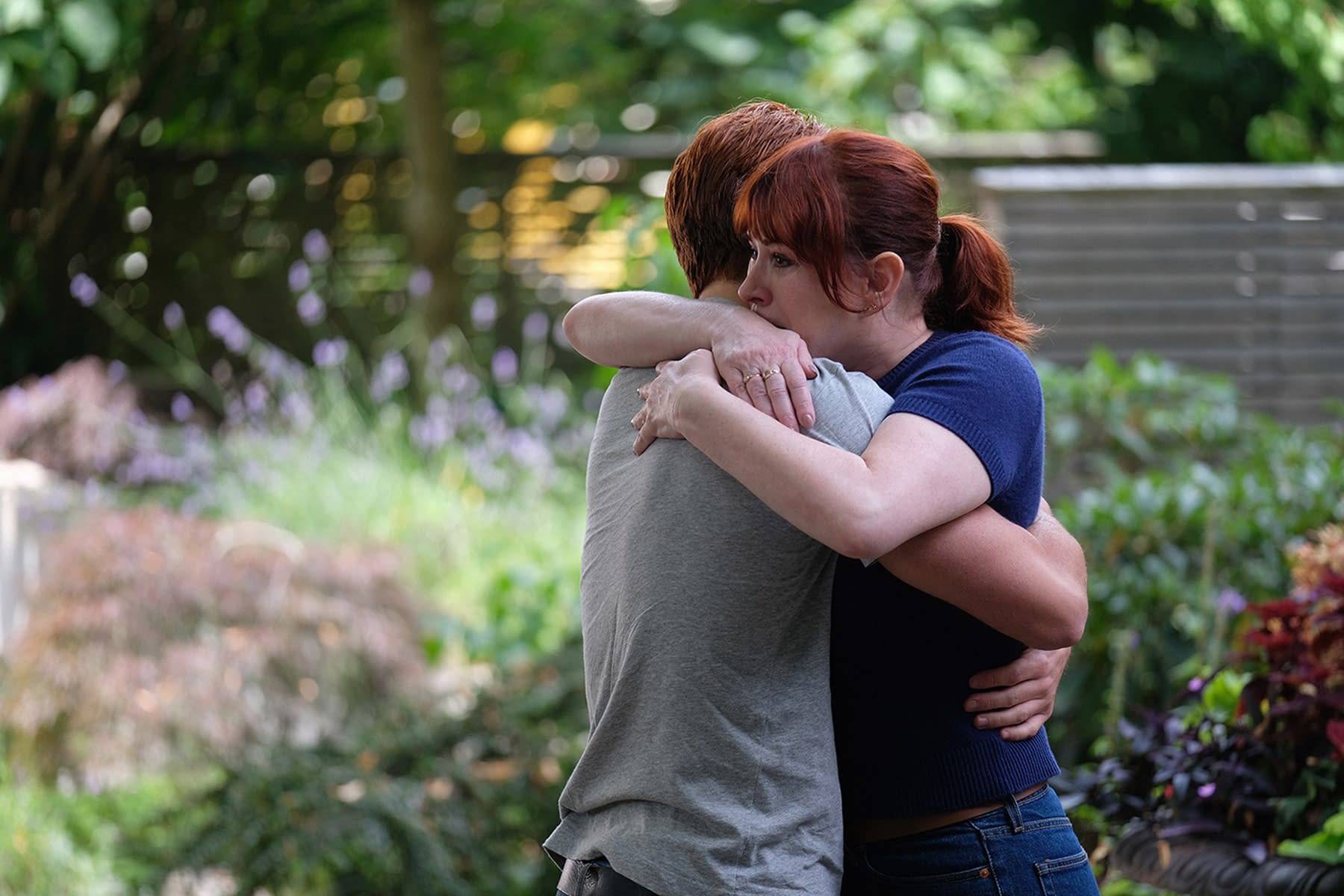 Here's a look at two new additions to Riverdale when it returns next month:
● Kerr Smith (The Fosters, Life Unexpected) has been cast in a recurring role as new Riverdale High principal Mr. Honey – appearing in the second episode of season four, "Chapter Fifty-Nine: Fast Times at Riverdale High." Mr. Honey is a bit of a hard-ass who takes a harder line with the students this year, especially with the seniors.
● Sam Witwer (Supergirl) has been cast in the recurring role of Mr. Chipping. Handsome, bookish, and cool, Mr. Chipping teaches creative writing at a prestigious prep school near Riverdale. He recruits Jughead (Cole Sprouse) for his seminar – and while he's eminently inspiring to his students, there's a darkness hidden far beneath the surface.