Sarah Michelle Gellar Calls Out MCU Fans Over "Backwards" Thinking
Sarah Michelle Gellar (Wolf Pack) called out the double standard regarding reactions to female-led MCU projects as compared to male-led.
---
When it comes to succeeding as a strong female lead in a landscape of genre television & films filled with too many dudes, Buffy the Vampire Slayer and Paramount+'s Wolf Pack star/EP Sarah Michelle Gellar should teach a course. So when Gellar has something to say about the current state of affairs when it comes to female actors in genre media, we should absolutely be sitting up & paying attention. During an interview with The Guardian, Gellar called out the double standard at Marvel Studios' MCU regarding how male-led projects are treated as compared to female-led projects. "Genre is where women can really succeed and hold an audience. Every time a Marvel movie tries to do a female cast, it just gets torn apart," Gellar explained. "Unfortunately, audiences weren't as accepting. There's still this mentality of "the male superhero," this very backwards way of thinking."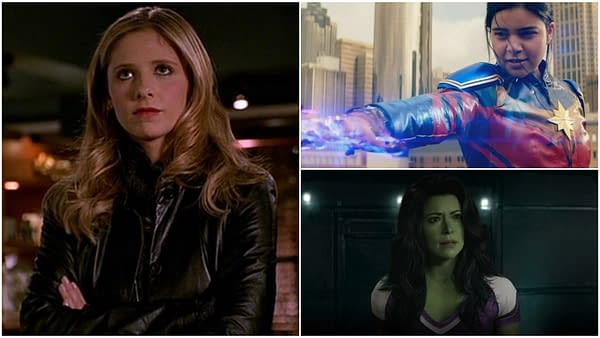 In a profile/interview with The Hollywood Reporter from earlier this month, Gellar shared some additional thoughts on "Buffy," her experiences working on the series, and the seasons/episodes she's hesitant to show her children:
Gellar Has "Come to a Good Place" with Her "Buffy" Years- Just Don't Expect a "Tell-All" Anytime Soon: "I've come to a good place with it, where it's easier to talk about. I'll never tell my full story because I don't get anything out of it. I've said all I'm going to say because nobody wins. Everybody loses."
Gellar Hopes "Buffy" Legacy Can Outshine Whedon's Failures: "I'm not the only person facing this, and I hope the legacy hasn't changed. I hope that it gives the success back to the people that put in all of the work. I will always be proud of 'Buffy.' I will always be proud of what my castmates did [and] what I did. Was it an ideal working situation? Absolutely not. But it's OK to love Buffy for what we created because I think it's pretty spectacular."
Gellar Didn't Want Her Children Watching All Seven Seasons: "We watched seasons one through five. "We skipped around a lot on those last two. I have trouble with six. It wasn't appropriate for them at the time, and I just don't want to rewatch it." (Note: the later seasons of "Buffy" included the controversial Buffy/Spike (James Marsters) storyline that involved an attempted rape).