The March 7 edition of NBC's Saturday Night Live ended the night like SNL usually does: guest host (Daniel Craig) stands front-and-center, usually with music guest (The Weeknd) and a special guest if there was one that week (Sen. Elizabeth Warren), with the cast and house band on stage surrounding them. There was no way of knowing that episode would turn out to be the 45th season's unofficial season finale. Once the coronavirus pandemic hit, television productions across the pop culture landscape ground to a halt – hitting shows with live studio audiences the worst. But SNL was ready to go gentle into that good night, rallying the troops to produce the final three episodes from home titled (appropriately enough) "SNL at Home".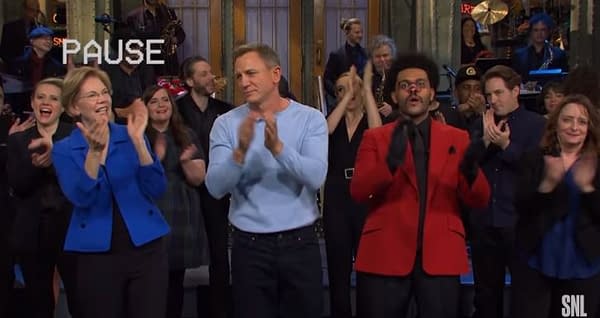 Were they perfect? No, with the third episode (and official season finale) was the weakest of the three. But the bigger picture? It was what the effort meant to not just the viewers but to the cast that meant the most. At a time when people found themselves locked down at home… balancing being worried about getting sick with fears of ending up unemployed or homeless. The cast of SNL gave us something to laugh at (sometimes, ourselves), giving up time that could've been spent with family and friends to make a difference. To make us laugh. For some of us who've loved the show since Belushi first uttered the word "wolverines" and even through that rough 80's period, it was the most graceful gift these fine folks could offer us. And they didn't do it alone: friends Tom Hanks and Brad Pitt; show alumni Kristen Wiig, Jason Sudeikis, Martin Short, and Fred Armisen; and musical guests Chris Martin, Miley Cyrus (with an amazing Pink Floyd cover), and Boyz II Men (along with many more) were along for the ride to do their part.
Now, the cast gets their moment to reflect back on the three shows and how they came to be. From what it was like first hearing the news that the show was being shut down to how the episodes began to take on some of the qualities of the live show, the folks who make SNL thrive offer their behind-the-scenes thoughts. But prepared, as both an SNL junkie and devoted New Yorker, there are some moments near the end that kicked us hard in "the feels":
Saturday Night Live's 45th season includes Beck Bennett, Aidy Bryant, Michael Che, Pete Davidson, Mikey Day, Chloe Fineman, Heidi Gardner, Colin Jost, Kate McKinnon, Alex Moffat, Kyle Mooney, Ego Nwodim, Chris Redd, Cecily Strong, Kenan Thompson, Melissa Villaseñor, and Bowen Yang. Che and Jost serve as the series' head writers, with Bryan Tucker serving as senior writer. Not including specials and digital series, the program has won 72 Emmy Awards, the most for any show in television history. SNL also holds the title for the most nominated television show in Emmy history with 270 nominations (once again, not including specials and digital series).
The long-running sketch comedy and musical series is executive produced by Lorne Michaels, produced by Steve Higgins and Erik Kenward, and directed by Don Roy King. Ken Aymong serves as a supervising producer, with Lindsay Shookus, Erin Doyle, and Tom Broecker producing. The series is produced by SNL Studios in association with Universal Television and Broadway Video.
Enjoyed this article? Share it!