Saved by the Bell Season 2 Episode 3: Who Knew Chaos Could Be So Fun?
Peacock's Saved by the Bell episode "1-900-Crushed" shares the title of one of the episodes from the 90s NBC Saturday morning series. It features the continuing arc of how Jessie (Elizabeth Berkley) and her son Jamie (Belmont Cameli) are dealing with the ongoing divorce. The overachieving mother is suffering a classic case of imposter syndrome since her entire life was about building relationships while ironically unable to cope with the one that's ending. She finally turns to her high school sweetheart in her ex-boyfriend A.C. Slater (Mario Lopez) who decides the both should go on an adult skip day as Bayside High staff. Jessie reluctantly agrees having never done it in her academic or professional life to go off to hang out with her best friend.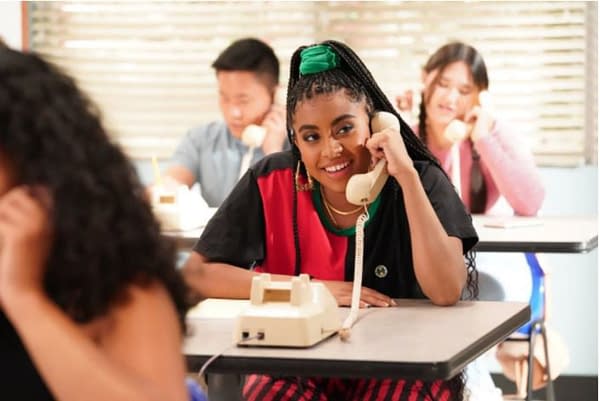 On the classroom front, Mac (Mitchell Hoog), Devante (Dexter Darden), and Jamie are tasked to do a class project together by the former Douglas principal-turned-Bayside teacher (Rodney J. Hobbs). Turns out working together is much harder than originally imagined as Jamie's become an emotional wreck and his partners try to "fix" him. The third arc involves two that have never really interacted much but have Jamie in common with Lexi (Josie Totah) dating him and his ex-girlfriend, Aisha (Alycia Pascual-Pena). The two along with potential lovebirds in Daisy (Haskiri Velazquez) and Gil (Matthew Sato) find themselves volunteering at the Bayside Teenline that was revived by Toddman (John Michael Higgins).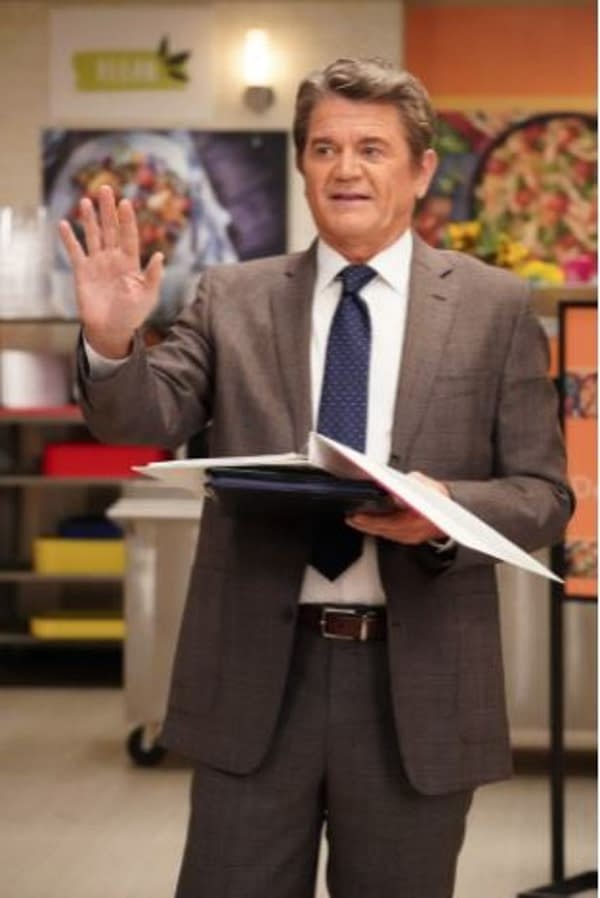 Directed by Claire Scanlon and written by Aaron Geary, we go through the motions seeing more Jessie moments of neuroticism and activism that Berkley shined in during the original NBC run and how well she and Lopez still play off each other after all of these years. We also get some really fun exchanges and high-energy moments from Totah and Pascual-Pena in the episode and their overly competitive natures, which almost parallels Lopez's Slater and Mark-Paul Gosselaar's Zack when they fought over something they both wanted during the original run. While the template was already there, the younger cast shine building off from their respective strengths. We're really getting a sense of the cast coming together, including some great tongue-in-cheek lines from Hobbs for some quality fourth-wall-breaking moments. Saved by the Bell streams on Peacock.
Saved by the Bell Season 2 Episode 3 "1-900-Crushed"
---
---
The 2021 reboot update of a classic Saved by the Bell episode also works well with the new cast, with Josie Totah, Alycia Pascual-Pena, and Haskiri Velazquez thriving within the chaos. Also, other notable performances include Belmont Cameli, Elizabeth Berkley, and Rodney J. Hobbs; with director Claire Scanlon & writer Aaron Geary creating a winning round for the series.
Credits
---