Set Phasers to Spirits for Captain James T. Kirk Bourbon
It would appear that Silver Screen Bottling Company is partnering with CBS to release a signature bourbon for the most recognizable Starfleet captain, James T. Kirk.
The Iowan native who goes on to captain the USS Enterprise is getting his own signature bourbon, a stately drink for the man who once asked what God needs with his starship.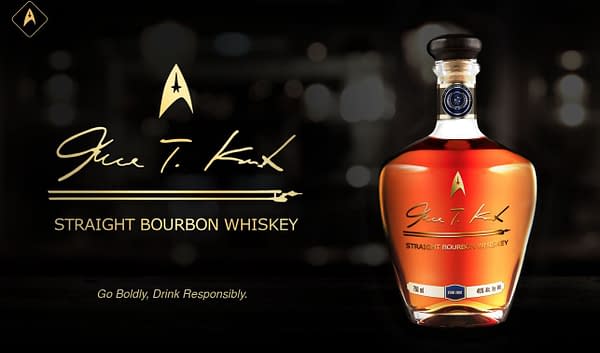 A serious Bourbon selected from choice barrels from Kentucky, Tennessee, and Indiana. Aging in range from 4 years old to 12 years old, each small batch release of James T. Kirk Bourbon exhibits a depth and richness seen in only the finest Bourbon. Crafted with the highest respect for the whiskey and for the man that bears its name, James T. Kirk Straight Bourbon Whiskey is for the serious Star Trek fan and serious Bourbon fan, alike. Notes of caramel, Asian five spice, and pecan are not to be missed in this very special small-batch Bourbon.
The small-batch straight bourbon is currently available for order now through Liquirama.com (retailing currently at $59.99) and is expected to ship sometime in October.
Reportedly there will be bottles available during San Diego Comic-Con (SDCC), and the James T. Kirk bourbon will be the first in a Star Trek-themed spirits launch.