Saturday Night Live: The Office Cast Hijack Steve Carell Opener, Demand Series Return (VIDEO)
Since his seven season run as Dunder-Mifflin's own Michael Scott on NBC's The Office, Steve Carell has built up a pretty diverse filmography of work: Foxcatcher, The Big Short, Battle of the Sexes, Beautiful Boy, and many more. He's been recognized for his work by the Academy Awards, BAFTA Awards, Golden Globe Awards, Primetime Emmy Awards, Screen Actors Guild Awards, and the Writers Guild of America Awards. He's lent his voice to such animated successes as the Despicable Me franchise and Dr. Seuss' Horton Hears a Who!.
Heck, the man's was even nominated as "America's Funniest Man" by Life magazine in 2014!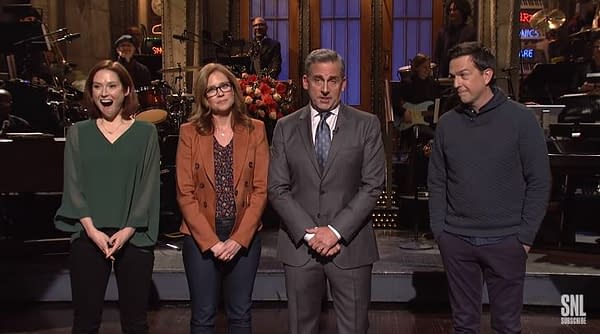 Yet a press junket doesn't go by where Carell doesn't get asked the inevitable question asked of anyone in 2018 who starred in a righteously successful series in the past: "So when are you guys getting back together for a new season?" (we'll discuss the improper use of "reboot" at another time, since most fans seem interested in more of a sequel-series or continuation). It's gotten so that the poor man can't even get through his Saturday Night Live monologue without it coming up – as you'll see in the following clip.
What was meant to be an opportunity for Carell to bond with the studio audience quickly took a much darker tone, as some very familar-looking "audience members" (Ed Helms, Jenna Fischer, Ellie Kemper, Nancy Carell) used the Q&A to press their rather personal agendas for a reboot – leading Carell to make a stunning announcement:
In an October 2018 interview with TVLine, Carell stated that he didn't believe The Office – in particular, Michael Scott – would work in today's social climate:
"So much of [Michael] was predicated on inappropriate behavior. I mean, he's certainly not a model boss. A lot of what is depicted on that show is completely wrong-minded. That's the point, you know? But I just don't know how that would fly now. There's a very high awareness of offensive things today — which is good, for sure. But at the same time, when you take a character like that too literally, it doesn't really work."