Star Wars: Jedi Temple Challenge Delayed 1 Week for "Better Headspace"
Star Wars fans young and old who were looking forward to the first episode Star Wars: Jedi Temple Challenge will have a little extra time to build up that excitement. In fact, they'll have a week. Reality competition series host Ahmed Best aka Master Kelleran Beq (also Jar Jar Binks in the Star Wars prequel films) took to Instagram to reveal that the series (available on the Star Wars Kids channel on YouTube and StarWarsKids.com) would be pushing back its premiere from June 3 to June 10. Best offered a very personal, honest, and heartfelt reason for the delay, related directly to the protests taking place across the country and around the globe against the killing of George Floyd by Minneapolis police.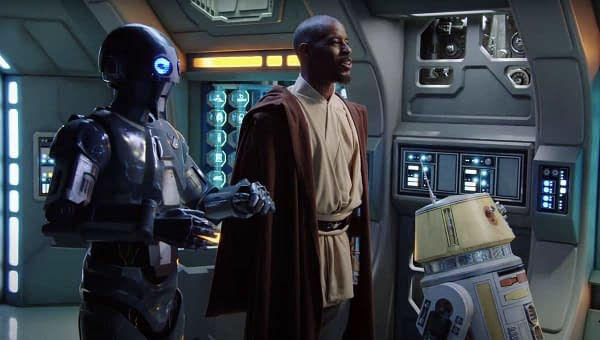 Though they're excited for fans to see what they've been working so hard on, Best and the team behind the series want to make sure everyone (themselves included) are in the right mind to enjoy it: "As a black man, a black father, a black producer and black artist I have to consider all that is happening in the world right now. Our team has decided to push the premiere of [Star Wars: Jedi Temple Challenge] until next Wednesday, June 10th. Hopefully, we can be in a better headspace next week to enjoy this game show."
Here's a look at Best's full post, followed by a look at the upcoming series' official trailer:
Star Wars: Jedi Temple Challenge: Ahmed Best, known to many fans as Jar Jar Binks from the Star Wars prequels, hosts the show as a new Jedi, Master Kelleran Beq. Best guides players through three rounds of trials as they vie to become Jedi Knights and wield the iconic symbol of the guardians of peace and justice, the lightsaber. Accompanying Best is Mary Holland (Veep, Upright Citizens Brigade) who voices the wise-cracking protocol droid companion AD-3, and Sam Witwer, who gives a unique voice to the dark side of the Force. Witwer recently reprised his role as the voice of Darth Maul in the critically acclaimed final season of Star Wars: The Clone Wars.