Super Bowl Report: Comcast/Xfinity Outage Hitting Philadelphia Hard
Reports are that Comcast/Xfinity customers in Philadelphia are being hit with major cable & internet outages ahead of Super Bowl LVII.
---
So who's ready to watch the Philadelphia Eagles take on the Kansas City Chiefs during tonight's NFL Super Bowl LVII, coming to us live from State Farm Stadium in Glendale, Arizona? And who's ready to catch Rihanna take the stage for the first time in seven years for the Apple Music Super Bowl LVII Halftime Show? And don't get us started with the commercials, trailers, and other goodness heading our way. Except, as of the time that this is being written, a whole lot of Philadelphia Eagles fans are left to just watch their frustration levels rise as Comcast/Xfinity cable & internet outages have hit the city whose team is vying for the big prize. Reports are that a large chunk of the outages is hitting the Fishtown neighborhood worst. And while the outage was originally expected to be resolved by around 2 pm ET and then 4 pm ET, reports are that the outage may not be cleared up until 6 pm ET. Why's that a concern? Because that would mean service would kick back in only a half-hour before kick-off (at 6:30 pm ET).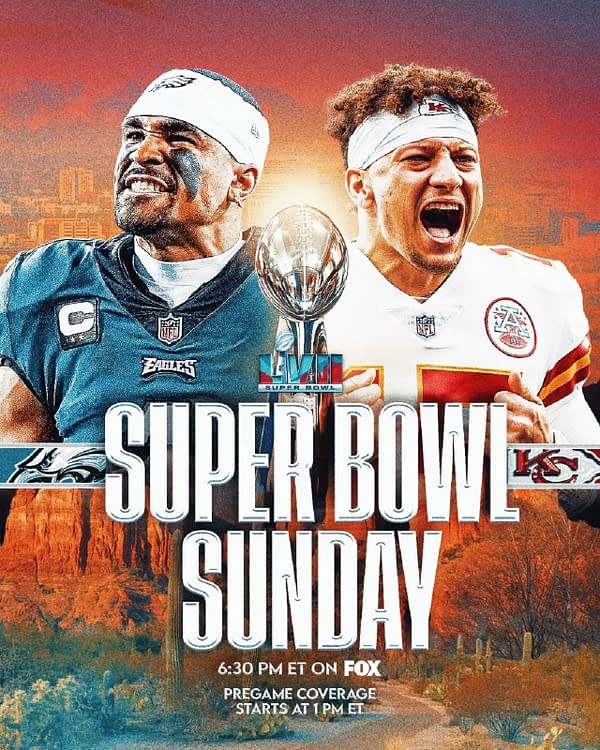 Here's a look at the initial tweet that woke up social media to what was going on in "Eagles Country" as of earlier today (with The Wrap noting that Comcast Xfinity did not respond to their request for a comment or statement):
Of course, Philly fans can always look to their phones as a possible rescue, with FOX Sports hosting a main website for Super Bowl LVII that might just be the best option until service is fully restored (which you can check out here).